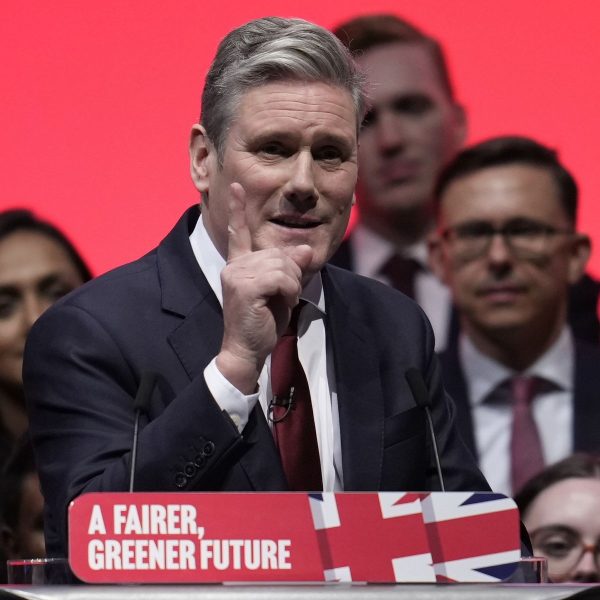 UK Labour party's soft India stance is less about New Delhi and more about diaspora votes
British Labour leader Sir Keir Starmer has promised to reset relations between his party and India after tensions between the two escalated in the last few years. However, the compulsions driving him are not bilateral relations, but domestic politics.
Speaking at the opening of India Global Forum's fifth UK-India week held recently in London, Starmer, considered to be Britain's prime minister-in-waiting, said the Labour Party had made mistakes in its approach to relations with India and would seek closer ties if it formed a government after the general elections scheduled next year.
Opinion: Modi's US visit was a success, but then America needs India now
The Labour Party's relationship with India deteriorated particularly after the BJP came to power in 2014 with Narendra Modi becoming the prime minister. The BJP's right-wing nationalist agenda does not sit easy with the Labour Party, which has always been very much left of centre. For Labour, it was easy to deal with the Congress-led UPA government with which it has a lot more in common.
Labour irritants
Labour was also accused of siding with Pakistan over Kashmir, especially during the years when Jeremy Corbyn was the leader of the party. In August 2019, under Corbyn, Labour passed a motion after the abrogation of Article 370 which said there was a humanitarian crisis in Kashmir and that the people of Jammu and Kashmir should be given the right of self-determination. The motion also called for international monitors to be allowed into the region.
This certainly angered the pro-BJP elements of the diaspora who were happy with Kashmir being stripped of its statehood and special status.
However, the real reason for Starmer's overtures is the 1.9 million British Indian voters – the largest minority ethnic group in the United Kingdom. At just over 2.5 percent of the population, British Indians punch much above their weight in certain swing constituencies because of their concentration in cities like London, Birmingham, Manchester and Leicester.
Opinion: Lucky for now, Rishi Sunak bound to feel the pinch after Boris Johnson's exit
Historically, the British Indian community, like its sub-continental counterparts and other ethnic minorities, has been staunch Labour supporters because of the party's pro-immigration and pro-welfare planks. Indian migrants to the UK of the 1960s and 1970s found themselves more ideologically aligned with the Fabian Socialism of Labour, particularly as they came from a socialist India. They worked hard in their adopted land and gave their children all the benefits of a welfare state, most essentially a free education.
Tory grouse
The Conservatives, on the other hand, were always seen as anti-immigrants and the 'rivers of blood' speech by Tory MP Enoch Powell had sealed their image. Under Margaret Thatcher in the 1980s and 1990s it was not much better and Tory MP Norman Tebbit's controversial cricket test claiming disloyalty to the English team by South Asian and West Indian immigrants and their children certainly did not help.
However, post-millennium, British Indians, mostly second and third-generation immigrants, have come to represent a highly educated and high-earning class and their interests are more aligned to the right-of-centre Conservative party. Even the fresh immigrants from India in the 21st century have been mostly the Techies – high-income, capitalist minded and aspirational – who are more comfortable with the ethics of the Tories. This change has meant that in recent years British Indians' support for Labour has seen an erosion.
Former Prime Minister Boris Johnson had wooed British Indians by surrounding himself with them on the front benches – from Priti Patel as Home Minister to Rishi Sunak as Chancellor of the Exchequer and Alok Sharma as COP 26 President. This certainly helped establish the contention that the Tories nominated more diaspora members for parliamentary office.
Also Read: Rishi Sunak outlasts Liz Truss at Downing Street, but it's a rough sail
Of course, Rishi Sunak's elevation to the topmost job in the country has evoked a sense of pride among British Indians along with the feeling that while they had been Labour supporters for decades, it was the Conservatives who were able to make history by appointing the first coloured prime minister of the country.
Religious divide
Interestingly, British Indian voters are polarized along religious lines. Indian-origin Muslims and Sikhs still strongly support Labour, as do atheists and agnostics. It is among the Hindus and Indian Christians that there has been an erosion of support for Labour. While some British Hindus may have drifted towards the Tories — it tends to be businessmen and high-earners — even so places like Leicester, which has the largest concentration of Hindus, is still a Labour stronghold.
Although Modi and the BJP enjoy some support among the Hindu diaspora, when it comes to UK-India relations, very few British Indians see it as a strong determinant for their political preferences in the UK. The ordinary man on the street is more concerned about the cost of living crisis in Britain and which party can solve that rather than who can get the UK-India Free Trade Agreement signed.
Ironically, even among Hindutva supporters in the UK, though they are fine with a right-wing, discriminatory government ruling India, in Britain they would like a pro-immigrant party which will give them all the benefits and subsidies for them to live a better life.
A major complaint among some UK Indians against Labour has been that the party has focused more on poorer inner-city Pakistani and Bangladeshi communities than on them. Starmer tried to address this grouse by emphasising "in the past Labour gave the impression we could only see the lives of people in communities who needed our support. But my Labour party understands that what working people in every community need is success, aspiration and security".
Labour outreach
The outreach by Starmer was much more to win back some of the British Indian voters who have left their fold, rather than to woo the current Indian government.
The latest opinion poll suggests that Labour has a lead of 23 points over the Tories. The poll suggests that if there was a snap election now, Labour would win 47 percent of the vote while the Conservatives would get 24 percent. If Labour's lead continues like this till next summer, when the election is due, then there is every likelihood that Starmer will become the next prime minister, with or without the help of British Indians.
(Sajeda Momin has held senior positions in Indian newspapers and now divides her time between Kolkata and London) 
(The Federal seeks to present views and opinions from all sides of the spectrum. The information, ideas or opinions in the articles are of the author and do not necessarily reflect the views of The Federal.)