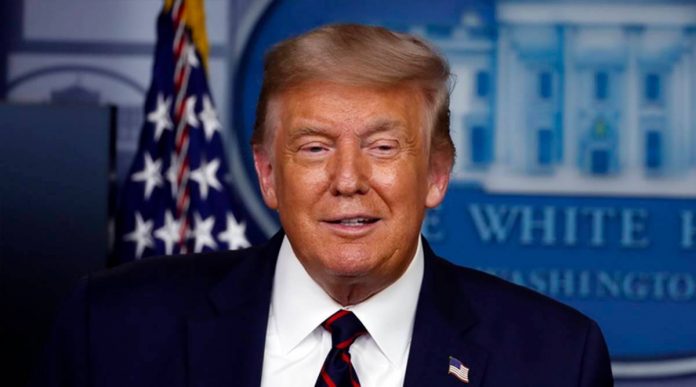 Staging perhaps the fastest 'recovery' from the deadly coronavirus and insisting through a medical certificate that he is perfectly fine, President Donald Trump is back on the campaign trail, and with a vengeance.
Ripping off his face mask and telling the crowd that he wants to hug men and women and want to give them "fat" kisses—not exactly sure what he means by that—the incumbent Republican is creating a record of sorts. People are out lining in the streets to vote early in states that would permit them to, and in huge numbers. One estimate is that as many as 10 million Americans have already cast their ballots in an election that is seen to be critical for a country at a crossroads. No one remembers the last time when people were so determined to get out to the polls that they wanted to make sure their voices counted, just in case they did not make it on time on election day on November 3.
Trump is very sure that he is going to prevail on the penultimate day; he keeps not only mocking the coronavirus that has claimed the toll of over 215,000 Americans till date and counting, but also ridiculing his Democratic opponent the former Vice President Joseph Biden, who is seen as steadily widening the lead nationally and in crucial battleground states.
The real bad news for the Trump campaign is that vulnerable Republicans in at least seven states—Arizona, Colorado, Iowa, Maine, Montana, North Carolina, and South Carolina—are making sure that none of their television advertisements mention Trump. The races in these states are so close to call that incumbent Senators do not wish to take the risk; at the same time, they do not want to openly go against their President for fear of his Twitter tirade.
Related news: Trump's son Barron tested positive for COVID-19, reveals Melania
Polls have been found faulty, if 2016 is anything to go by, which is one reason why President Trump keeps talking of all surveys in which he comes out behind Biden as "fake polls". Still, consistently in the last eight weeks, the Democratic challenger is maintaining his lead nationally from anywhere between 9 to 16 points; is holding on to a comfortable lead in battleground states and is hoping to pull off upsets in such states as Ohio, Georgia and even Texas. According to the latest poll aggregator FiveThirtyEight, Biden's chance of besting the Electoral College tally is a at record high of 86.1 per cent, with a prediction of the Democrat winning 352 electoral college votes out of a total of 538. A candidate needs to win 270 electoral college votes to become the President of the United States.
Two weeks-plus is a very long time in American Presidential politics but this Republican President has managed to make many of the voters, especially the elderly and un-decideds, queasy about supporting him. The callous fashion in which he has treated COVID-19, the latest raucous party on the lawns of the White House where every caution was deliberately discarded, twisting out of context what his scientific advisors have said of the virus and desperately trying to appeal to his brand of supporters as though the infection was some kind of a divine intervention has struck a nerve in the voting group.
Add to all this the disastrous first debate when the Disruptor in him took the upper hand, Trump has pulled out of the second debate on grounds that it was a "waste of time" doing a virtual debate. But as soon as Biden signed on to a town hall format with ABC news in Philadelphia on October 15, Trump has said he would do the same with NBC news, same date and same time!
The worst scenario that Republicans and the Trump campaign are looking at is loss of the White House; further loss in the House of Representatives and the stunner coming by way of the Senate getting into the hands of Democrats. Much of the apprehension stems from the rather cantankerous fashion in which the President has gone about this election cycle and not even mellowing down one bit after his infection with the COVID. In fact he has worsened his position on the virus making a lot of people uncomfortable. Continuing with his rallies at break neck speed, Trump is now seen as a "super spreader" of the pandemic, a notion that he so quickly dismisses. His refrain: I feel like a Superman!
Related news: Trump, Joe Biden's second US presidential debate cancelled
In all the antics that are being witnessed, the fear lurks in many a mind as to what Trump would do if he loses the election on the night of November 3. It is not as if Democrats are scared of a legal drag down as it happened in 2000, but in the prospect of terrifying days and nights of orchestrated violence in the streets of America. Professional top echelons of the Pentagon have made it clear that the army will not intervene, but the civilian Defence Secretary has yet to rule it out.
As it is, Trump and his minions have set the stage for what is in store should the Republican incumbent lose—the ominous signals have been put out to extremists and white supremists: Stand By. The only way for sober minds to prevail on election night is a re-run of 1984 elections between Republican President Ronald Regan and Democratic challenger Walter Mondale. Reagan swamped Mondale in a crushing landslide winning 49 out of the 50 states with the losing Democratic candidate only getting the District of Colombia and his state of Minnesota!
(The writer was a former senior journalist in Washington D.C. covering North America and the United Nations)
(The Federal seeks to present views and opinions from all sides of the spectrum. The information, ideas or opinions in the articles are of the author and do not necessarily reflect the views of The Federal)