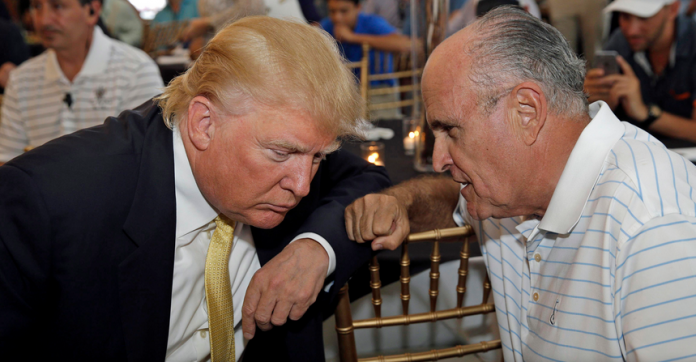 By the time curtains come down on the 2020 US Presidential elections, it is going to be one of two things for Rudy Giuliani, President Donald Trump's personal lawyer: either he is going to be a rich man laughing himself all the way to the bank or he is going to be in court, seeking money for all the time he spent fighting over a case that he himself is not sure of.
Trump is all over Twitter screaming bloody murder — that this was a massive fraud of an election in which he won hands down. But when a judge in Pennsylvania asked Giuliani if a higher legal standard of "strict scrutiny" should be applied in the case where fraud is alleged, the 76-year-old former Mayor of New York, replied, "If we had alleged fraud, then yes, but this is not a fraud case".
The big question goes back to Trump: If the lawyer representing the zillions of cases of fraud himself says it is not a "fraud case", what are we looking at? Is it some flimsy procedural counting mechanisms or the entire judicial process is being brought to a spectacle to satisfy the ego, whims and fancies of one man, just because he cannot stomach the fact that his opponent, the former Vice President Joseph Biden has 306 Electoral College votes or 36 more than what is required to be the President of the United States? "It is sad to watch" Rudy Giuliani "descend into this type of lunacy and conspiracy theory and fear mongering," Pennsylvania's Attorney General, Josh Shapiro said after the court hearing.
"It's sad. It's sad to watch someone who America looked to at a time of need descend into this type of lunacy and conspiracy theory and fear mongering in a way that is not helping this country in any way. I see a man who is sad, who clearly forgot what he learned in law school, and has absolutely no evidence to back up the claims, the ridiculous claims that his client makes on Twitter every day," Shapiro remarked.
"Proof doesn't come in tweets. Proof doesn't come in conspiracy theories or press conferences from Rudy Giuliani. Proof comes from introducing evidence into a court of law – something they have failed to do, at every single turn, which is why they have either lost in court or had cases dismissed in court, over and over and over again… It's time to move on," he added.
Giuliani is not the only lawyer of Trump that is on a sticky wicket. Media reports have it that close to 30 elections and so-called fraud related cases have been tossed out with some of them even laughed out of court. And the general consensus within the legal fraternity is that the allegations of the President are so outlandish that they will have very little traction. It is for this reason that top legal firms have opted out of this case even if they may have earned millions. In fact it is being pointed out that the best brains of the elections process that helped President George W Bush in his legal fight against Al Gore in 2000 are nowhere in the scene or are unwilling to touch Trump's thesis with a huge barge pole.
In spite of the brave face put on by the President and some of his cronies in the White House and elsewhere, privately advisors of Trump are speaking of a sense of despondency that has come upon members of the staff, many of whom have started looking for jobs. If Washington talk is anything to go by, even Trump may have come to the conclusion that he cannot afford to prolong his own agony by continuing to deny what actually happened on November 3.
Many in the media predicted what was in store by way of Trump refusing to accept the outcome if it went against him. But what seems outrageous is not just the refusal to accept the verdict; it is on the vindictive spree that Trump is going about: sacking people like the chief of cybersecurity in the Homeland Security Department for having the guts to say that voter fraud did not take place; and getting rid of the defence secretary who was actually expecting his marching orders even before the elections. And adding to the pettiness is the continued refusal of providing the wherewithal to the Biden team for a smooth transition, including intelligence briefings and updates on the coronavirus that has claimed some 250,000 lives so far.
Even supporters of the President are seeing the losing battle they are fighting on behalf of the man in the White House. If senior Republicans are unwilling to fully dump Trump, some of it may have to do with their fear of his Twitter handle; and some not wanting to rock the boat further on account of the unfinished political business in the state of Georgia where two Senate seats are up for grabs in a run-off election in January 2021. But slowly Republican senators are seeing the hopelessness of the situation and are urging the President and his administration to start the transition process.
The holdout or intransigence on the part of the President comes perhaps with another motive: a desperate need to keep his base going in case there is an urge to run for 2024 elections. This in an assumption that the Republican Party would solidly stand behind a man who is generally seen in America and elsewhere as an embodiment of divisiveness in the country. For now there is hope and prayer that even if Trump refuses to concede the election till the very end or leaves town without conceding at all, he shouldn't use his last days to start a war as he was shown desperately asking advisors for "options" to strike Iran and for unknown reasons. Fortunately for America and the world wiser counsel prevailed.
 (The writer is a former senior journalist in Washington DC covering North America and the United Nations)
(The Federal seeks to present views and opinions from all sides of the spectrum. The information, ideas or opinions in the articles are of the author and do not reflect the views of The Federal)