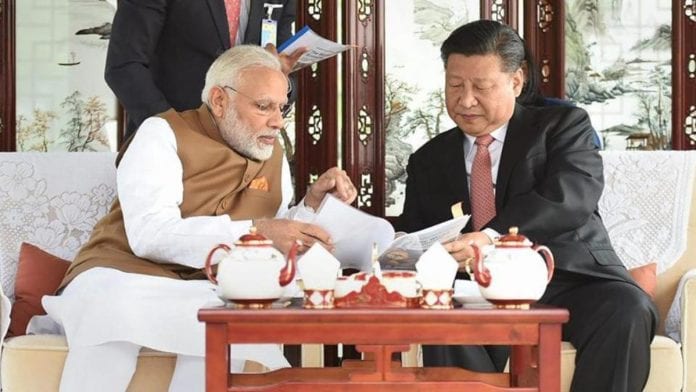 If you thought India and Pakistan competed only in the cricket field, you are wrong. In politics too, the two rivals seem to be elbowing each other for the attention of world leaders like US President Donald Trump and Chinese President Xi Jinping.
It may be a coincidence but what is striking are the September meetings with Trump and the forthcoming meeting with Xi. On September 23, Indian Prime Minister Narendra Modi met Trump at Houston. The very next day his arch-rival, Pakistani counterpart Imran Khan, had an engagement with the US president.
Similarly, Modi is scheduled to meet Xi at Mamallapuram near Chennai on October 11, and on October 9, Imran has beaten him to it by flying to China to meet Xi.
On the face of it, however hard India tries to de-hyphenate itself from Pakistan, it just does not appear to be happening. If Khan's meeting with Trump could be attributed to the United Nations General Assembly, prior to which Trump met many world leaders, the meet with Xi is more intriguing.
There is no convincing reason for Khan to be meeting Xi just prior to the Chinese leader's visit to India other than to possibly discuss issues that have dogged his relations with New Delhi, like on Kashmir.
Even if the two meetings were entirely coincidental, the atmosphere between India and Pakistan is such that each and every word, phrase and sentence is lapped by the  media from both countries and spun into a competitive narrative — the nature of smiles, handshakes, statements and the effort taken by the US or China to appear close to either Modi or Khan.
For instance, why were the Indian organisers particular that the crowds should be 50,000 at Houston? According to reports, this was to ensure that it crossed 30,000 — the number Imran Khan had at his show in Washington DC in July. India's one-upmanship succeeded to some extent, but where it mattered, Modi found himself a few paces behind Imran.
For, the US president after making the right noises against Pakistan on Kashmir during his meet with Modi, went right back on his words the very next day at the tete-a-tete with Khan. Trump, rubbing shoulders with Modi, had blamed Pakistan for harbouring those responsible for terror attacks in both the US and India. The next day, standing next to Khan, he flipped — describing the Pakistani prime minister as a great leader. When reporters asked Trump about his statement the previous day blaming Pakistan for terrorism, Trump adroitly avoided the question as politicians know how to.
India-centric social media which were gleeful at Trump's criticism of Pakistan turned silent the next day. It was the turn of the Pakistani social media to exult. An Indian meme showed a dejected Imran Khan and termed Trump's statement "another surgical strike" against Pakistan. The next day, Pakistani social media praised Khan after his meeting with Trump and one meme termed Indians as "Endians".
Also read: India, China need each other; Chennai meet to reinforce that
In this context, Khan's meeting with Xi on the eve of the Chinese leader's visit to India almost makes it appear as if Xi is being briefed by the Pakistani prime minister. The Chinese have, however, been careful. After taking a hostile stance that India should approach the United Nations for a resolution to the Kashmir dispute, they have quietly shifted their position to advocate bilateral negotiations between New Delhi and Islamabad on the issue, pleasing Indian officials no end as this is New Delhi's stance on the dispute.
What we are probably missing is that clearly Trump and Xi are gaming both India and Pakistan to extract maximum benefit for themselves. If Trump is using opportunistic rhetoric against Pakistan to win business deals with India, Xi is attempting to cosy up cautiously as it has huge stakes in the Indian economy. Among the most urgent tasks, Xi needs to convince Modi not to block technology giant Huawei's proposed 5G trials in India under US pressure.
Also read: Trump emphasises on India, Pakistan dialogue to solve Kashmir issue
Of course, the Modi government too is probably trying to extract the maximum from the two global giants — to some extent it succeeded by persuading China not to veto a UNSC resolution naming Jaish-e-Muhammad chief Masood Azhar as a global terrorist. But Trump and Xi are tough customers and they have not said or done anything substantial to prove they are closer to India than to Pakistan or vice versa which is, after all, what matters in these days of "optics" and "atmosphere".
As for social media, all it can do is watch, applaud or abuse from the sidelines — at the most it can give either Modi or Khan a political lift in their respective countries. But the real long term beneficiary of their mutual acrimony is neither India nor Pakistan, it's more like Trump or Xi who are probably laughing all the way to the bank.