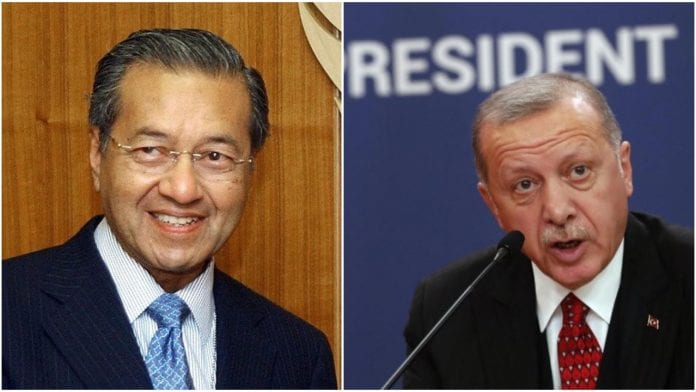 The Indian government appears to be moving beyond diplomacy into the realm of arm-twisting to express anger at two friendly countries — Malaysia and Turkey — for their pro-Pakistan position on Kashmir and for supporting Islamabad at the recent FATF meeting in Paris.
Unlike in the past when Indian governments would react diplomatically, the current dispensation under Prime Minister Narendra Modi has gone beyond mere verbal response, indicating it may well downgrade trade with the two countries.
A key import from Malaysia is palm oil and reports say the Indian government is exploring whether it can import that from Indonesia, while making up any shortfall with soyabean oil from Argentina and sunflower oil from Ukraine. India, incidentally, is among the top importers of palm oil from Malaysia, buying nearly $4 million worth in the first nine months of this year.
In the case of Turkey, New Delhi has stalled a contract between Hindustan Shipyard Limited and Anadolu Shipyard for the construction of fleet support ships for the Indian Navy, a deal worth $2.3 billion. It is also cutting down on defence exports of equipment that could be put to more than one use, like detonating cords, safety fuse, explosives, say reports.
Also read | Despite FATF fear, Pakistan unable to curb terror groups
While the relationship with Turkey has always been low key what is significant is the threat to downgrade ties with Malaysia. For, historically, Malaysia has been close to India particularly to Tamil Nadu. According to official statistics, at least 10 percent of Malaysians are of Indian origin with a majority of them Tamil-speaking.
Malaysia is a top market for Tamil movies and cultural programmes with frequent exchange of events between that country and Tamil Nadu. Malaysia reportedly accounts for at least 35% of the total Tamil film overseas market, no less.
Until now there have been no major issues between India and Malaysia thereby making the current bad blood possibly the first time that there is a real chance of the relationship nose-diving.
Prime Minister Mahathir Mohammed's recent statement at the United Nations General Assembly that India "invaded and occupied" Kashmir managed to set the cat among the pigeons in Delhi's corridor of power. Mahathir, as he is popularly called, has not backed down on his statement only clarifying that he meant the Kashmir issue is before the UN and needs a resolution.
The Mahathir government has attempted a two-pronged response. One, hinting that India too exports stuff to Malaysia and that can be affected if the threat of stopping palm oil is implemented. Second, Malaysia has said it may increase its imports from India — clearly a sop that it hopes New Delhi will find hard to resist.
The volume of trade with Turkey is not huge, with the trade surplus favouring India. If at all, the process of the two getting closer will be impeded.
Also read | Kashmir, Hong Kong seem similar, but in reality are different
The reason for Turkey and Malaysia to support Pakistan is not because the two countries would like to be anti-India. Rather, the three in recent times have got closer to one another in the Organisation of Islamic Conference (OIC). Within the OIC, a subterranean power struggle is on between current leader Saudi Arabia and Turkey which under its President Recep Tayyip Erdogan is vying for the top slot.
In OIC politics, Turkey and Malaysia would like to see Saudi Arabia's position to be replaced by either of them. And, to this end, they have been wooing Pakistan — another reason why the two voted in favour of Islamabad at the FATF meet. In addition to the two votes, China's support made it possible for Pakistan to escape going under the blacklist, at least February until 2020. A blacklist will mean severe restrictions on Pakistan's ability to trade with the rest of the world, get loans and credit from international monetary institutions.
The differences within OIC seem to have benefited India on the rebound as it got an observer status in that organisation a couple of years ago. Further, a section of Muslim countries like Saudi Arabia have reportedly got closer to India and have not issued any statement against New Delhi's abrogation of special status to Kashmir.
Pakistan meanwhile has received a blowback for its perceived closeness with Turkey and Malaysia. Saudi prince Mohammed bin Salman, piqued with Islamabad, recalled his personal aircraft that had been loaned to Pakistan Prime Minister Imran Khan for the recent United Nations meet in New York. The aircraft ferried Khan to the US, but before he could return, the Saudi prince asked for it to return, forcing the Pakistan prime minister to fly by a regular commercial aircraft.
For Mahathir, the majority Muslim population of Malaysia is likely to have been a compulsion for his pro-Pakistan stance on Kashmir. Also, there are reports that Imran Khan in consultation with Mahathir and Erdogan is planning a television channel that will focus on Muslim-related issues around the world.
Not just that, reports say Imran Khan has taken action against Erdogan's bête noir Fetullah Gulen in acquiring schools run by organisations close to Gulen in Pakistan. This has served to bring the Turkish president closer to Khan.
The Modi government, however, has chosen to overlook the compulsions of Turkey and Malaysia in backing Pakistan. According to some reports, Modi who was to have visited Turkey later this month after his trip to Saudi has called off that leg of the tour. Indian government officials have been quoted as saying that the Turkey visit had not been finalised for it to be cancelled. Anyway, the upshot is that Modi is not going to Turkey this time around.
In the next few weeks, Malaysia and Turkey could do a rethink on their positions vis-a-vis Kashmir as economically they stand to gain in their trade with India. On the other hand, the compulsions of OIC and global politics may come in the way of reconciliation with New Delhi. Either way, the issue is poised interestingly, with long-term consequences for all three.
Also read | The 'key' that 'unlocked'  United Nations Masood Azhar decision