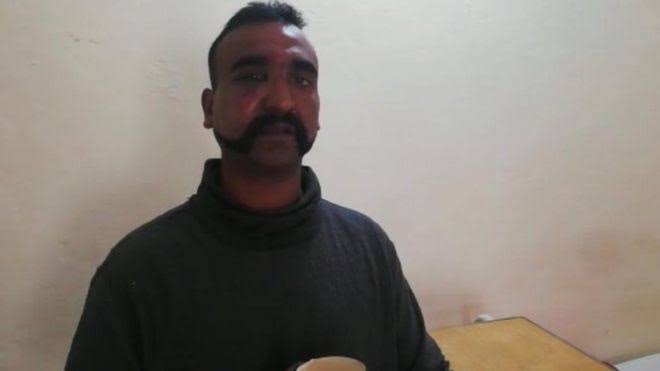 Where was India's defence minister? This is the question that seemed to bother many Indians as tensions between India and Pakistan escalated to a whole new level this week, before Prime minister Narendra Modi on March 1 reminded everyone of "India's first woman Defence Minister Nirmala Sitharaman".
"I am proud that India's first woman Defence Minister is from Tamil Nadu. It makes every Indian proud that the brave Wing Commander Abhinandan hails from Tamil Nadu," he said. The prime minister was addressing a BJP rally in Tamil Nadu's Kanyakumari town. This was also the first time that the Prime Minister directly spoke about the IAF pilot who was in Pakistani custody for less than 72 hours before he returned home on March 1 evening.
Minutes before the IAF pilot walked into India, Sitharaman tweeted, "Jai Hind." The next tweet that followed was, "Proud of you Wing Commander Abhinandan Varthaman. The entire nation appreciates your valour and grit. You held your calm in the face of adversity. You are an inspiration to our youth. Salute. Vande Mataram."
This opened a floodgate of criticism against the defence minister who was conspicuous with her absence as the entire India-Pakistan crisis unfolded. Not only was she not seen addressing the press or the public, even her Twitter handle – the micro-blogging site that the prime mInister and his cabinet colleagues use for most official communications – offered little. Sample this, On February 26, when IAF bombed the JeM terrorist camp inside Pakistan, there was no word from the defence minister on it.
In fact, it was Union HRD Minister Prakash Javadekar who made a statement on February 26, saying IAF had carried out strikes at JeM terror camps following "freedom" given by Modi to the forces in the aftermath of Pulwama terror attack on February 14. Minister of State for Agriculture Gajendra Singh Shekhawat, too, confirmed on Twitter that the air strike had taken place.
Meanwhile, Sitharaman only retweeted a tweet by the PM on Shrimad Bhagvad Gita. On February 27, when Pakistan violated Indian airspace and the ensuing aerial exchange between the two nations saw IAF pilot Abhinandan Varthaman crash-landing into Pakistan's captivity, the defence minister retweeted Modi's address to national youth parliament.
On February 28, she retweeted a number of tweets posted by the defence spokesperson's handle, and thanked Information Technology and Electronics Minister Ravi Shankar Prasad after he told the press that humiliating videos of the Wing Commander uploaded on YouTube from Pakistan side were taken down following his ministry's requests. It was only on March 1, just before Abhinandan walked home through the Attari-Wagah border, Sitharaman reappeared.
Modi is often accused, by the opposition, of usurping the powers of his cabinet ministers, including foreign and defence ministers, effectively relegating them to the background. According to BJP MP Subramanian Swamy, the IAF operation against terror camps in Pakistan was conceptualised by just seven people: the PM, NSA Ajit Doval and the chiefs of the Army, navy, Air Force, IB and RAW.
Considering that, can Sitharaman be blamed for maintaining silence? With the dust settling on the Abhinandan crisis, the defence minister on Saturday was seen visiting the IAF pilot at a hospital in Delhi. She posted photographs of flagging off a motorbike rally — BJP's Vijay Sankalp bike rally — along with Union Environment Minister Harsh Vardhan in Delhi.
The defence minister also used the hashtag #ModiHainTohMumkinHai (everything's possible when there is Modi), reminding of a recent statement in which she said that the country would be set back 50 years if Modi does not return to power.
While the PM returned the favour, saying he was proud of Sitharaman for being the "first woman defence minister" — a portfolio held my former PM Indira Gandhi as additional charge (in 1975 and then again from 1980-82) — her countrymen didn't seem too overjoyed about the fact. "Nirmala Sitharaman is the only Indian who can get away with just saying 'Jai Hind' even while being absent in the national anthem," said a Twitter user on Friday. "Good to see you back ma'am. Jai Hind," said another on Twitter. Another user posted a meme with a missing person's alert and a message, "Welcome back Raksha Mantri ji, we were getting worried about you."