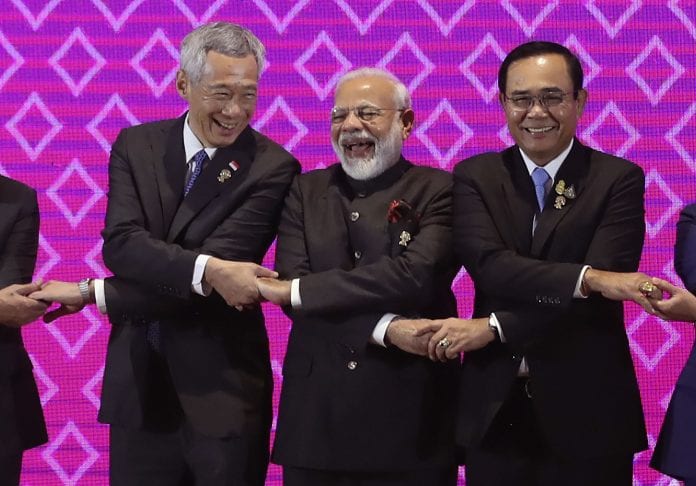 This may be a hard one to swallow, but the fact is India does not appear ready to get into free trade agreements with bigger powers, like in the Regional Comprehensive Economic Partnership (RCEP), and benefit from them.
Prime Minister Narendra Modi in Bangkok opted out of signing the RCEP deal on Friday. Consequently, the date for the finalisation of that agreement has been put off to February 2020. The other countries in the 16-nation bloc are hopeful that India's concerns will be addressed by then and it will be able to join the RCEP.
But, the reality is India's concerns are far deeper and will not be able to be sorted in the next three months. The RCEP is a free trade agreement. That means the 16 countries that make up the partnership have almost unfettered access to one another's markets. One need not be an economist or a financial expert to assess how that will work.
Also read: India's 'no' to RCEP only for now, pressure on to exit for good
It is a widely acknowledged fact that an economic powerhouse like China is far ahead of India on most parameters, so are Australia, Japan, Korea and New Zealand. All these nations are looking at the huge market potential of India and would like to establish themselves or at least trade their goods freely in this country, nay sub-continent.
Obviously India too will have equal access to all these member-nations and its export-oriented industries will have the opportunity to sell their wares everywhere. But, the question to be asked is: do Indian exporters have the wherewithal to scale their production exponentially and cater to new demand ? Not for now, it seems. A World Bank official Hans Timmer,  quoted in the Economic Times, said the Indian economy was propelled by internal demand while its exports were just one-third of its potential.
Even assuming that India can do well in exports,  under an FTA, it would have to simultaneously allow foreign producers and traders into India to compete with locals. This is the nub of the issue. In the experience of the last three decades, since the opening up of India's economy,  large imports have all but ruined the country's businesses in sericulture,  toy making, bulk drugs, solar technology and textiles among others.
In addition, faulty governmental policies like demonetization, the haphazard implementation of GST and a global sluggishness have weakened and slowed down the economy to a point where India has probably never been more vulnerable than what it is now.
Also read: Make in India has become 'buy from China': Rahul's takedown of RCEP
According to one estimate, there are over 300 free trade agreements in the world.  Among the biggest is the North American Free Trade Association, or the NAFTA. The experiences have been mixed. While trade volumes have gone up substantially and investments have risen, there has been loss of employment in some areas while opening up in others, farmers have been put out of business and wages have shrunk.
Trump is forcing a review of the NAFTA to bring in changes that will favour the US economy. Washington is the world's superpower and it can do what it wants to, but that is not the case with others.
Europe started off experimenting with a free trade agreement (the European Coal and Steel Community) way back in 1951 that eventually led to a political union later. Again, the experience of the EU has been mixed with many countries including Greece, Spain and Ireland facing the brunt of the global downturn triggered by the 2008 US market crash.
The Euro crisis, for instance, exposed the helplessness of Greece in tackling its internal recession and has had to suffer for it. A majority of the British have voted to exit from the EU as they don't see it working for them. Politically,  the EU has served one purpose – the motive to go to war with one another is today almost non-existent.  For a continent that suffered from two internecine wars,  the free trade agreement has  been positive on this count, at least.
The upshot of free trade agreements is therefore always mixed and chances are that a country like India which is far behind on several economic indicators will have to put up with enormous difficulties that could arise from allowing free access to powerful economic nations. That is the reason why farmers and small industrialists are up in arms against the RCEP.
Also read: RCEP pact will deal body blow to Indian economy: Sonia Gandhi 
India can walk out of the RCEP but that is not the case in its relationship with the United States which has been pressurising India to sign a mutual free trade agreement. In this case, clearly everyone knows who the more dominating partner will be. New Delhi has been dragging its feet but Washington is gradually tightening its grip by threatening punishment  if India refuses. The recent removal of India from the US's General System of Preferences (GSP) is but one indicator.
More punitive measures are expected to follow. The Trump administration is working hard to strike out  India from the list of  "developing" countries. This may warm the hearts of ultra-nationalists but if the move succeeds that will mean the end of various economic advantages the country has enjoyed so far because of that tag. A country that organically moves out of a developing status is to be welcomed but merely altering it on paper can do enormous harm.
That India is unable to dominate trade issues and emerge as an economic powerhouse is unfortunate, but that is how it is. India does have its FTAs with smaller countries in its immediate neighbourhood including in South-East Asia.  But, China has stolen a march with its  Belt and Road Initiative (BRI) that encompasses at least 70 countries including many in Asia,  besides Italy, Serbia and Montenegro in Europe, among others.
Going forward, the choice for India is not going to be easy as the world is more integrated today and international alignments are changing, the RCEP being the latest example. With a large market to boot,  India is attractive for other countries. But for India to take advantage, it would all but need to transform into an economic powerhouse overnight by a sleight of hand – which, sadly, for now appears to be wishful thinking.