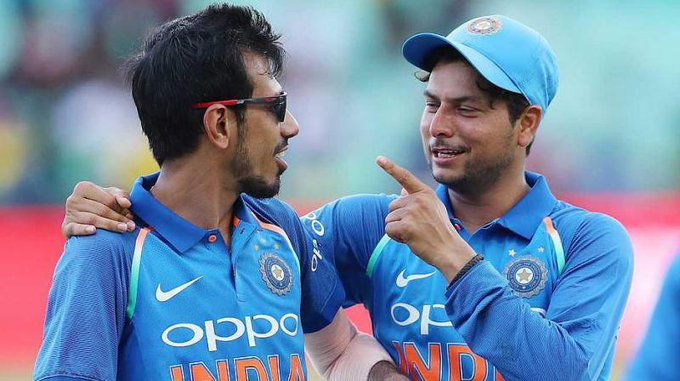 At the Sydney Cricket Ground (SCG) last Sunday, with India needing 41 off 18 deliveries to complete a clean sweep of the Twenty20 International series, Aaron Finch tossed the ball to Adam Zampa, his premier leg-spinner. Up against him were Virat Kohli and Hardik Pandya, most destructive towards the end of an innings, masters of the most daunting run-chase. In itself, that was an event of huge magnitude – Australia relying on spin to stymie India when they had adequate seam options.
What Zampa did next was no less astonishing. With a lovely leg-break that drifted in and spat away after pitching on leg, he defeated Pandya's intended drive over long-on with his first delivery, the resultant outside edge looping into the hands of short third-man. He conceded just seven runs in the over, giving him figures of one for 21. And he wasn't even Australia's best leg-spinner on the night.
Related News: India lose third T20I in Sydney
That honour went to Mitchell Swepson, player of the match for the scalps of Shikhar Dhawan, Sanju Samson and Shreyas Iyer. Remarkably, it wasn't the only time in the series Australia's spin twins had out-bowled their more celebrated Indian counterparts. Between them, Swepson and Zampa accounted for eight wickets in three matches, collectively going at less than seven an over. Yuzvendra Chahal, the most senior of the leggies, and Washington Sundar took six wickets between them, at an economy of nearly 8.5 and a significantly poorer strike-rate.
Dream turns into nightmare
The steadily diminishing returns – number of wickets, strike-rate and economy – of India's varied tweakers has to be a big source of headache for the management group of Virat Kohli and Ravi Shastri as the countdown begins to the first of three World Cups (including one of the 50-over version) in the next three years. Sporadic shades of brilliance aside, Chahal at the international level isn't nowhere near as effective as he was for nearly three years since his breakthrough in June 2016, while Kuldeep Yadav, his wrist-spinning mirror-image, has been put out to limited-overs pasture.
The Chahal-Kuldeep alliance was stitched together in the immediacy of India's defeat to Pakistan in the final of the 2017 Champions Trophy. One ordinary match, rather than a sustained poor run of results, was enough to usher the established order of R Ashwin and Ravindra Jadeja, who were Mahendra Singh Dhoni's lynchpins, out of contention.
Within seven months of taking over as white-ball captain, Kohli decided finger spinners weren't the way to go, because they gave him neither penetration nor control in the middle-overs. Ashwin hasn't played a limited-overs international since taking three for 28 against West Indies in North Sound in July 2017, Jadeja served a 14-month 50-over exile until India could no longer afford to overlook the all-round skills that gave him a massive advantage over not just Ashwin, but also Chahal and Kuldeep.
Related News: Aus need to shed emotion, nothing wrong with concussion substitute
The early experiment with KulCha, as the wrist-spinning band was imaginatively named, bore handsome fruit, vindicating their captain's unwavering faith. Perhaps, it was because they were relatively unknown commodities at the global level and teams hadn't yet worked them out. For a year and a half, they were the dream combine, the skipper's dream and the opposition's nightmare. Since the 2019 World Cup, however, it's been the other way round.
Using the World Cup as the reference point, the dip in their output is overwhelming in the 50-over game. In all, Chahal has 92 wickets from 54 ODIs, economy 5.20, strike-rate 31.4; since the start of the World Cup, the economy has climbed to 6.15, the strike-rate is a less flattering 36 and consequently, he has managed 20 wickets from 13 games. In Kuldeep's case, the downward graph is more pronounced. Overall, 61 matches, 105 wickets, economy 5.12, strike-rate 30.9. World Cup onwards, 17 matches, 18 wickets, economy 5.57, and a wicket only every 53 deliveries, or almost nine overs.
Try out other wrist-spinners
The trend of diminishing returns spills over to the T20 variant as well, Kuldeep not axed just from the national set-up but struggling over the last two seasons to convince even the Kolkata Knight Riders (KKR) management to give him consistent game-time. It's a terrible situation to be in for a young bowler practicing a difficult art, but even more debilitating for teams that rely on him, and Chahal, only for incisiveness, not for brilliance in the park or late pyrotechnics with the bat.
Clearly, at least in white-ball play, Indian spin is at a crossroads. There is yet time for remedial action ahead of the next T20 World Cup in India in October 2021, but the process must begin early in the new year if new entrants are to have a reasonable taste of the pressures and charms of international cricket before the mega event.
It's non-negotiable that India decide what they are looking for from their spinners, especially in T20 cricket, given that the emergence of T Natarajan has brought Jasprit Bumrah a wonderful ally and gives the skipper the luxury of eight bankable overs more often than not. Do they want to stack the deck with parsimonious but not necessarily wicket-taking options in the Sundar mould, or are they willing to try out other wrist-spinners who caught the eye during IPL 13, notable among them Deepak Chahar, the young Ravi Bishnoi and the irrepressible Rahul Tewatia?
Krunal Pandya and Axar Patel, both left-arm spinning all-rounders like Jadeja, have played for the country previously with mixed success, but are well worth a punt in the wake of recent performances. It might appear silly to have more than one left-arm spinner in the eleven, but teams at franchise and international levels aren't chary of fielding two leggies, so that shouldn't really be an issue.
India can't expect to keep doing the same things and hope for different results. It's been clear for a while now that spin, once the weapon of destruction, is gradually becoming their Achilles' heel. Unless counter-measures are deployed post-haste, this could snowball into a full-blown crisis.