The thousands of migrant workers walking back to their village homes hundreds of kilometres away from the cities they were working in, braving deprivation, injury and even death on the way, may not have upset Prime Minister Narendra Modi's government since the reverse migration has been largely peaceful and apolitical.
The necessity of the lockdown — to check the rate of COVID-19 infection and to keep the flow of patients within the coping capacity of the healthcare system — cannot be contested. But if the Rashtriya Swayamsevak Sangh (RSS) provides an endoscope into the prime minister's mind, the agony of the migrants will be, perhaps, seen as a collateral damage without any political cost.
The scenes that RSS joint general secretary Dattatreya Hosabale word-painted during his video interaction from Bengaluru with journalists of foreign media organisations on May 5 could as well belong to descriptions from Ramanand Sagar's 'Ramayana' which Doordarshan began re-broadcasting twice a day from March 28, four days after the lockdown commenced, and 33 years after the series was first aired.
Advertisement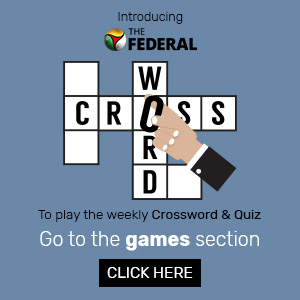 Related news: Lockdown for the good of people not a weapon of impunity
"The way Indian society has cooperated with the government and behaved as a responsible society is something remarkable," Hosabale said. It shows that ordinary Indians, who according to him are generally spiritual minded and have a cooperative nature, "extended a helping hand to all the people to fulfill their daily needs."
Hosabale's exultation of the Indian middle classes' behaviour is valid. It has been pliant and willing to obey the prime minister. But if there was indeed an outpouring of charity on the scale that were needed, large numbers of migrant workers would not have voted with their feet. They would not have risked death like the 14 migrant workers who were run over by a goods train on May 7 between Jalna and Aurangabad stations in Maharashtra while on their way back to Umarya and Shahdol districts of Madhya Pradesh. They would not have thronged Mumbai's Bandra station on April 15 in response to social media messages about the resumption of train services, hours after the prime minister announced an extension of the lockdown. In Surat, mobs of power loom workers from Uttar Pradesh, Bihar and Odisha would not have resorted to arson on April 10, demanding that they be sent home. The Karnataka government would not have had to cancel trains on May 5 to retain migrant construction workers in Bengaluru (and reverse the decision after drawing flak), nor would the Railways have charged the returnees a hefty fare to stem the flow of passengers.
In Hosabale's phantasmagoric description, the migrants become serene beings, like the exiles returning to Ayodhya after their long isolation in the wilderness. "They were silently walking, peacefully walking." They were sage-like, without anger or other base emotion.  "They were not raising any slogans against anybody… They did not create any mess. They did not indulge in any violence." In their helplessness, Hosabale sees abnegation. "They did not demand food." He sees heart-tugging displays of generosity along the way. "People along the roads definitely provided food." Above all, they were docile. "They reached their homes. They had to face all the miseries, difficulties, hardships, but they behaved."
Related news: India faces a Hamletian moment – to lift or not to lift the corona lockdown?
This is perhaps why unlike right-wing leaders like US President Donald Trump or Brazilian President Jair Bolsonaro, who are chafing at the restrictions imposed by state governors, Prime Minister Narendra Modi is in no hurry to lift the lockdown. Despite the economic pain, surveys say his popularity has increased.
While the governments of the western liberal democracies have placated employers and workers with handsome handouts for the loss of earnings caused by economic dislocation, Modi has put the onus on people for ending their enforced idleness, while making token payments to the lockdown affected, and accepting few obligations.
Some chief ministers have not wasted the crisis. The government led by a monk in Uttar Pradesh has found the weakened spines of the workers to be not only malleable but also ductile. He has stretched their daily working hours from 8 to 12 hours and also suspended most other rights that were won over decades of struggle.
One can understand pensioners being willing to isolate themselves out of self-preservation since COVID-19 tends to be more lethal to those with advanced years. They might even get a psychic kick seeing withdrawal as an act of social courtesy while their bank accounts are replenished monthly.
Related lockdown: India's 'invisible' people grease nation's wheels, get misery in return
But those in the working age group worried about salary cuts, EMI defaults, job losses and a lower standard of living, seem to have been persuaded to believe that the pain they endure is for the greater good of the country.
A British-era inscription on the entrance to the Finance Ministry in North Block says: "Liberty will not descend to a people, a people must raise themselves to liberty. It is a blessing that must be earned before it is enjoyed."
This upends the notion that people have certain inalienable rights. But even before the pandemic, the government was emphasising fundamental duties. Modi's support base seems to have accepted that rights are contingent on the performance of duties; the government may have obligations but people must first do their bit.
(The Federal seeks to present views and opinions from all sides of the spectrum. The information, ideas or opinions in the articles are of the author and do not necessarily reflect the views of The Federal)