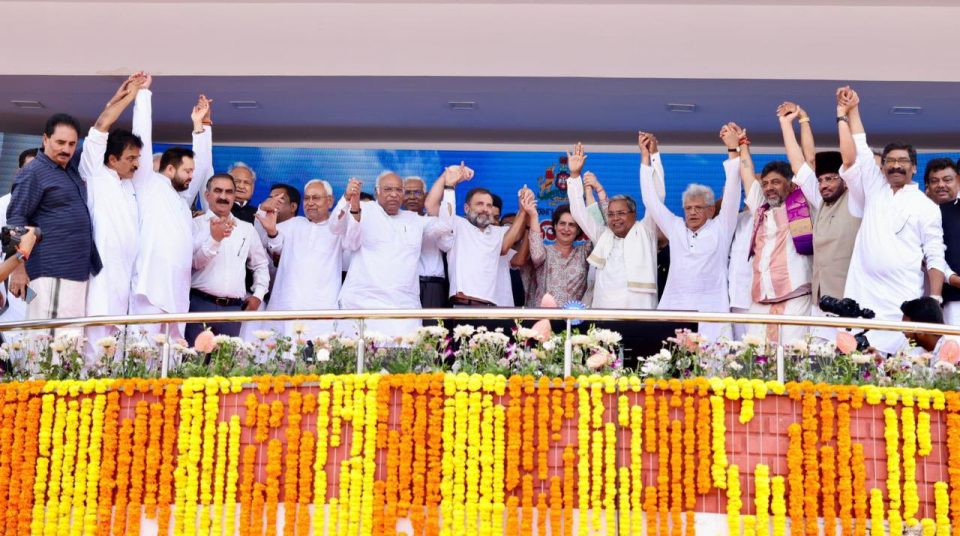 If one is a detractor of the ruling Bharatiya Janata Party (BJP), it is easy to get euphoric after the Karnataka elections. Mechanical extrapolation of electoral data in state elections since 2019 can easily lead to arrogance and declaring that a victory in 2024, or defeat for the Narendra Modi led party, is imminent, whereas the possibility is yet to emerge as a realistic prospect.
State assembly elections in a country of serial polls, if one believes that the trend will hold true during the subsequent parliamentary bout, provide misleading projections of the national hustings. After voters turned out to elect members of the Lok Sabha in the summer of 2019, they have since voted in state assembly elections in as many as 400 parliamentary constituencies, according to an analysis done by the Hindustan Times.
Of these 400 seats, the data sets further points, the BJP won 223 Lok Sabha (LS) seats in 2019. But, as per current Vidhan Sabha holdings, this number is down to 177 – a loss of 46 LS seats which means its tally in 2024, based on these projections, will be 257 – 15 short of a majority in the Lower House, unless this is made up by the remaining 143 seats.
In seats where voters are yet to cast their lot in state elections since 2019 parliamentary elections, the BJP won 70 seats of which nearly 90 per cent or 62 seats were bagged in the bipolar states of Madhya Pradesh, Rajasthan and Chhattisgarh.
However, the BJP's notional loss till date has not triggered corresponding gains for the Congress in these states – its tally as per these projections, shall go up by just two to 46 (again from these 400 seats). But the biggest gainers are the Rashtriya Janata Dal, the Aam Aadmi Party, Samajwadi Party and the All India Anna Dravida Munnetra Kazhagam.
Also read: Karnataka: Why even in such a resounding win, there are signs of worry for Congress
The poll math for Congress and BJP
For the Congress to enter the electoral joust in 2024 with a sense of accomplishment, it will have to do exceedingly well in the three aforesaid listed states where elections are due before the end of this year. These states collectively elect 65 LS members and in 2019, as previously mentioned, the BJP won 62 (including one seat won by a minor alliance partner in Rajasthan), leaving the Congress with just three seats – two from Chhattisgarh and one from MP.
Significantly, the list of states where the BJP performed poorly in assembly elections in comparison to 2019 Lok Sabha polls, is headed by Karnataka where, if the performance in the recently concluded elections is repeated, the BJP's tally will decline from 25 to 8 – effectively a loss of 17 LS seats.
Correspondingly, had it not been for gains made by the Congress from the state, its tally would have been even lower than what it secured in the 400 seats that have witnessed state polls post 2019.
State polls are poor reference points
State polls are poor reference points to draw projections for subsequent Lok Sabha elections and vice-versa. For instance, in 2013, the Congress secured 122 seats in Karnataka in a House of 224 but when it came to the 2014 LS polls, the Congress tally from the state was down to just nine, while the BJP's figure soared to 17.
Furthermore, the Congress formed governments in MP, Rajasthan and Chhattisgarh in 2018. However, as previously noted, the party lost all but three PCs from these seats in 2019. As detailed in the HT data charts, 489 PCs witnessed assembly elections between 2014 and 2019 and based on the state figures, its score in these seats should have been 222, but the BJP won 291 of them.
This demonstrates that in 2019, the BJP improved its performance during parliamentary polls when compared to the preceding assembly poll.
Also read: Karnataka polls: 2023 verdict heralds seismic changes in state politics
This clearly underscores that multiple factors lead to different results in assembly and parliamentary elections, even if held in quick succession. Simplistically, for the former, people elect the chief minister or hand over reins to a party they wish to run the state government. But, when it comes to the parliamentary elections, it is more presidential in nature since 2014, as the vote is sought in the name of Modi – Abki Baar, Modi Sarkar or Ek Baar Phir, Modi Sarkar.
However, while the state assembly elections do not, and are unlikely to again, have a direct bearing on seats won in LS elections, it does have an impact when Opposition parties, and even the ruling BJP, hold negotiations with other parties to firm up alliances and discuss seat distribution. Good performances in state elections indicate a party's strengths and weaknesses in various states and seat allocation can be demanded or turned down accordingly.
On paper, the Congress is the largest Opposition party with the widest footprint. But this has to be demonstrated by good performances in a series of state assembly elections. But after the party's improved performance in assembly polls in Maharashtra and Haryana in the autumn of 2019 within months of the parliamentary elections, it failed to improve upon the PCs it had won in parliamentary polls in other states.
An improvement on the 2019 verdict was finally notched in Himachal Pradesh later last year and now in Karnataka. But, HP is a small state to have widespread impact.
A 'single' Opposition candidate
In recent months, efforts have been initiated to forge a loose understanding among Opposition parties to ensure that in 2024 the seats with a 'single' (not joint) Opposition candidate against the BJP nominee are maximised. Opposition leaders during informal conversation have let it be known that efforts are underway to strike an understanding among various parties to ensure one-on-one contests are held in at least 400 parliamentary seats if not more.
The question is if this is doable among a motley cluster of non-BJP parties who in several states are also mutual rivals in the non-BJP space. This includes states where Bihar or Tamil Nadu style alliances do not exist. Most importantly however, these 'troublesome' states where striking an understanding is essential, includes states where the AAP has made its political presence felt.
Also read: Unity in House is fine, but real challenge for Opposition is to work together outside it
Of these, the party is already in power in Punjab and Delhi while in Gujarat, it performed commendably and it would fancy its chances in the next assembly polls in 2027. When Opposition leaders start discussing seat adjustments, will either for instance, decide to leave a few seats for the other – AAP for the Congress in Delhi and the latter for the former in Gujarat?
In Punjab, there will be no need for an alliance, as the BJP is not a very significant force and as of now it appears that the Shiromani Akali Dal too is a receding force and the main contest in the majority of states may well be between the AAP and the Congress.
Strong regional parties to take on BJP in their home turfs
West Bengal chief minister, Mamata Banerjee's declaration at the conclusion of her meeting in Kolkata with her Bihar counterpart, Nitish Kumar and his deputy, Tejashwi Yadav, that strong regional parties should be left alone to take on the BJP in 2024 on their home turfs and in turn, they would back the Congress in the 200-odd seats where the two national parties are in direct contest.
This proposal has been backed by SP chief Akhilesh Yadav and he has joined the chorus for putting up a united Opposition. His move is a shift away from the earlier posture of having no truck with the Congress after the disastrous outing of the duo in 2017. Both Banerjee and Yadav have abandoned plans of pushing for a Third Front. The idea also appears to have the backing of Telangana chief minister, K Chandrashekhar Rao.
Banerjee in fact even displayed clarity about states where she wanted the Congress to yield ground; "in Bengal, we (Trinamool) should fight. In Delhi, AAP should fight. In Bihar, Nitish Ji, Tejashwi (Yadav) and Congress are together. They will decide. I cannot decide on their formula. In Chennai, they (MK Stalin's DMK and the Congress) have a friendship and they can fight together. In Jharkhand also, they (JMM-Congress) are together and in other states also…."
On paper, the plan appears tenable but there are several tricky matters that have to be resolved. To begin with, ambitions of Banerjee in states outside WB – she made a significant foray into Assam and other north eastern states.
Will the Congress and she be able to reach a pact for this region and will they be open to joining hands with other non-BJP parties? Furthermore, will she abandon plans of expanding outside eastern India – recall the over-ambitious move in Goa that did little but assist BJP?
But, more than individual states, it is important to assess if the Congress will risk more desertions from its ranks in states where the party 'decides' to give a free run to regional parties, for instance, TRS in Telangana.
There are also state units like Delhi where Ajay Maken, a one-time Union Minister and Lok Sabha member from Delhi and party general secretary, who see the AAP as the primary hurdle to the party's return to, if not supremacy, at least being the main challenger to the BJP – or a return to the bipolar politics of the Indian capital before the advent of the Arvind Kejriwal led outfit in 2013.
This question would get linked to the Congress's status as a national party and not just from the PoV of the Election Commission of India's 'recognition'.
The figure of 200 Lok Sabha seats that according to Banerjee are those where the Congress is in a direct contest with the BJP has been arrived at by the non-Congress Opposition parties. There is no knowing that the Congress party would agree to this figure, or it would demand more seats in states dominated by regional parties. It could cite recent performances in isolated by-elections, like in WB to say that the party can legitimately attempt parliamentary presence from the state.
Quite obviously, the pathway to Opposition parties maximising one-on-one contests against BJP's candidates is paved with tricky issues. This is besides the other two troublesome matters – ideological or programmatic commonality and the issue of the Opposition's 'face'.
For the moment, it appears that this question is going to be kept open like in 2004. But this would leave the field wide open for the BJP, especially Modi to mount a searing campaign and ask people if they are willing to trust a bandwagon, which cannot decide either on a common minimum programme, or on who shall be its leader in case the BJP is rejected by the electorate.
It is not that Nitish Kumar's initiative has no chances of succeeding, at least in putting up a single Opposition candidate from about 400 seats, as is the current thinking in some parties. But for that, a lot more backchannel discussions have to be conducted which although not impossible, is certainly not going to easy to negotiate.
(The Federal seeks to present views and opinions from all sides of the spectrum. The information, ideas or opinions in the articles are of the author and do not necessarily reflect the views of The Federal)
(A NCR-based author and journalist, Nilanjan Mukhopadhyay's latest book is The Demolition and the Verdict: Ayodhya and the Project to Reconfigure India. His other books include The RSS: Icons of the Indian Right and Narendra Modi: The Man, The Times. He tweets at @NilanjanUdwin)