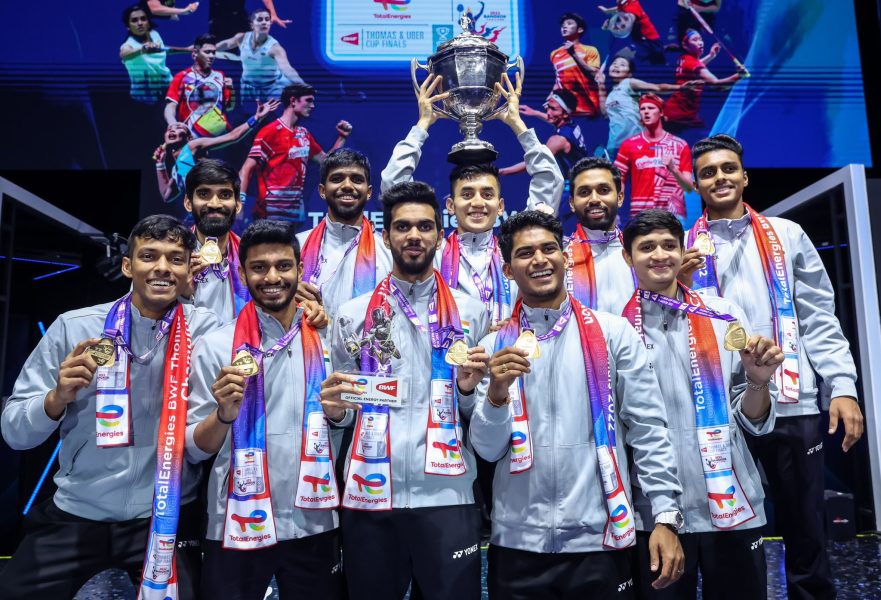 Indian sporting fans were overwhelmed by a paroxysm of ecstasy on Sunday afternoon, seconds after Kidambi Srikanth outclassed Jonatan Christie in straight games to give his country a winning 3-0 lead in the final of the Thomas Cup. No Indian men's team had previously made it to even the medal round in badminton's showpiece event; to have gone boldly where no side had gone before is a massive shot in the arm for the sport in the country.
The expected encomiums and outpouring of delight in the immediacy of that stunning conquest of 14-time champions Indonesia in Bangkok showcased the pride and joy of a grateful nation still in a constant quest for sporting heroes on a sustained basis. Comparisons have been drawn with the 1983 cricket World Cup win under Kapil Dev and its impact on the Indian psyche, though only time will tell if this Thomas Cup triumph holds the same inspirational capacity as the felling of the mighty Caribbeans had on Indian cricket.
The comparison with that World Cup victory, however, might not entirely be justified. As is well documented, India — still novices when it came to limited-overs cricket and with just one win in six World Cup matches in the two preceding editions — went into that competition as extreme outsiders. In their infinite wisdom, the bookmakers installed them 66 to 1 outsiders, a reflection of how little favouritism the Indians enjoyed.
Also Read: Thomas Cup win bigger than 1983 World Cup for badminton: Gopichand
Not many might have comprehensively backed Srikanth and his merry band to rewrite history in Bangkok, though India were anything but no-hopers. Their third singles player, HS Prannoy, was ranked as high as No. 23 in the world. Srikanth himself slotted in at No. 11 while their top singles player, the exuberant Lakshya Sen, occupied the ninth position. The crack doubles pair of Satwiksairaj Rankireddy and Chirag Shetty were seventh in the world. Surely, we should have given our lads an outside chance, at worst, to make a strong statement.
History, though, was stacked against India. Apart from Indonesia, only China, Malaysia, Japan and Denmark had previously emerged triumphant in a competition that tests both strength and depth, and proficiency in singles and doubles. You couldn't just get by with one great singles player and one phenomenal doubles outfit. And that's precisely what had stood between India and a medal in the past.
This time, India had the resources, the calibre, the quality and the form to dream big. They didn't proclaim their prospects loudly and relentlessly because that is not how the baddy boys operate. To use a much-abused cliché, they let their racquets do the talking. And boy, did they talk!
Srikanth was the undisputed star, winning all his singles matches to rack up a perfect 6-0 record. Prannoy was equally dominant, unconquered in his five visits to the court (he wasn't required to play in the final) and pulling the fat out of the fire in deciders in both the quarterfinals and the semifinals against Malaysia and Denmark respectively when the matches were delicately poised 2-2. Sen, a bronze medallist at the World Championship last year and runner-up at the prestigious All-England Championships a couple of months back, stuttered with three successive defeats coming into the final, but delivered when it mattered the most, with a remarkable come-from-behind victory in the first rubber against Anthony Ginting.
No praise can be too high for the Rankireddy-Shetty tandem, the perfect combination of power and ice who were beaten just once in the six outings, in the final league tie against Chinese Taipei. Their towering presence and exceptional understanding honed through playing together for four years – they won the Commonwealth Games gold as long back as in 2018 – meant India could afford for one of their three top singles players to have an off-day.
India's men have had more than occasional individual success on the global badminton stage since the peerless Prakash Padukone won the All-England in 1980 and backed it up with a runner-up finish the following year. A 21-year wait for further success at the All-England was ended by current national coach P Gopichand in March 2001, just four days before fellow Hyderabadi VVS Laxman waltzed into cricketing royalty with his monumental 281 against Australia at the Eden Gardens. Sen's entry into the final this year raised visions of the end of another 21-year drought until he was conquered by Viktor Axelsen, the world No. 1 who again tamed him in Bangkok last week. And who can forget Srikanth's magnificent run in the later part of 2017 with four Super Series titles which catapulted him to the No. 1 ranking ahead of Axelsen in April 2018?
Where they were on fire individually, India didn't have the collective strength to stand up to the might of the Indonesians and the Malaysians, the Chinese and the Japanese. But now, in a massive tick for the system which has fostered a string of champions, India are in a position to challenge and fall the best, as Bangkok has emphatically reiterated.
There is plenty of work ahead if India aspire to remain one of the strongest forces in the sport. Admittedly, Sen is only 20, Rankireddy 21 and his partner Shetty 24, but the Hyderabad duo of Srikanth and Prannoy are both 29 with plenty of miles already in their legs. They aren't going anywhere in a rush, but the process to unearth worthy successors should already have been initiated by the canny Gopichand and former national champion U Vimal Kumar, who travelled to Bangkok as the team manager.
Also Read: IPL: Where young talents sprout, mushroom and then explode
Whether this latest path-breaking success will inspire young boys and girls to rush to badminton academies remains to be seen. In the immediate euphoria of Neeraj Chopra's Olympic gold exploits in Tokyo last year, there was a beeline for javelin but the ardour seems to have cooled off already. The challenge for badminton, and those tasked with ensuring it retains and inspires interest and dreams, is to keep the fire burning. Easier said than done, maybe, but is there any other way?