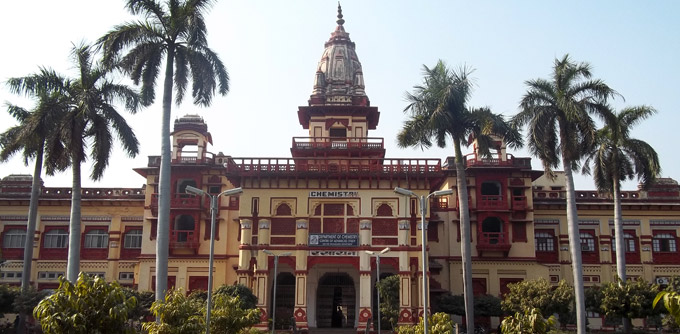 BHU students protesting Muslim Sanskrit teacher a blot on Indian culture
For the nincompoops refusing to learn Sanskrit from a Muslim teacher at the Banaras Hindu University (BHU), the only fitting advice is the one sung by Lata Mangeshkar to the divine music of Jaidev: Allah tero naam, Ishwar tero naam, sab ko sanmati de Bhagwan. (Allah and Ishwar are both your names, O Lord, give wisdom to everyone).
Apart from being a prayer for the students of BHU, this bhajan — adjudged by many critics as the greatest Hindi film song — also tells us a great story about India. Connoisseurs of Indian music would know that this bhajan, laced with classical Hindi poetry, was written by Urdu poet Saahir Ludhianvi, in an era where the film industry had writers of classical Hindi like Gopaldas Neeraj and Pandit Narendra Sharma. But, Dev Anand, the producer of the film, insisted on Saahir as the writer of the bhajan.
This timeless classic, as we know, was sung by Lata Mangeshkar. And who do you think were Lata's teachers, the ones who finetuned her voice, trained her in the classical ragas? After her father, who was her first guru, died, Lata learnt singing from Ustad Amaan Ali Khan (a kind-hearted man who would bring food for his disciple, thinking that she was too weak to practise) and Ustad Amaanat Khan Dewaswale. Even after becoming a legend, Lata's only regret is that she could not spend much time with these great teachers.
Also read: BHU seethes with protest against Muslim lecturer of Sanskrit
You must have got the point by now: language does not have any religion, and gurus have just one identity – their knowledge. Those who wish to divide wisdom and knowledge on the basis of identity, region or religion are illiterate bigots. Those who argue Hindi is Hindu, Urdu is Muslim and English is Christian do not need a teacher but a psychiatrist. And it's a shame that such so-called-students have actually made it to an institution like the BHU.
For almost two weeks, a group of students of the Sanskrit department has been sitting outside the office of the BHU Vice-Chancellor, demanding that professor Feroze Khan's appointment as a teacher be cancelled and a fresh recruitment be made. They have been reciting hymns and performing yagnas, threatening to go on an indefinite strike if Khan is not sacked.
What exactly have they learnt from the syncretic culture of India and Banaras? On the very land they now defile with their incendiary acts, Saint Kabir had written these famous lines: Jaat na poocho sadhu ki, pooch lijiye gyaan (do not ask a sage's caste, inquire about his knowledge).
On the ghats of Banaras, Ustad Bismillah Khan had added the mystical and magical notes of his shehnai to prayers offered to Lord Shiva and the Ganga. Walking through the verdant lawns of the BHU, poet Harivanshrai Bachchan had penned his legendary poem Madhushala, where he argued that mandir (temple) and masjid (mosque) just make people fight.
The BHU, in spite of its name, is a symbol of India's secular traditions. It was founded by Pandit Madan Mohan Malaviya with the help of Annie Beasant, who wanted it to be an institution for all of India. When its foundation was laid, the chief guest was a Sikh, Baba Attar Singh of Sangrur. As poet Rahat Indori writes: Sabhi ka khoon shamil hai iski mitti main (everyone's blood is a part of this land) and yet a group of students is slinging mud at the institution with their ridiculous and irrational demand that epitomises their lack of Indian-ness.
Instead of protesting against the selection of a Muslim teacher in the Sanskrit department, the students should be proud of the 'democratisation' of the language. Hundreds of years ago, when the Vedic hymns were composed, Sanskrit was an exclusive domain of the elite Brahmin males. Such was their ownership over the language that even Brahmin women were not allowed to learn it; its grammar and idiom were just passed down to the male descendants of the Brahmins. That a Muslim is going to teach at a premier university of India is an ode to the adage that knowledge does not recognise any barriers, it doesn't differentiate. It flows freely to those who seek it.
The argument that language and art can be divided on religious lines is utter rubbish. None of the protesters at the BHU would stop listening to O duniya ke rakhwale, composed by Naushad, written by Shakeel Badayuni and sung by Mohammad Rafi. Or, in case they find the argument filmy, would they stop reciting the thousands of couplets in Lord Krishna's praise by the 16th century poet Raskhan because his real name was Ibrahim Khan?