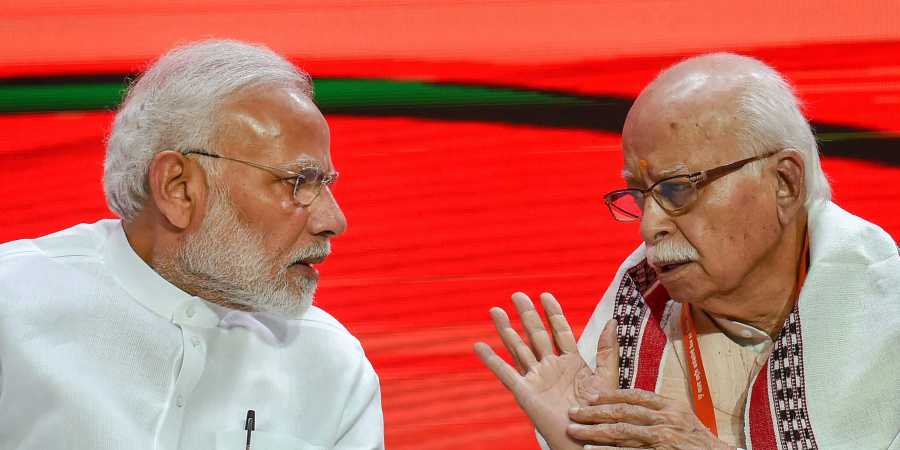 Why our hearts should not bleed for Advani, the architect of BJP
Since Lal Krishna Advani is a big fan of Hindi cinema, he would be aware of the poignant lines poet Shahryar wrote for the 1980s classic Umrao Jaan. "Ye kya jagah hai, doston (what is this place, friends)?" he asked, adding as far as eyes could see there were just clouds of dust.
Advani, now in his 90s, was in an introspective mood on Thursday, his ruminations triggered by nostalgia around the BJP's founding day. And like Shahryar, the BJP founding member also seemed to be wondering: Where had the party he had birthed come in these 39 years?
You do not expect one of the founding fathers of the BJP to castigate his own contribution to the Indian polity. But, pain has a way of finding its way between the lines. So, in a blog titled 'Nation first, party next, self last,' Advani argued it wasn't the BJP's culture to call its rivals 'anti-national' or treat them as 'enemies.'
"The essence of Indian democracy is respect for diversity and freedom of expression. Right from its inception, the BJP has never regarded those who disagree with us politically as our 'enemies,' but only as our adversaries… in our conception of Indian nationalism, we have never regarded those who disagree with us politically as anti-national. The party has been committed to freedom of choice of every citizen at personal as well as political level," Advani argued.
Had Advani resorted to honest introspection, he would have realised a brutal fact: The current culture of the BJP is exactly what Advani wanted it to be (but now seems to detest) — that of intolerance, majoritarianism and misguided nationalism. The only difference perhaps between Advani's BJP and the party today is this: the former deputy prime minister put party first, nation next, and self last, the current leadership puts self first, party next, and nation last.
It was Advani who mainstreamed majoritarianism, faux nationalism and a distorted version of Hinduism — the BJP called it Hindutva — with his Ayodhya movement that changed India's polity and society forever. It was Advani's slogan of 'Saugandh Ram ki khaate hain, Mandir wahin banayenge' (In the name of Lord Rama we take a vow to build the temple exactly on the disputed site)' that disregarded institutions like the courts and the executive. It was Advani whose insistence on taking out a Rath Yatra in a communally charged atmosphere that left behind a trail of blood across India. It was Advani whose kar seva led to the destruction of the disputed structure in Ayodhya and, with it, the harmony and bon homie between India's diverse communities.
Make no mistake, today's BJP was moulded by Advani, his thoughts and politics, his specious arguments about 'sanskritik rashtravad' (cultural nationalism) — a euphemism for Hindu domination, crude slogans like 'say it with pride all of us are Hindus' and support to RSS claims like 'everyone born in India is a Hindu.'
The difference is just in the semantics — the BJP under Advani treated its rivals and critics as 'anti-Hindu,' the current leadership calls them enemies of the nation. From Advani, to Narendra Modi, to Yogi Adityanath, the BJP has traversed the same path, albeit with growing heft, crudeness and ruthlessness.
Advani's introspection and the resultant advice to the cadres are also conveniently timed. He has decided to speak out in the twilight of his life, when he has nothing to lose, primarily because many things he may have coveted have forcefully been taken away from him. So much happened in the past few years to shape the destiny of the BJP and the country — the riots in Gujarat, the lynchings in the name of gau mata (cow), the attacks on civil liberties in the name of nationalism and patriotism, the undermining of several government institutions and their independence. But Advani didn't speak a single word, not even in parliament where his characteristic candour and verbosity was replaced by silence. Had he spoken up earlier, his words may have had the gravitas of a patriarch worried about his party and the country. Now that he has been benched by the BJP, it sounds more like a litany of personal woes.
It is evident that Advani's parting shot is for the Modi-Shah combine, both of whom, incidentally, are his own disciples and protégés. Perhaps, Advani had assumed that the favours he granted from the top of the BJP pyramid, would be returned when he is on his way down to the bottom. Maybe, he assumed that his successors would treat him with the same respect he had for Atal Behari Vajpayee — he curtailed his prime ministerial ambitions, never spoke publicly against the latter.
Unfortunately for him, the streak of ruthlessness we saw in Advani's Ram Mandir politics has now evolved into something more unforgiving within the BJP. The BJP of today has no time for sentiments and nostalgia; tolerance of critics, love for its founding fathers and gratitude for favours once bestowed. Some of the credit for bringing BJP to this place, doston, should go to Advani.