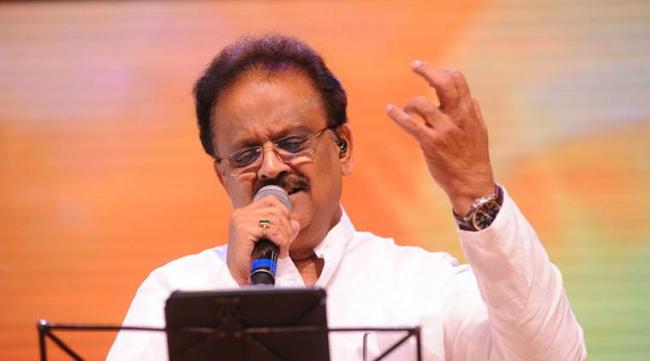 SP Balasubrahmanyam: The 'singing moon' has set
Popular singer, music composer and actor SP Balasubrahmanyam passed away in Chennai on Friday (September 25) after losing his battle with COVID-19. He was 74.
He has sung nearly 40,000 songs in 16 different languages. For his achievements in the field, he was decorated with the Padma Bhushan in 2011.
Sripathi Panditharadhyula Balasubrahmanyam, fondly known as SPB, was born in Nellore, Andhra Pradesh, on June 4, 1946. Being the son of a Harikatha artist, he developed an interest in music and singing early in his life.
Though he studied engineering, he was always interested in becoming a singer.
He regularly took part in singing competitions and won many prizes. Some competitions had jury members of repute, like singer and music composer Ghantasala.
During his college days, he ran a light music troupe with music composer Ilayaraja and lyricist Gangai Amaran as members. That's how both Balasubrahmanyam and Ilayaraja became close friends even before they entered the film industry.
Balasubrahmanyam, most known for the thousands of songs he rendered in Tamil, made his debut in the film world with a song in his mother tongue Telugu.
He was introduced by his relative SP Kodandapani, who scored the music for the film Sri Sri Sri Maryada Ramanna in 1966. Within a week of his debut, he sung his first Kannada song for the film Nakkare Add Swarga.
As a gratitude to his mentor, Balasubrahmanyam named his recording studio that he opened later after Kodandapani.
His first Tamil song was 'Athaanodu ippadi irunthu' recorded for the film Hotel Rambha in 1969. Unfortunately, that film was not completed. Interestingly, noted composer M.S. Viswanathan was the one to give Balasubrahmanyam the first opportunity in Tamil.
Related news: Singer SP Balasubrahmanyam dies at 74 after battling COVID for 50 days
In the same year, 'Aayiram Nilavae Vaa' for the film Adimaipenn became his first song for M G Ramachandran, who gave him the 'Paadum Nila Balu' (singing moon Balu) title, which stuck throughout his singing career.
'Aayiram Nilavae Vaa' was followed by 'Iyarkkai ennum ilaya kanni' for the Gemini Ganesan-starrer Shanti Nilayam.
SPB would go on to lend his voice to many other stars — from Sivaji Ganesan to Rajinikanth, Kamal Hassan, Sarath Kumar, Sathyaraj, Karthik and Murali. In his later years, his mellifluous voice was suited to actors like Vijay and Ajith Kumar.
Balasubrahmanyam got his first National Award for best playback singing for his songs in the Telugu movie Sankarabharanam (1980). The songs became a huge hit. His entry into Bollywood was through Ek Duuje Ke Liye, featuring Kamal Haasan, in 1981. The film fetched him another National Award.
SPB is the only playback singer to have won six National Awards for his work in Telugu, Hindi, Kannada and Tamil languages.
In 1996, he won the award for the Tamil song 'Thanga Thamarai' from the movie Minsara Kanavu.
Related news: 30 years of Keladi Kanmani, a film that established SPB as an actor
The team of SPB, Ilayaraja and female singer S Janaki, was one of the most successful in Kollywood from the 1970s to the 1990s. During the peak of his career, SPB recorded nearly 20 songs in a day.
He worked with many other music directors, too, including AR Rahman and other young composers like Yuvan Shankar Raja and Anirudh Ravichandran.
SPB liked to experiment not just with the styles but also the manner of singing. So there was the 'breathless' 'Mannil Indha Kaadhal' from the film Keladi Kanmani, which he sang by not releasing his breath between lines and 'Oru Jeevan thaan' from Naan Adimai Illai, a song mixed with dialogues.
He continued singing even after undergoing a surgery in his vocal cords in 1989.
Besides a great singer, he was also a good actor. He will be remembered for his roles in Manadhil Urudhi Vendum, his debut as an actor, and films like Keladi Kanmani, Kadhalan, Ullasam, and Ratchagan. When not singing, he would don the role of a voiceover artist.
He composed music for a few films and also produced some. He used to appear in reality music shows and encourage many young talents till he was affected with Covid.
SPB fans hoped that he would make a recovery like the lead character in Sigaram (1991) essayed by him. He played a famous musician and playback singer in the movie, for which he also composed the music. There is a montage sequence in the film that shows the character recovering from an illness with the help of his family, friends and the prayers of his fans, picturised to the song 'Agaram ippo sigaram achu'. Written by Vairamuthu and sung by KJ Yesudoss, the song tends to increase one's self-confidence while listening to it.
Born with two brothers and five sisters, including the famous playback singer S P Sailaja, Balasubrahmanyam is survived by his wife Savitri, daughter Pallavi and son Charan, who is also a playback singer.