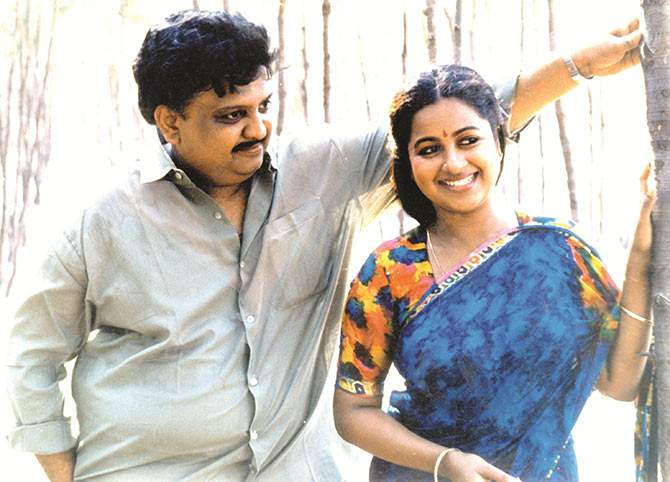 30 years of Keladi Kanmani, a film that established SPB as an actor
Playback singer SP Balasubrahmanyam may never have thought that he would one day be known for his acting, too. That was till 'Keladi Kanmani' was released 30 years ago.
The film, directed by Vasanth, established him as a serious actor. Released on July 27, 1990, the film celebrates its 30th anniversary this year even as the person who played the main character and won many hearts fights a battle against COVID.
SPB, as he is popularly known, started playback singing in 1966, when he was just 20 years old and he went on to rule the music world for five decades. In 1987, at the peak of his singing career and aged 41, he got an opportunity to hit the silver screen when the well-known, award-winning filmmaker K Balachander cast him as Dr Arthanari in the film titled 'Manathil Uruthi Vendum'.
The director portrayed him as a doctor with a talent for singing, perhaps wanting to enhance the chances of him being accepted as an actor. Throughout the film, besides delivering dialogues, SPB, as Dr Arthanari, also sings a few lines from old songs that he himself had originally sung. That resonated well with the audience, as it made the character more lively and real. The viewers were surprised by his acting ability.
For three years after that film, he was not seen on the big screen. The late eighties was an era of romantic films and filmmakers, perhaps, did not consider him suitable for such movies. Then, in 1990, he got an opportunity to establish himself as a full-fledged actor with Keladi Kanmani directed by Vasanth.
A middle-aged man as a hero
Vasanth was just 26 when he made the film. When many directors in their early 30s were keen on making romantic and action films to go with the prevailing trend, Vasanth chose to take a different path by portraying a drama involving a middle-aged man.
Although the film had Ramesh Aravind, who was then an upcoming actor then, doing all the things that a run-of-the-mill hero does in a Tamil film — singing duets, dancing, courting a girl, having fun in college — the film is remembered more for SPB's performance.
Maybe, some of the credit should go to the script. For a family-oriented theme, Vasanth didn't need a masochistic hero. All he wanted was a 45-year-old, looking like a typical middle-aged man next door.
"I didn't need a face that was familiar to the audience. I needed a person who could suit the story and characterisation. Immediately, SPB came to my mind. However, it was after Ananthu, whose elementary story I developed, cajoled the singer did he agree to act in this film," Vasanth said in his book 'Keladi Kanmani: Thiraikkathaiyum Thiraippadam Uruvaana Anubavangalum'.
For viewers, the character was unusual — he did not have any job; he had four houses that earned him rent; he did all kinds of odd jobs, such as repairing musical instruments, helping at weddings as a cook, etc; and he was a widower, to boot, with a girl child. What's more, he even falls in love. He was an antithesis of the idea of a hero.
Many layers
The film had three layers — it talked about a love story between a young couple; it discussed a mature relationship between a middle-aged couple; and then it tried to dissect the bond between a father and a daughter craving for a mother's love. The film tried to hold a mirror to the middle-class' notion of a family that existed then and exhorted viewers to question if that was right.
The story is about Anu, aka Anuradha (Anju), the only daughter of AR Rangaraj (SP Balasubrahmanyam) and a college student, trying to reunite him with her maths teacher in school Saradha (Radhika) whom he had loved, after she is detected with a life-threatening disease. She feels guilty that her father did to marry Saradha as she had not approved of the relationship.
The drama that veered away from the formula of a commercial movie went on to be a big hit, earning SPB accolades.
Evoking emotions
SPB's character kindled a lot of emotions among viewers. While the youth wanted a 'friendly father' like him who would discuss their love stories, women wanted a husband who was as caring and respectful as him.
SPB continued to portray 'friendly father's' role thereafter in films like 'Kaadhalan' (1994), 'Ullasam' (1997) and 'Kaadhal Desam' (1997).
The film has many touching moments like the scene in which Saradha is talking to god at a temple in sign language, which she uses to communicate with both her hearing and speech impaired parents. In another scene, Rangaraj and Saradha are shown entering an orphanage under an umbrella on a rainy day, only to find young Anu who is unhappy with her father's plan to marry Saradha. Later, Rangaraj and Anu are shown coming out of under the same umbrella, implying the choice he was forced to make.
To make the audience comfortable with such a heavy subject, the film has some lighter moments involving comedians Janakaraj, Chinni Jayanth, Vivek and Kavithalaya Krishnan.
The other highlight of the movie was its music scored by Ilayaraja. The film has many memorable numbers, including 'Enna Paduvathu', 'Karpoora Bommai Ondru' and 'Thenral Thaan'. It was in this film that SPB tried breathless singing with the song 'Mannil Intha Kaadhal'.
Related News: Fans, music fraternity pray for SPB, son says 'expecting slow recovery'
"During the shoot, I asked SPB if he would be able to sing a song without breathing for five minutes. He said he could but then asked how I would be able to shoot the remaining portions of the film. When I asked him why, he said, 'Because, after I sing the song, I won't be alive'," reminisces Vasanth.
"When we conveyed the idea to Ilayaraja, he said instead of the whole song, we could have him sing stanzas breathlessly. It took 40 seconds to sing the second stanza. SPB had sung it without breathing for the first 25 seconds but then he inhaled and then sung for the remaining 15 seconds. We padded this into one during recording, so that everyone would believe that he had sung the stanza at a stretch," said Vasanth.
The film ran for 285 days after its theatrical release. It was later dubbed into Telugu as 'O Papa Lali'.