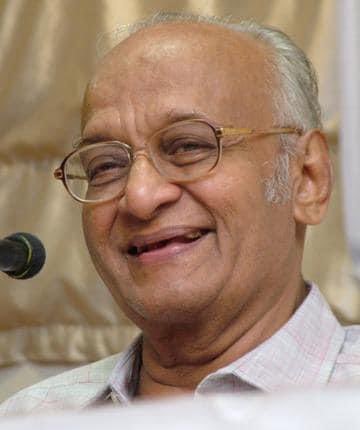 Besides writing in many publications on topics ranging from legal matters to crime to cinema and music, Randor Guy has authored many books in Tamil and English. Pic: @Vincentsjotting
He was an authority on south Indian cinema. Respected for his in-depth, 'insider' knowledge on Tamil films, there is, however, a little-known fact about Randor Guy, who passed away on April 23 at his residence in Chennai, after being bedridden for a long time at the age of 86. This film historian and veteran columnist, used to pen the English lyrics in the Tamil songs sung by yesteryear Tamil superstars.
There was a period in Tamil cinema, when some songs became almost an anthem among youngsters because they used to be peppered with lyrics in English. This was done to give it a peppy, modern feel and composers used to cajole lyricists to bring in two or three lines in the English language into the song, which was otherwise written in flowery Tamil.
And, this was particularly true of the irrepressible MS Viswanathan, the star composer of that time. In fact, he was largely responsible for these upbeat songs and got the late J Jayalalithaa to belt out the English lines in his song 'Naan Endraal Avalum Naanum' in her own voice.
So, MSV had English lyrics incorporated in the songs in MG Ramachandran's film 'Oorukku Uzhaippavan', Sivaji Ganesan's 'Thavapudhalvan' and Jayalalithaa's 'Suriyakanthi'. And, not many know that the three songs, which had a lot of English lyrics, were actually written by none other than Randor Guy. They were 'Love is fine darling when you are mine' in 'Thavapudhalvan, 1972, in the song 'Naan Endraal Athu Avalum Naanum' in 'Suriyakanthi', 1973 and 'It's easy to fool you' number in 'Oorukku Uzhaippavan', 1976.
Known for his knowledge of Tamil cinema, it is rather unfortunate that people forgot this aspect of Randor's career though he was often given credits in the title cards.
Also read: Krishna obit: Andhra's James Bond who turned Telugu cinema's heartthrob
A lawyer turned writer
The name Randor Guy may sound foreign. It is actually a jumbled up version of the second name of Madabhushi Rangadorai. (Yes, that is his real name) Born in Nellore on March 13, 1945, he practised as a lawyer for a brief while but ended up devoting his life to writing.
Randor was extremely knowledgeable about subjects like law, history, cricket and films. He had started his writing career by writing about popular criminal cases that shook Tamil Nadu, in My Magazine, an English journal.
According to AV Devan, a Chennai-based blogger and an ardent fan of Randor, the late film historian became popular after his article on the acclaimed Italian-American director, Frank Capra was picked up by the US government.
"He became popular when his article on Frank Capra was purchased by the United States Information Agency for reference work. Randor Guy remains the only non-American whose work has been acquired as reference material by the government of the United States of America. He was engaged by USIS, India to lecture on Capra and his films at Madras, Bangalore, Trivandrum and Hyderabad, the first Indian to be so engaged," wrote AV Devan in his blog AV Devan Times.
A penchant for authenticity
Randor, more than his "unique, old world, with a sort of 1940's American cowboy twang" language, used the vernacular colloquialisms of the time when writing in Tamil. His information was also considered extremely authentic.
Randor had first-hand knowledge of the 1952 gory murder of small-time businessman Alavandar and the 1944 stabbing of journalist Lakshmikanthan that shook Madras. This was largely because he had been a junior lawyer to VC Gopalaratnam, a famous advocate, who had appeared for the Lakshmikanthan case. As far as his writings on cinema are concerned, the authenticity stems from his extensive leg work.
Also read: Obit: R. Nagaswamy, the doyen of archaeology, passes away in Chennai
"Apart from actually being present at the shootings and meeting stars and directors, Randor Guy also began to research deeply into the beginnings of Tamil cinema, a subject that used to fascinate him for the rest of his life. When the Poona Film Institute was set up, Randor Guy was one of the people asked to provide material on south Indian cinema for its archives," notes Madras Musings, in its interview with Guy in 2016.
Randor has done more than 20 audio interviews with pioneering stalwarts of south Indian cinema for National Film Archive of India.
Writings on films to writing for films
Like his lyricist avatar, his role as a scriptwriter is another little known facet of Randor. He worked in the world of corporate communications and has produced and written screenplays for short documentaries and few advertisements for corporates such as 'Light Roofings Limited', and 'Federation of Indian Export'. He brought to the forefront the concept of 'make in India; long before it became a government mantra.
Reminiscing about the experience of doing an ad for the latter, Randor said in the book 'Corporate Communications: A 21st Century Primer (2004)': "For the Federation of Indian Export, we worked around a bold theme that has now gathered credence: 'Every Indian has something to export'. In what sounded like a revolutionary idea at that time, we pointed out that everything from yoga to village handicrafts and Indian food had an export value. This extended to the fact that every Indian, wherever he or she was, was in fact a potential exporter. An evocative idea for the liberalising market in the 1980s".
In 1999, Randor wrote the script for a 100-minute Indo-American feature, 'The Tales of the Kama Sutra: The Perfumed Garden', directed by Jag Mundhra. In the same year, he worked with the film's cinematographer Ashok Kumar, for his trilingual drama 'Kaama'. He also wrote the script for a Sinhalese film 'Paradise Peak', which was based on one of his novels. Besides writing in many publications on topics ranging from legal matters to crime to cinema and music, he has authored many books in Tamil and English.
He had nearly a dozen books to his credit including popular titles 'Indian Ribaldry', 'Starlight', 'Starbright: The Early Tamil Cinema', 'Memories of Madras' and a book in Tamil called 'Case Book'.
Randor, along with Theodore Baskaran, are  two film scholars who wrote about the early days of Tamil cinema in English and with his passing, many film enthusiasts feel that there will be a void in this space. In fact, Chennai media personality Vincent D'Souza wrote on his Twitter page, "Goodbye RANDOR Guy alias Rangadurai: Madras' great story teller: on cinema, legal eagles, crime and the city and around. Spicy and humorous too."
Many Tamil authors want the Tamil Nadu government to institute an award in the memory of Randor, to honour film researchers.