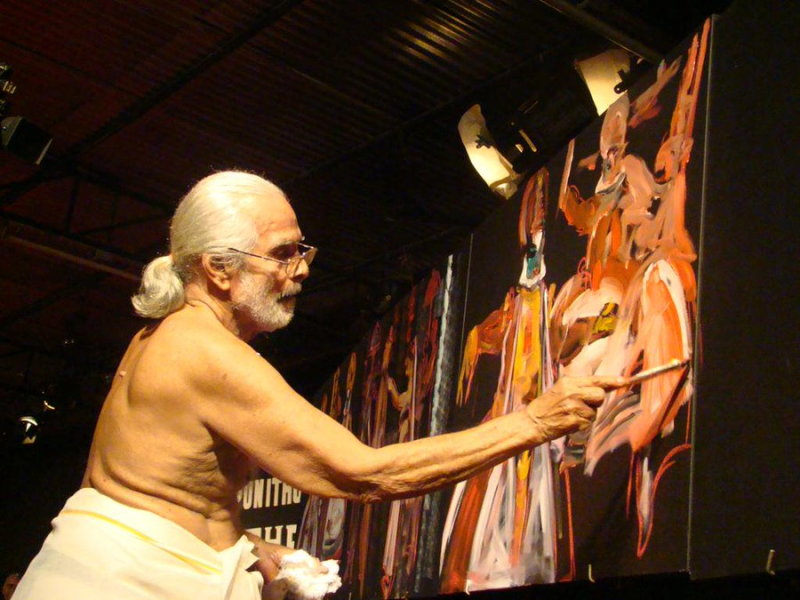 Black, white, lines, and some colours: Artist Namboodiri's multifaceted accomplishments
Artist Namboodiri, renowned for his exceptional talent and unique artistic vision, had established himself as a prominent figure in the contemporary art world especially through his illustrations and out-of-the- box sculptures.
As an illustrator he was part of a string of renowned literary works in Malayalam, when they were serialised in literary magazines. In a sense he was 'literally' redrawing the writings of every master in Malayalam over a particular period.
MT Vasudevan Nair once remarked, "The Bhima of Randammozham that people are familiar with now, is not my but Vasudevan Namboodiri's. His interpretation of Bhima's body language added many dimensions to the character's already richly layered interpretation, and the result was the modern Malayalam masterpiece born out of Mahabharatha, which also stands tall questioning the traditional narrative of the epic."
Also read: Eminent illustrator Artist Namboothiri no more
Novelist VKN dedicated his famous political satire novel, Adhikaram to Namboodiri, stating it is nothing but extended captions for the line drawings of the great artist.
Early life, education
KM Vasudevan Namboodiri was born on September 13, 1925, in Karuvattu Mana, located in Ponnani, Malappuram district, Kerala. His parents were Parameshwaran Namboodiri and Sreedevi Antharjanam, and he was their eldest son. As a child, he was inspired by the sculptures at the Sukapuram temple, which was near his home.
To pursue his education in art, he relocated to Chennai with the financial support of well-wishers. He enrolled in the Government College of Fine Arts in Chennai, where he had the privilege of studying under Debi Prasad Roy Chowdhury, the institution's founding principal, as well as S Dhanapal.
During this time, he also became acquainted with KCS Paniker, who would later have a significant influence on the budding artist. After successfully completing a six-year course in an astonishingly short period of time at KCS Paniker's Artists' Village, Cholamandalam, he returned to Kerala in 1960 to become a staff artist for Mathrubhumi weekly.
Artistic journey
Namboodiri's artistic journey is deeply rooted in the regional history especially of his native Ponnani. Drawing inspiration from the classical art forms of Kerala, such as Kathakali and Mohiniyattam, Namboodiri incorporates their distinct visual language into his work, infusing it with a sense of socio-cultural nostalgia.
Interestingly, his depiction of these classical art forms carries definite characterisation of local people whom he met every day. His heavy-bosomed women or wiry-looking men were always waiting to attract our attention on the sidewalk and around the palm-tree-lined, winding pathways.
Also watch | Artist Mario Miranda's sons threaten to sue Goa government over 'illegal' use of artwork
At the heart of Namboodiri's artistic style lies his mastery of line work. His drawings exhibit a remarkable precision and attention to detail, with each stroke, which is so easily made, carefully placed to create intricate patterns and textures. His use of fine lines and easy curves brings a remarkable depth and dimension to his subjects, capturing the essence of the human form or performing arts with astonishing realism.
Indian ink on chart paper was his favourite medium, through which he created wonders.  "As a short person he always drew tall characters, and the tall AS (A Sivaraman Nair, another great illustrator of his period) always created shorter men," literary critic KC Narayanan once observed.
Class apart
What sets Namboodiri apart is his ability to merge traditional techniques with contemporary subject matter. While his drawings pay homage to the classical art forms he grew up with, he seamlessly incorporates modern elements, creating a unique fusion that bridges the gap between the past and the present. His work often features subjects that reflect societal issues, cultural diversity, or personal introspection, providing a thought-provoking commentary on the small world we live in.
Even his signing off, was a distinct signature, as he misspelt his surname Nampoodiri for Namboothiri. His characters were always peculiar, most of them tall, women always had curvy structure, which he created in simple brush/pen strokes. He had created characters sketches and scenography designs for a handful of Malayalam art house movies as art director. Aravindan's Utharayanam and Kanchanaseetha were his notable works on screen. He was the one who came up with the idea and created the iconic Gandaharvan that Padmarajan is known for, giving him a distinctive look and distinguishing attire.
Also read: Noted Malayalam cine and theatre artiste Poojapura Ravi dies at 83
Autobiography in pictures
"People I know, places that have witnessed many happenings. Events. Innumerable subjects, serious and trivial, find their way into the book of life. We forget them later; this is only natural. What if they are documented, I thought. An autobiography in pictures. I realised they would not be complete as just drawings. What about a few commentaries? So, I added words to the drawings," said Namboodiri in his autobiographical sketch book, named Sketches.
"Black, white, lines, colours: Namboodiri has mastery over all of them. He can create sculptures in stone, wood and cement. He is the proprietor of multifaceted accomplishments," wrote MT Vasudevan Nair in the foreword of the book.
Namboodiri's art invites us to explore the intricate details of his subjects, prompting introspection and contemplation. His simple looking artwork encourages us to appreciate the beauty and complexity of the world around us while urging us to reflect on our place within it.