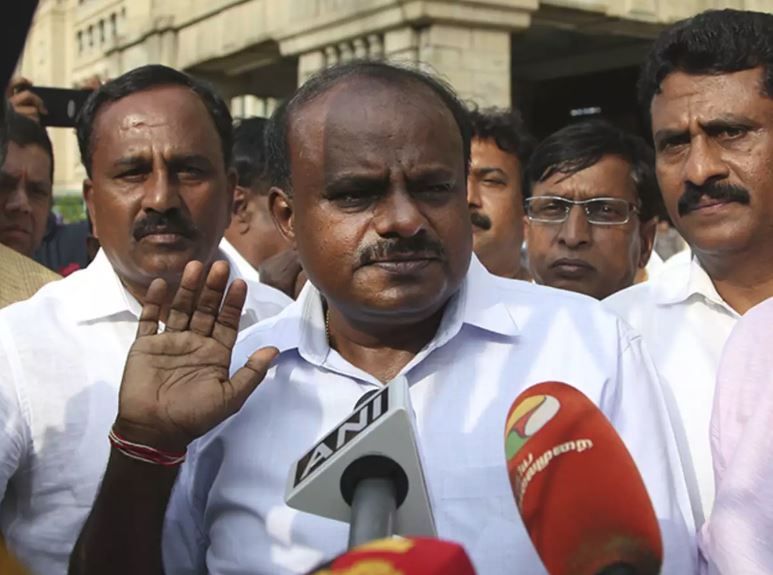 Karnataka Chief Minister HD Kumaraswamy lost his cool on Wednesday (June 26) when a group of Yermarus Thermal Power Station (YTPS) employees in Raichur waylaid his convoy during his state-wide tour to connect with the people and staged a protest in front of his bus.
The protesters stopped the chief minister's convoy and started shouting slogans of "shame, shame" while Kumaraswamy was on his way to Karegudda village near Raichur town, where he was scheduled to hold a Grama Vastavya (village stay) programme.
An irate Kumaraswamy responded by shouting at the protesters in turn. He also threatened them of caning by police if they did not let his van to pass. He asked them to go to Prime Minister Narendra Modi with their problems as they voted for him.
The protest was staged by workers of YTPS, Tungabhadra Neeravari Valaya Hangami Karmika Sangha, and Hutti Gold Mines (GOK undertakings) over delay in wages and wage revision.
Two days ago, the BJP informed that it would launch a 'padayatra' from Gugal in Deodurg taluk to Karegudda in Manvi taluk where a 'gram vastavya' was proposed on June 26.
Kumaraswamy's visit to the backward districts of the Hyderabad-Karanataka region was planned to take stock of development-related issues in the area. The Lok Sabha debacle prompted the CM to go back to the grassroots level and rebuild the image of the government.
The BJP won 25 out of 28 seats in the Lok Sabha polls, while the JD(S) and the Congress managed to win just one seat each.
In 2006-2007, Kumaraswamy started a similar village stay programme during his first stint as chief minister.
Though the UPA government allocated special status to the region, local leaders alleged that inadequate funds were allocated to their areas by the previous governments.
Shivanagowda Naik, MLA from Deodurg condemned the incident and said though Raichur produced power to meet the state's requirement, the district has plunged into darkness due to the absence of electricity in its villages.
"The CM should address the concerns of people and not resort to political gimmickry by such village visits," Naik said.