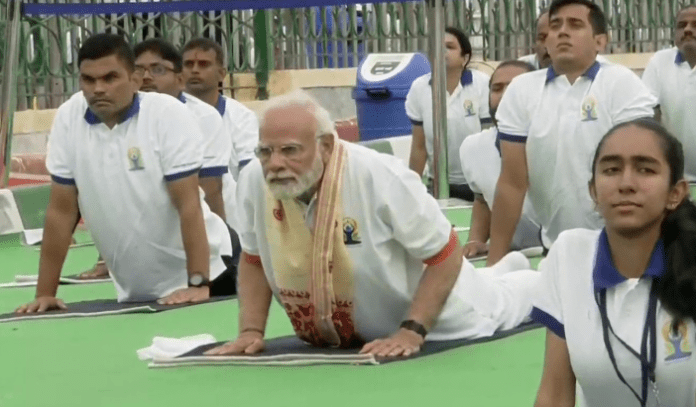 Yoga brings peace to our universe, Prime Minister Narendra Modi said, as he led the main event of the International Day of Yoga in the backdrop of the iconic Mysuru Palace on Tuesday (June 21).
Thousands of people joined the Prime Minister in the mass Yoga demonstration at the palace grounds.
#WATCH | People perform Yoga at Mysuru Palace Ground in Karnataka. Prime Minister Narendra Modi is leading the #InternationalDayOfYoga celebrations from here. pic.twitter.com/ia4AYVTjBF

— ANI (@ANI) June 21, 2022
"This whole universe starts from our own body and soul. The universe starts from us," Modi said.
Stating that Yoga makes one conscious of everything within us and builds a sense of awareness, Modi said that the ancient practise is slowing becoming a way of life for people.
Prime Minister Narendra Modi, who led the Yoga Day celebrations on the premises of the Amba Vilas Palace in Mysuru noted the city's significant contribution to Yoga, and called it "the land of spirituality and yoga".
"Yoga brings peace for us. The peace from yoga is not merely for individuals. Yoga brings peace to our society. Yoga brings peace to our nations and the world. And, Yoga brings peace to our universe", he said.
The Prime Minister said:"No matter how stressful an atmosphere we are in, meditation for a few minutes relaxes us and boosts our productivity. So we should not consider yoga an additional work. We have to know yoga and live yoga and make it our own."
Governor Thaawarchand Gehlot, Chief Minister Basavaraj Bommai, Union AYUSH Minister Sarbananda Sonowal, Mysuru royal scion Yaduveer Krishnadatta Chamaraja Wadiyar and "Rajmata" Pramoda Devi, were among those present.
Mysuru's yoga heritage
Recollecting Mysuru's yoga heritage, Yaduveer Krishnadatta Chamaraja Wadiyar said that the event was a big stamp of approval for the heritage. He informed that Mummadi Krishnaraja Wadiyar, the maharaja who ruled the kingdom from 1799 to 1868 in his book "Sritattvanidhi" had written about 108 asanas, and thereafter Tirumalai Krishnamacharya started Yoga teaching at the insistence of then Maharaja Nalwadi Krishnaraja Wadiyars.
Pramoda Devi Wadiyar also recalled Maharaja Mummadi Krishnaraja Wadiyar and Nalwadi Krishnaraja Wadiyars contributions in laying the foundation for spread of yoga awareness.
"Mummadi Krishnaraja Wadiyars' works and writings on various asanas are with us," she said.
To mark the occasion, 75 central ministers are celebrating Yoga Day across as many iconic locations this year.
As per some reports, Union Minister Meenakashi Lekhi performed yoga at the Vivekananda Beach in Kanyakumari on Tuesday (June 21).  External affairs minister Dr S Jaishankar was also seen participating in a yoga event in Purana Qila of Delhi. Celebrations are also being held at the Gateway of India in Mumbai.
Yoga Day is also being observed by people from all walks of life including chief ministers, diplomats, the armed forces, students and professionals.
Himachal Pradesh | Central Ski Team of Indo-Tibetan Border Police (ITBP) participate in #InternationalDayofYoga celebrations, at Rohtang Pass at an altitude of 14,000 ft in snow. pic.twitter.com/7O9Usr48Da

— ANI (@ANI) June 21, 2022
Since 2015, the International Day of Yoga is celebrated worldwide on 21st June every year. The theme for this year's Yoga day is "Yoga for Humanity".
(With inputs from agencies)