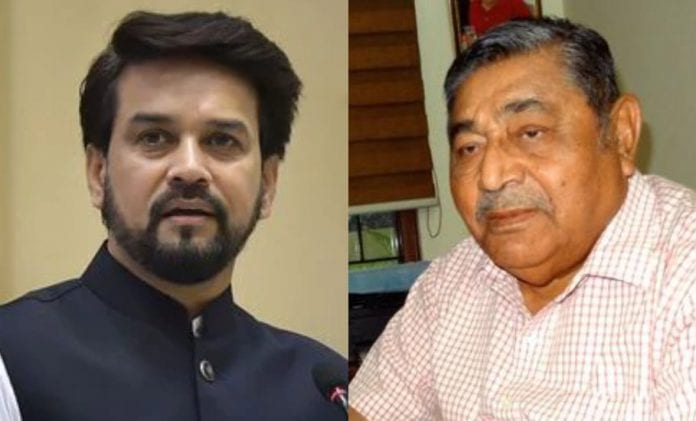 After Northeast Delhi witnessed intense communal violence last Sunday (February 22) which claimed 42 lives, the Delhi Police has been under severe criticism for its handling of the riot situation.
Citizens made over 10,000 calls in three days to the police but complaints were rife that no action was taken on the ground.
Buttressing this, three former senior police officers have come out slamming the Delhi Police.
Agreeing with Supreme Court's comment that the police did not act professionally, Former Commissioner of Delhi Police and Director-General of the Border Security Force Ajay Sharma on Saturday (February 29) also slammed them for inaction.
In an interview with The Wire, Sharma, ex-Delhi CP from 1999-2002, said, "he would have arrested BJP leaders Anurag Thakur, Parvesh Verma and Kapil Mishra" for the inflammatory speeches they made.
"I would have arrested Thakur after informing Home Ministry and for Mishra, there was no obstruction in arresting him."
Related news: After Hindu Sena threat, Section 144 imposed in Shaheen Bagh
Talking about Deputy Commissioner of Police Ved Prakash Surya who was standing next to Mishra while he gave an "ultimatum to police" at a rally in Northeast Delhi, Sharma said, "I would have called for his explanation immediately… Why did he not take action or tell him to stop… If the explanation wasn't satisfactory, he would have been removed from his post."
He further added that permitting the gathering at Shaheen Bagh was Delhi Police's first mistake.
Since the gathering occurred on public property and blocked roads that created inconvenience to the public, it was clearly a violation of law.
Speaking more generally about the leadership of the police, he said it seemed that they lack spine and moral character.
Based on the videos doing rounds on social media, where the police can be seen hitting Muslims and taunting them to sing 'Jana Gana Mana', he also expressed his concern of the Delhi police becoming communal.
Former Delhi Commissioner of Police, Mukund Kaushal also reverberated Sharma's thoughts on hate speeches and asked, "Why were these various leaders allowed to speak as they wanted to. Legal action should have been immediately initiated."
Saying that the government and the Home Minister showed a lot of restraint while dealing with rioters, another ex-commissioner of police TR Kakkar felt, section 144 should have been imposed sooner, reported Indian Express.
"Even when Section 144 was imposed, people didn't care. They were already emboldened," he added.
Related news: Bodies decomposing outside freezer, allege kin of Delhi riot victim