Today (April 18) is World Heritage Day. The day is observed every year to raise awareness about the significance of protecting our cultural heritage, such as historic buildings, monuments, and archaeological sites. Also known as the International Day for Monuments and Sites, it is also aimed at encouraging people to appreciate the diversity of the world's heritage and to do their bit in preserving and protecting these sites.
History of World Heritage Day
The International Council on Monuments and Sites (ICOMOS) first proposed the idea of celebrating World Heritage Day in 1982. Later that same year, the UNESCO adopted the Convention Concerning the Protection of World Cultural and Natural Heritage. The next year, the United Nations General Assembly approved it.
Also read: A date with history: Top 7 Unesco heritage sites in Karnataka
Significance of World Heritage Day
World Heritage Day gives people an opportunity to learn that heritage sites are not only important for their cultural and historical value, but they can also contribute to sustainable development, tourism, and local economies. Therefore, they must be protected and preserved for future generations.
Theme of World Heritage Day 2023
World Heritage Day usually has a theme every year to help people focus on a certain aspect of cultural heritage. While the theme for this year is Heritage Changes, last year it was Heritage and Climate.
According to the ICOMOS website, "The theme of Heritage Changes offers the opportunity to respond to questions regarding learning about traditional ways of knowing and knowledge systems in relation to climate action, and how to use a cultural heritage focus to support equitable protection of vulnerable communities through climate action, while responding to the UN Decade of Action."
Also read: In Telugu states, precious Buddhist archaeological sites are in shambles
The day is usually observed through activities such as exhibitions, guided tours of heritage sites, cultural events, lectures, and seminars to help people appreciate their significance and understand the threat these face, such as human activities, climate change, and natural disasters.
What are heritage sites?
Heritage sites are places with significant cultural, historical, or natural value which, therefore, must be protected and preserved for future generations. There are three types of UNESCO heritage sites — cultural, natural, and mixed.
Cultural heritage sites include historic buildings, archaeological sites, and sculpture or painting. Natural heritage sites are "the most extraordinary natural places on the planet, characterized by their natural beauty or outstanding biodiversity, ecosystem and geological values," according to UNESCO. Mixed heritage sites contain elements of both natural and cultural significance.
India has 40 UNESCO World Heritage Sites, of which 32 are cultural sites, seven are natural sites, and only one (Khangchendzonga National Park in Sikkim) mixed site so far. However, World Heritage Day is observed in honour of the cultural heritage sites.
Five lesser known heritage sites in India
The declared UNESCO Heritage Sites in India are well protected. But there are scores of lesser known heritage sites in India that many people do not even know about. Several of these are on the UNESCO tentative list. So, here are five lesser known historical or heritage sites in India that deserve equal attention, appreciation, and protection.
Also read: 24 Indian heritage monuments 'untraceable' since 2013: Culture Minister
1. Unakoti, Tripura
There is not a single UNESCO Cultural Heritage site from the North East yet. But that does not mean the north-eastern states do not have any cultural or historical sites. One of the comparatively lesser known historical sites in the North East is Tripura's Unakoti.
It is a Shaivite pilgrimage site dating back to the 7th and 9th centuries. Legend says Lord Shiva set off for Varanasi along with 99,99,999 gods and goddesses. They rested here on the way. Lord Shiva had asked his followers to wake up before sunrise but none did. Lord Shiva set out for Varanasi alone, but he cursed the others to turn them to stone. That is how the site got its name — "unakoti" in Bengali literally meaning one less than a crore or 99,99,999.
The site has scores of rock-carved sculptures and is often known as the Angkor Wat of the North East. Another archaeological site of rock sculptures in Tripura is Devtamura, dating back to 15th-16th centuries.
2. Shey Palace, Ladakh
Shey Palace lies only 15 km from Leh, the headquarters of Ladakh. Shey was originally the summer capital of Ladakh and this hilltop fortress was built in 1655. It houses a huge Shakyamuni Buddha statue, which is the second largest Buddha statue in Ladakh. The original palace is now in ruins and it is a fine example of Ladakhi mud-brick and wood architecture. All monasteries of Ladakh — some of them lying in remote areas — have a similar architecture and, because of the fragile natural conditions of the Union Territory, they need protection.
3. Bidar Fort, Karnataka
The Bidar fort in Karnataka's Bidar district, made of red laterite stone, is another heritage site lying in ruins. It was originally built by Ahmad Shah Wali Bahman occupied by Prince Ulugh Khan of the Tughluq dynasty, who later went on become Muhammad bin Tughlaq, the sultan of Delhi. It was later recaptured by Sultan Ala-ud-Din Bahman Shah with the establishment of the Bahmani Sultanate in 1347. The fort was rebuilt by Ahmad Shah of the Bahmani dynasty in the Persian style of architecture in 1432. It has a triple-moated wall and an imposing gateway. Not only is it important for its architecture but also for the rich history associated with it.
4. Chand Baori, Rajasthan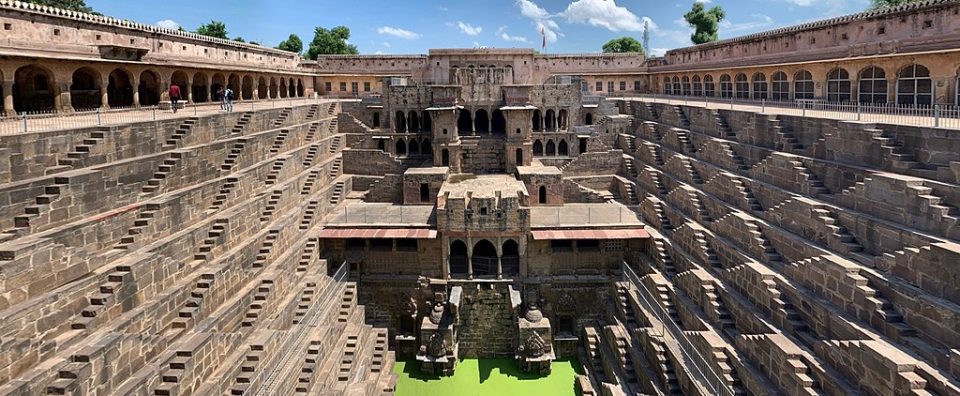 This stepwell in Rajasthan's Abhaneri village is one of the oldest, deepest, and largest in the world. Built by King Chanda of the Nikumbha dynasty in 9th century AD, it was built to conserve water in the desert state and was also a community gathering place for locals and royals. Chand Baori is an architectural wonder known for its perfect geometry. With 3,500 perfectly symmetrical, narrow steps¸ Chand Baori narrows as you gets closer to the bottom. With intricately carved jharokhas (windows), galleries, and balconies, it is much more than a stepwell.
5. Bishnupur terracotta temples, West Bengal
The Bishnupur terracotta temple complex in West Bengal have structures dating back to the 10th century to 17th century built by the Malla rulers. Mrinmoyee temple, the oldest, was established by King Jagat Malla in 997 AD. The other significant sites are Rasmancha (another example of perfect geometry), the Jor Bangla, Shyam Rai, and Madanmohan temples, Garh Darja, Lalbandh, etc. It is said that due to the shortage of stones in Bengal, the local craftsmen came up with burnt-clay bricks or terracotta as a substitute to build these structures that are unique to this part of the country. The exquisite carvings on the walls of the temples, made with terracotta tiles and depicting scenes from the epics, is something worth cherishing.
(With agency inputs)