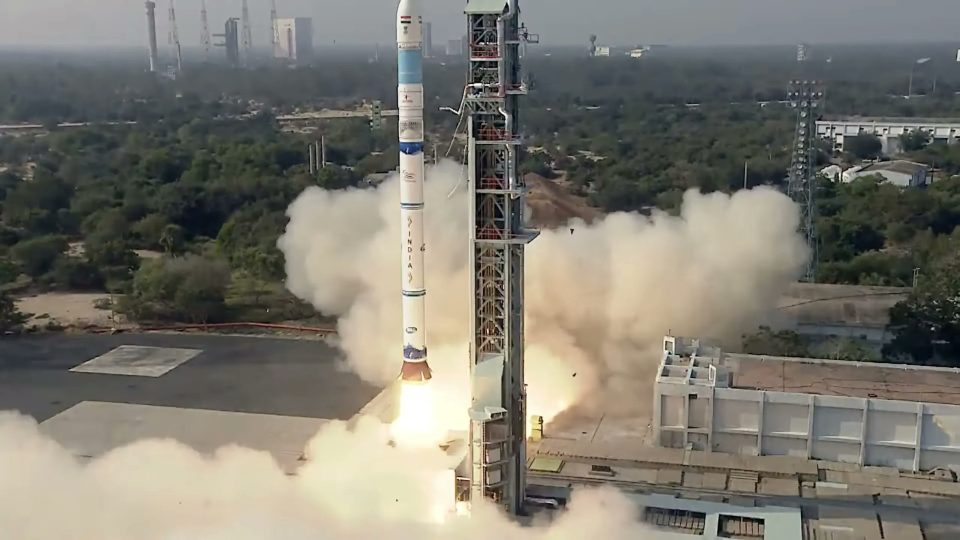 Will transfer SSLV to industry: ISRO chairman
The Indian Space Research Organisation (ISRO) on Monday announced that it will transfer its Small Satellite Launch Vehicle (SSLV) to the private sector amid growing demand for small satellites.
The SSLV, which has had two development flights, seeks to provide on-demand services to put satellites weighing up to 500 kg in a low-earth orbit. "We have built our own SSLV which will be transferred to the industry and produced in large numbers to meet the growing demand," ISRO Chairman S Somanath said at the inauguration ceremony of the India Space Congress organised by SatCom Industry Association (SIA) India in New Delhi.
Also read: Chandrayaan-3 launch likely on July 13; ISRO chief says no final decision yet
Bidding route
The space agency has decided to opt for the bidding route to transfer the mini-rocket to the industry, a senior official said. The SSLV is the sixth launch vehicle developed by ISRO and has undergone two development flights in August last year and in February this year.
The maiden flight of the SSLV in August last year was a failure due to vibration disturbance for a short duration on the Equipment Bay deck during the second-stage separation. The ISRO took corrective actions after conducting an in-depth analysis of the fault and carried out a successful launch of the SSLV in February.
The SSLV injected the ISRO's EOS-07 satellite, US-based firm Antaris Janus-1 and Chennai-based space start-up Space Kidz's AzaadiSAT-2 satellites into a 450-km circular orbit.
Small rockets, such as the SSLV, target nano and micro-satellites, which weigh less than 10 kg and 100 kg respectively, offer on-demand launch services, without requiring clients to wait for larger rockets to carry them as co-passengers.
PSLV contract
Last year, the ISRO had awarded a contract to build five polar satellite launch vehicles (PSLVs), its warhorse rocket with 54 successful launches, to a consortium of Hindustan Aeronautics Limited and Larsen and Toubro.
Also read: ISRO not rushing to launch Gaganyaan to ensure sure shot safe mission, says chairman S Somanath
A recent report prepared by the Indian Space Association and consultancy firm EY India said commercial satellite launch services can see India's domestic space industry contribute USD 13 billion to the economy by 2025.
The SSLV was the sixth launch vehicle developed by the ISRO after the Satellite Launch Vehicle-3 (SLV-3), Advanced Satellite Launch Vehicle (ASLV), Polar Satellite Launch Vehicle (PSLV), Geosynchronous Satellite Launch Vehicle (GSLV) and Launch Vehicle Mark-3 (LVM-3). The SLV-3 and the ASLV have since been retired.
(With agency inputs)