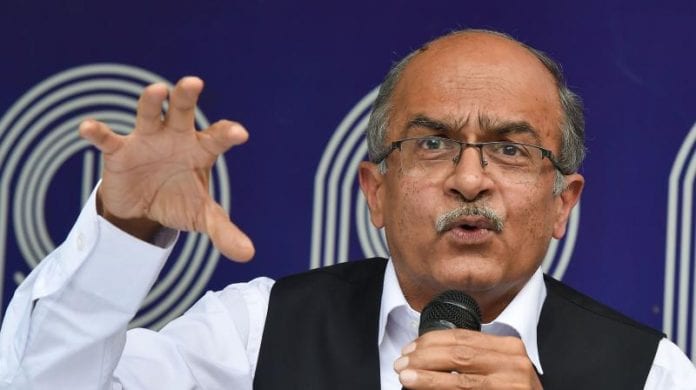 The Supreme Court has concluded hearing on the quantum of punishment to be awarded to lawyer-activist Prashant Bhushan in the contempt case for his tweets on the top court and the Chief Justice of India, SA Bobde.
Attorney General KK Venugopal and Bhushan's counsel Rajeev Dhavan spoke during the hearing of the case in which the 63-year-old lawyer-activist has been held guilty.
Bhushan has repeatedly refused to apologise for his remarks despite the court's insistence. In a 100-page statement, he re-asserted his refusal saying the tweets represent his bona fide belief and an apology would be insincere.
"What is wrong in apologising, is this word so bad," the top court bench led by Justice Arun Mishra asked him on Tuesday before concluding the hearing. "If you are hurting someone, then what is wrong in apologising," Justice Mishra asked.
"For how long the system will suffer all this? I am retiring in a few days. Will it be okay if you or others start attacking me? You should apply balm if you have caused hurt," he said responding to arguments by Dhavan and Venugopal.
Mr. Dhavan, representing Bhushan, told the court that it must take criticism, "and not just criticism but extreme criticism. Your shoulders are broad enough." An apology cannot be coerced, he further argued.
While AG Venugopal suggested Bhushan be reprimanded, Dhavan said that will be extreme. "Such reprimand or bald warning shouldn't be done. One cannot be silenced forever. A message that he should be little restrained in future should be enough," said Dhavan.
Related news: It'd be contemptuous on my part to offer apology: Prashant Bhushan
"Don't make him a martyr; he has not committed murder or theft," he said, adding: "Not only the Bhushan contempt case be closed, but the controversy should also be put to an end. The Supreme Court should give statesman-like messages."
Earlier in the day, AG Venugopal had asked the court to let the activist-lawyer go with a warning. "The court should warn him and take compassionate view," Venugopal told the bench, also comprising Justices BR Gavai and Krishna Murari.
"A person should realise his mistake. We gave Bhushan time but he says that he will not apologise," the Supreme Court said.
In the contempt case, the Supreme Court may sentence Bhushan to six months in jail or impose a ₹2,000 fine, or both, as deemed fit by the three-judge bench.
Bhushan faces another contempt case dating back to 2009, which the Supreme Court has decided to refer to another bench.
(With inputs from agencies)