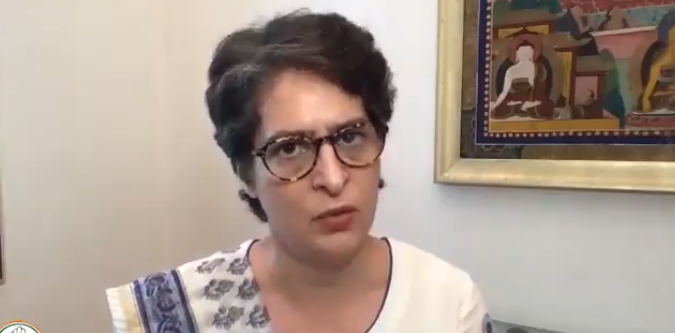 Criticising the Uttar Pradesh government over growing COVID-19 cases in the state, Congress leader Priyanka Gandhi Vadra on Monday (July 13) questioned the logic behind imposing a 55-hour-long weekend lockdown – 'baby pack' as she called it- in the state.
"No one has understood the logic behind the baby pack of the weekend lockdown," she tweeted showing the rising number of COVID-19 cases between July 10 and 12, which has stayed above 1,300.
उप्र: पिछले तीन दिन में कोरोना के मामले

10 July – 1347
11 July – 1403
12 July – 1388

लॉकडाउन के वीकेंड 'बेबी पैक' का लॉजिक अब तक किसी को समझ नहीं आया। अपनी असफलता छुपाने के लिए खिलवाड़ जारी है।

'मर्ज़ बढ़ता गया
ज्यों ज्यों दवा की' pic.twitter.com/swuFuPcHjc

— Priyanka Gandhi Vadra (@priyankagandhi) July 13, 2020

The Yogi Adityanath government had imposed a strict lockdown in the state over the weekend starting 10 pm of Friday (July 10) to 5 am of Monday (July 13).  The step was taken in view of the growing cases of COVID-19 in the state.
While announcing the decision Adityanath had said that the markets will remain open from Monday to Friday, the weekends will be reserved for sanitization process.
The state which has logged in 36,476 cases so far reported 1,654 cases in the past 24 hours.