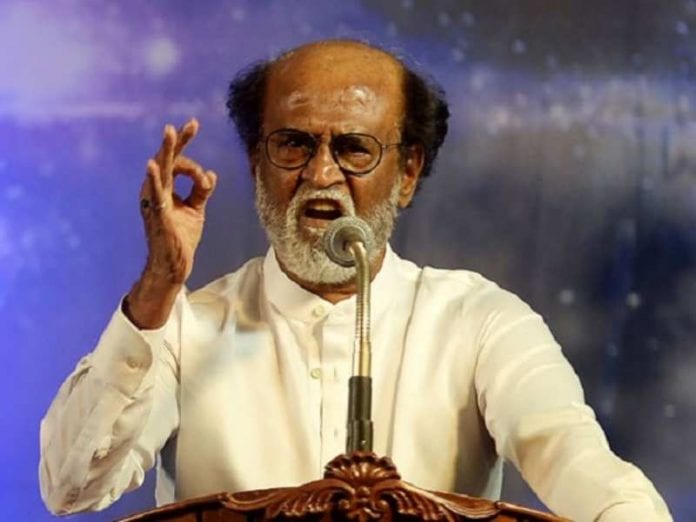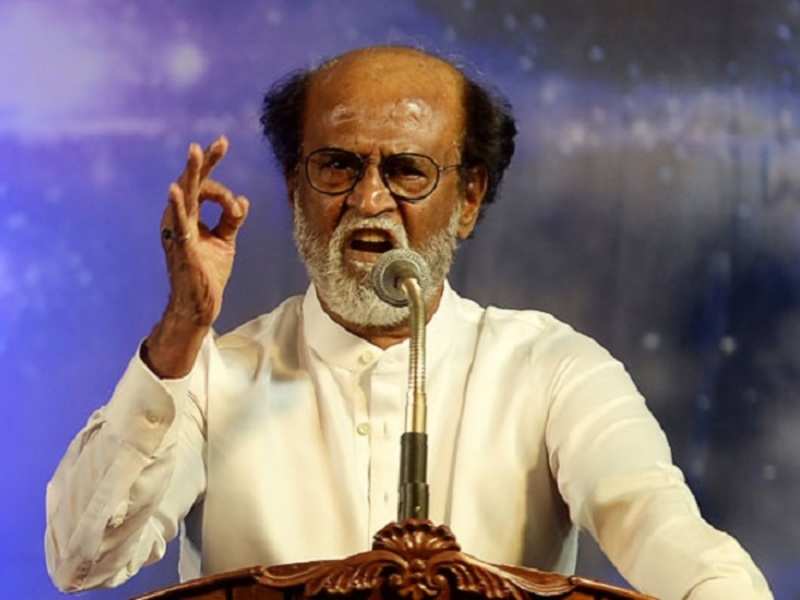 Alluding to the nationwide protests that brought life to a standstill in several cities across the country on Thursday (December 19), actor turned politician Rajinikanth, through a tweet, said violence and riots should not be the means to solve any problem.
The actor, however, was careful not to mention the Citizenship Amendment Act or the National Registry of Citizens (NRC) in the post.
"Keeping the security and welfare of the nation in mind, I request the citizens to stay united and be aware. I am deeply distressed by the violence that is happening now," he tweeted in Tamil.
— Rajinikanth (@rajinikanth) December 19, 2019
His post elicited both praise and criticism, with tweeple reacting with two trending hashtags 'IStandWithRajinikanth' and 'ShameOnYouSanghiRajini'. Netizens posted a picture where a female protester was seen offering roses to police personnel and questioned the actor how it can be construed as violence.
Is this violence ??? @rajinikanth#ShameOnYouSanghiRajini pic.twitter.com/RzQMfcq3UA

— முத்து (@IamSeaKing) December 19, 2019
The tweets supporting the actor said that Rajinikanth's statements against violence were also shared by Congress leader Rahul Gandhi and AAP leader Arvind Kejriwal but only Rajinikanth was getting trolled.
Rajini told the same as Rahul & Kejriwal.. people must adopt NON VIOLENCE

but intellectuals are trending against Rajini for this!!?‍♂️ #IStandWithRajinikanth pic.twitter.com/LS1DivZCIP

— johnny ✞ (@CheckOutJohnny1) December 20, 2019
Also read: Protestors shun stones, offer flowers to police in Delhi
#IStandWithRajinikanth was trending worldwide as the actor's fans across the world tweeted to support him.
The tweet comes in the midst of a nationwide wave of protests across more than 13 states including New Delhi, Karnataka and Uttar Pradesh where Section 144 has been imposed by the governments to quell anti-CAA protests and related violence.
Also read: Anti-CAA protests transcend intra-community rivalry in Kolkata
Youth wing leader of Tamil Nadu's Dravida Munnetra Kazhagam (DMK) Udhayanidhi Stalin subtly retorted to Rajinikanth's tweet.
In a tweet, he appealed to the people to participate in the anti-CAA rally on December 23. Taking a dig at the senior actor, Udhayanidhi said as fighting for rights was termed as 'violence,' it is better that the elderly and the wealthy stay in the safe confines of their houses while the youth took to the streets.
தலைவர் @mkstalin அவர்கள் தலைமையில் 23ம்தேதி சென்னையில் நடைபெறும் #CAA2019 எதிர்ப்பு பேரணியில் அனைவரும் பங்கெடுப்போம். உரிமைக்கான போராட்டத்தைக் கண்டு 'வன்முறை' என்று அஞ்சும் வசதியான, வயதான பெரியவர்களைச் சரியான பாதுகாப்புடன் வீட்டிலேயே விட்டுவரவும்.#Emergency2019 #IndiaAgainstCAA

— Udhay (@Udhaystalin) December 19, 2019
Unlike Rajinikanth, who has kept away from voicing his opinions on CAA or NRC, his counterpart in the film industry and politics, Makkal Needhi Maiam president Kamal Haasan has been vocal against the amended citizenship act and his party has also filed a PIL in Supreme Court against it.