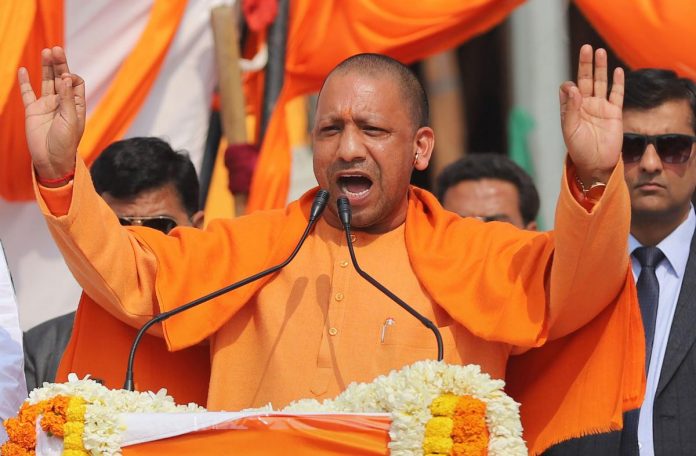 The Uttar Pradesh police have made one more arrest under the anti-conversion law. The total number of people arrested under the Act, which came into effect a month ago, has now reached 35.
The controversial Prohibition of Unlawful Conversion of Religion Ordinance, 2020 was notified on November 27. Since then a dozen FIRs have been lodged.
Eight arrests were made from Etah, seven from Sitapur, four from Greater Noida, three each from Shahjahanpur and Azamgarh, two each from Moradabad, Muzaffarnagar, Bijnor and Kannauj and one each from Bareilly and Hardoi.
Chief Minister Yogi Adityanath has time and again warned people that the new law is to keep a check on those "who do not respect daughters and sisters".
Also read: Muslim youth in UP accused of 'love jihad' for walking friend home
A social activist said, "The new is not the problem, but its enforcement should not cause harassment to people. It should be ensured that it is not misused. It is too early to predict whether it (the law) will succeed in its purpose, but it should be used carefully."
Former UP Director General of Police Yashpal Singh told The Indian Express said that when a girl flees, there is pressure for her recovery. "It (law) is good as per the social structure and with this there will be not exploitation. However, as per modern social outlook, people can feel stripped off their freedom."
A PIL has been filed in the Allahabad High Court challenging the law. The applicant of PIL argued that the law violates an individual's fundamental right to choice and the right to change of faith.  The high court has asked the state government to respond to the charge by January 4.
Also read: Those plotting 'love jihad' will be destroyed, warns Shivraj Singh Chouhan
The anti-conversion law provides for a jail term of up to 10 years for any violations. Under the law, which deals with different categories of offences, a marriage will be declared "null and void" if the conversion of a woman is solely for that purpose. The onus to prove the conversion was not done using force lies on the accused and the convert.