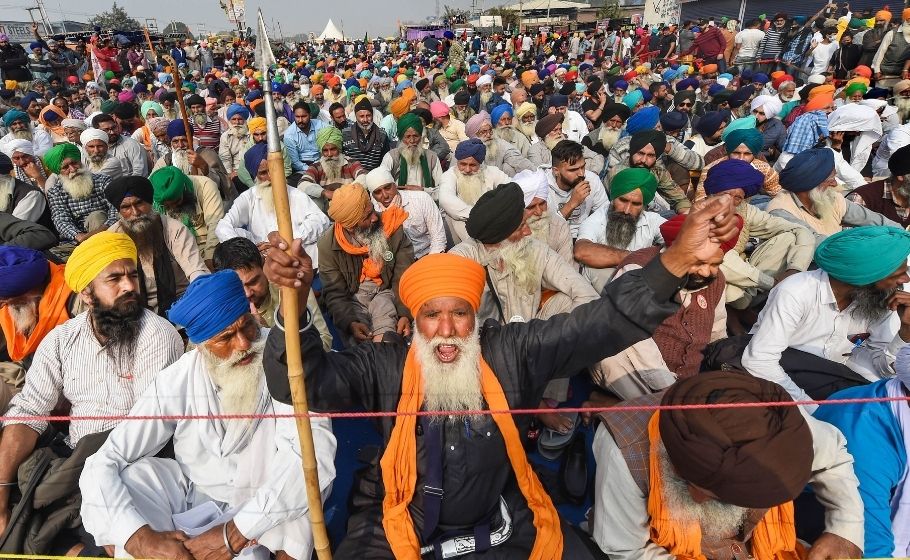 UK farmers support Indian farmers, cite poor experience with corporates
The Indian diaspora in the UK has already shown their support for the farmers' protests back home, but it is now the turn of British farmers to come out strongly in solidarity with their Indian colleagues and feel inspired by the unique movement launched more than two months ago
The Indian diaspora in the UK has already shown their support for the farmers' protests back home, but it is now the turn of British farmers to come out strongly in solidarity with their Indian colleagues and feel inspired by the unique movement launched more than two months ago.
Farmers and landworkers across the UK are writing to their Members of Parliament asking them to act against the Indian government and get them to repeal the three laws that are threatening the future of farmers in India. They are also posting images of themselves standing in support with Indian farmers on social media.
Small and medium farmers, predominantly white as farming is not a profession that Indian immigrants flock to here, feel inspired by Indian farmers who they argue are resisting corporatisation of farming, which has forced farmers in the UK into an economically difficult position.
Also read: Farmers welcome Mann's call to leave SC panel, invite him to join protest
"It is so inspiring to see Indian farmers standing up against the deregulation of their sector that threatens their livelihoods. They are resisting the kind of market based reforms that have led to such a tough and precarious situation for farmers here in Britain," said Humphrey Lloyd, a UK farmer who grows salad, herbs and vegetables for the local market on an urban farm in Bristol, south-east England.
Don't follow us: UK farmers association
Agreeing with the Indian farmers on the reasons why they wish to have the new farm laws repealed, Lloyd added: "Supermarkets bully us on contracts, rising debt from farm improvements, low and unstable prices such that small farmers are pushed out of the sector altogether. As Brexit further threatens British farming with cheap and low quality imports, we should take a leaf out of the Indian farmers' book," added Lloyd.
A union of farmers and landworkers called Landworkers' Alliance comprising more than a 1,000 members has written letters to Narendra Singh Tomar, the Indian Minister for Agriculture and Farmers welfare with a copy to Prime Minister Narendra Modi citing the impact of industrialisation on the UK food system and urging them to continue supporting small-scale agro-ecological methods of farming and repeal the laws once and for all.
Also read: Understanding the new farm laws and farmer protests in India
The letter explains to Tomar how, in the 19th century, UK's rural population was 65.2%, but thanks to industrialisation it has now declined to just 17% of the population. More importantly, as food production and supply chain systems in the UK become more and more industrialised, the numbers of agricultural landholdings has come down from nearly 4.5 lakhs in a population of about 3.1 crore at the end of the 19th century to less than half of that at 2.17 lakhs in 2017, by when the population of the UK had doubled to around 6.6 crore.
Sharing experiences of UK's food and agriculture systems in the wake of the ongoing movement in India, the letter noted that top four supermarkets provide 70% of groceries in the UK, whereas studies show that farmers get only about 8% of the total money spent on food overall.
In 2018-19, the total amount of income subsidy provided to farmers totals above £3 billion annually, working out to about £27,300 per landholding — nowhere near enough to make them economically viable.
"Our experience shows ensuring farmer income security is required for farmers to thrive and continue farming to produce food for our populations. To ensure sustainability, better nutrition outcomes and better livelihood avenues — many developed countries, including the UK are re-evaluating their supply chains with an increasing emphasis on short food supply," warns the letter.
It tells the Indian government not to make the mistakes made by Western countries and instead forge a "farming system based on collectives and micro, small and medium based enterprises rather than behemoths which control entire supply chains".
Farmers being pushed out
In a separate letter to British Foreign Secretary, Dominic Raab, the Landworkers' Alliance has urged the UK government to revise their approach to aid to India by changing the UK-India Infrastructure Technical Co-Operation Facility (ITCF).
The farmers' union, which is part of an international alliance of 200 farmers groups from across the world, suggests that since its inception the ITCF's objective has been to promote contract farming in India, which is also the goal of one of the three laws that the farmers are protesting against.
As the ITCF now stands, it contains provisions which work against the interests of the farms it seeks to support by urging India to follow UK's path in consolidation and destruction of the SME farm sector, without consulting those sectors about whether or not they want to be removed from their source of livelihood.
"UK development policy funds private consultants who encourage small farmers to "step out" of agriculture, without ever asking farmers if they want to step out!" explains Jyoti Fernandes, Campaigns Coordinator at the Landworkers' Alliance.
Pointing out that the demonstrations in India make it clear that the farmers there do not wish to "step out" or be driven out by the corporate sector, Fernandes, herself a smallholder farmer in Dorset, South England, feels the British government should listen to them and provide aid to farmers' networks on the ground instead.