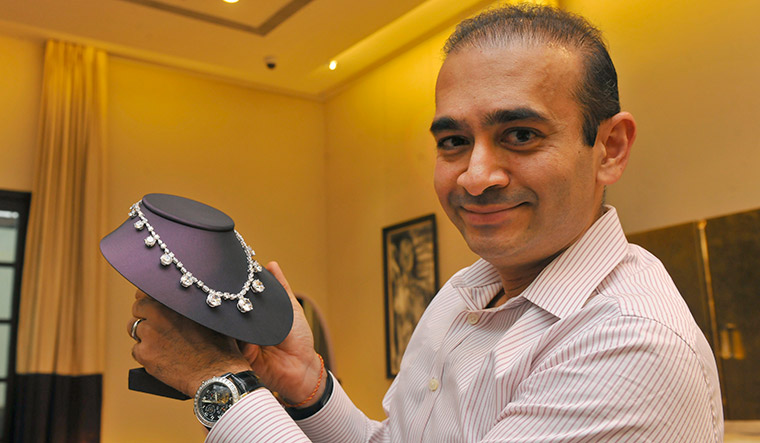 In a key development in the Nirav Modi extradition case, a magistrate's court in the UK ruled on Thursday (February 15) that due to strong prima facie evidence against luxury jeweller Nirav Modi, he "could be convicted" in Indian courts.
This ruling is significant since it will pave the way for the foundation of the extradition of the fugitive diamond trader from the UK.
Delivering his judgement on whether the jeweller has a case before the Indian courts, District Judge Samuel Goozee in the Westminster Magistrates' Court on Thursday indicated that the case against Modi was strong and he agreed with the submissions made by the Indian government, which included 16 volumes of evidence collected by the CBI and ED, after the ₹14,000 crore Punjab National Bank (PNB) scam broke out in 2018.
The Crown Prosecution Service (CPS), which has been arguing this extradition case on behalf of the Indian government, has sought to establish a case against Modi, and that there are no human rights issues blocking his extradition to India. In fact, the CPS barrister Helen Malcolm has argued that the jeweller presided over a "Ponzi-like scheme where new LoUs were used to repay old ones".
Also read:Setback for fugitive Nirav Modi, as sister and her husband turn against him
Hence, Judge Goozee observed in his ruling that there is no evidence to show that if extradited Nirav Modi will not get justice in India. There were clear links between Nirav Modi and other connivers, including bank officials in clearing Letters of Undertaking (LoUs)that facilitated huge unpaid loans.
Further, he noted that Modi had personally subsequently wrote to PNB acknowledging the debt and had promised to repay. "The CBI is investigating that Nirav Modi firms were dummy partners and were shadow companies," the judge noted, reported NDTV.
The District Judge went on to add that Nirav Modi was not involved in a "legitimate business" with any genuine transactions and "there is a process of dishonesty" in the operations. Therefore, he came to the conclusion that the way the LoUs were obtained, shows that Modi and co. were operating fraudulently.
"Many of these are a matter for trial in India. I am satisfied again that there is evidence he could be convicted. Prima facie there is a case of money laundering," he said.
Also read:Nirav Modi's brother Nehal charged with $2.6-million fraud in New York
Nirav Modi, who was arrested on an extradition warrant on March 19, 2019, heard the ruling through video conferencing from Wandsworth Prison, where he is lodged.
This most recent magistrates' court ruling will be sent back to be signed by UK Home Secretary Priti Patel, after which either side can appeal in the High Court depending on the next outcome.
The Enforcement Directorate (ED) in India has alleged that Nirav Modi diverted over ₹ 4,000 crore of the ₹ 6,519 crore outstanding fraudulent LoUs issued by PNB to his firms, through 15 "dummy companies" based in the UAE and Hong Kong. The agency has submitted to the UK court transcripts of Modi's conversations that allegedly show he tampered with evidence and intimidated witnesses while facing investigations in India.
Modi faces two sets of separate criminal proceedings. One is the CBI case related to the alleged large-scale PNB-LoU fraud, and secondly, there is an ED case on laundering the proceeds of the alleged fraud at PNB. He is also accused of "causing" evidence-tampering and "criminal intimidation" of witnesses.
Meanwhile, Modi has denied these charges and told the UK court that obtaining LoUs is a standard practice for companies. His defence team headed by barrister Clare Montgomery, has claimed that the entire issue is a commercial dispute, involving "authorised though ill-advised lending" that took place in "broad daylight".
Moreover, his defence has also raised the issue of Modi's mental health condition since he has a family history of depression and suicide. The CPS has challenged the defence's stance and had called for an independent evaluation of medical records by a consultant psychiatrist. The Indian authorities have even sent photographs of the Arthur Road Jail in Mumbai, where Modi will be kept to assure that he will be cared for in India.
Even as the liquor baron Vijay Mallya's extradition hangs fire while a "confidential" matter gets resolved, another case of the accused arms dealer Sanjay Bhandari will be heard in April.