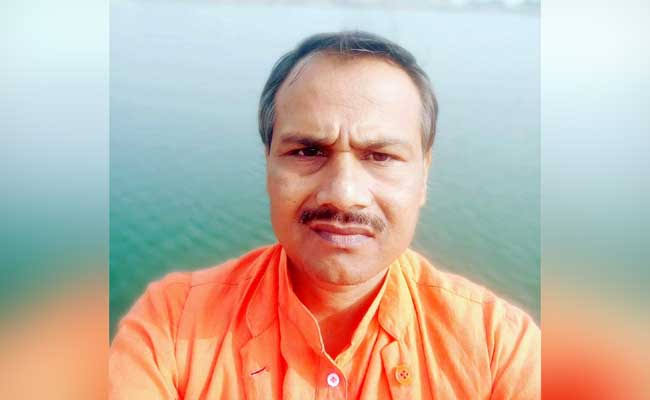 Two more suspects in the Kamlesh Tiwari murder case were arrested by the Gujarat Anti-Terrorism Squad (ATS) on Tuesday (October 22) near the Gujarat-Rajasthan border, four days after the former Hindu Mahasabha leader was killed at his Lucknow residence.
These latest developments bring the total number of arrests in this case to six.
The two arrested were identified as Ashfaq Shaikh (34) and Moinuddin Pathan (27), reported news agency PTI. According to police, the two of them had killed Tiwari because he had supposedly made controversial statements against Prophet Mohammed in the past.
Police stated that the two of them, one of whom was wearing a saffron kurta, met Tiwari at his residence in Lucknow on the pretext of giving him sweets for Diwali and discussing political issues.
Also read: Kamlesh Tiwari murder case: Clothes matching of suspects found; one held
However, after meeting Tiwari, they allegedly killed him and ran away. Details regarding the method employed in the murder could not be confirmed.
The police further believed that the accused had checked into a hotel with their real addresses a night before the incident and later returned after the murder to dump their clothes and weapons. It was also reported that the two accused, Ashfaq and Moinuddin, were staying at Hotel Khalsa, near Tiwari's residence.
On Sunday, the Uttar Pradesh police had found clothes that they believed matched the description of those worn by the two murder suspects. They had recovered saffron coloured clothes and a few other bags from the hotel.
The two accused had last been spotted on CCTV footage which had been recorded 170 km away from Lucknow.
Also read: UP police announces ₹2.5L reward on suspects in Kamlesh Tiwari murder
The Gujarat ATS explained in its statement that the two of them had called up their family members for financial assistance once their money had dried up. "Those close to the two had already been placed under surveillance, and based on that, they were apprehended at the Gujarat-Rajasthan border near Shamlaji," the statement observed.
The ATS had earlier on October 19 arrested three more accused in the case — Rasheed, Faizan Sheikh and Maulana Mohsin. The top officials of the ATS maintained that the murder was aimed at avenging Tiwari's remarks against Prophet Mohammad, the report said.
It may be noted that the Uttar Pradesh police had on Monday announced a reward of ₹2.5 lakh for those who report the whereabouts of the prime suspects in the murder of Kamlesh Tiwari, who was also the leader of the lesser-known Hindu Samaj Party.
(With inputs from agencies)