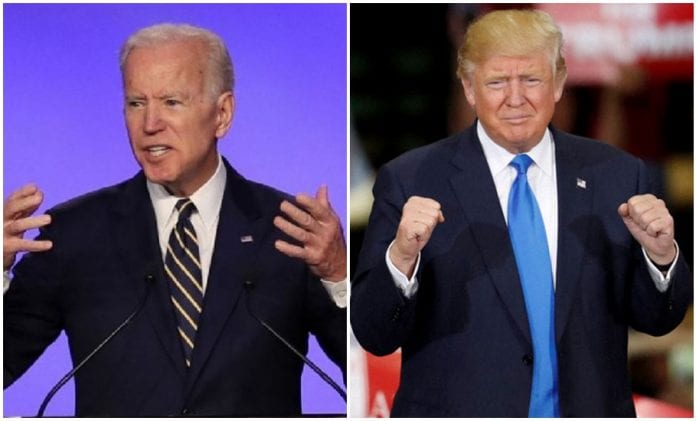 In a recent interview with Fox News, US President Donald Trump suggested that his Democratic opponent Joe Biden has taken drugs to improve his performance in debates. The President offered no evidence in remarks he usually makes, catching everyone by surprise, and lowering the prestige of his high office.
The Republican, who is projected as sliding behind his Democratic contestant in national opinion polls, initially insinuated during the interview that "something was strange" with what he saw as Biden's improvement during the Democratic primary season debates.
Early on, when there were multiple Democratic candidates lined up on stage, Biden was "a disaster" and "grossly incompetent," Trump said. But at a later debate where Biden was one-on-one with leftist rival Bernie Sanders, "he was OK."
Advertisement
Trump told Fox News he didn't want to say what he thought was the reason for the improvement. But seconds later, he did.
"I think there's probably – possibly – drugs involved," Trump told Jeanine Pirro. "That's what I hear. I mean, there's possibly drugs. I don't know how you can go from being so bad where you can't even get out a sentence… "
Trump did not finish his own sentence, but he went on to say he was referring to the Democratic presidential nominee's hesitant performances in early primary debates before his surge to victory on the back of a win in South Carolina.
Trump's claim came not long after his oldest son, Donald Trump Jr, denied claims he used cocaine before speaking at the Republican convention. It was also not the first time Trump, 74, has accused Biden, 77, of taking drugs.
Related news: Between losers, suckers & warmongers: Trump's understanding of military
Speaking to the Washington Examiner last month, the President said: "We're going to call for a drug test, by the way, because his best performance was against Bernie (in the final debate) … It wasn't that he was Winston Churchill because he wasn't, but it was a normal, boring debate. You know, nothing amazing happened. And we are going to call for a drug test because there's no way — you can't do that."
Biden responded by telling a Florida radio station "I'm looking forward to the debate and he's a fool. The comments are just foolish."
The former businessman cites Biden's penchant for gaffes — which some believe to be linked to the Democrat's lifelong struggle with stuttering — and his reluctance to face unscripted questioning from reporters.
Trump — who takes questions from reporters almost daily but is known for his own frequently garbled and baffling statements — said, "Joe is lost. We can't have a president that is mentally lost."