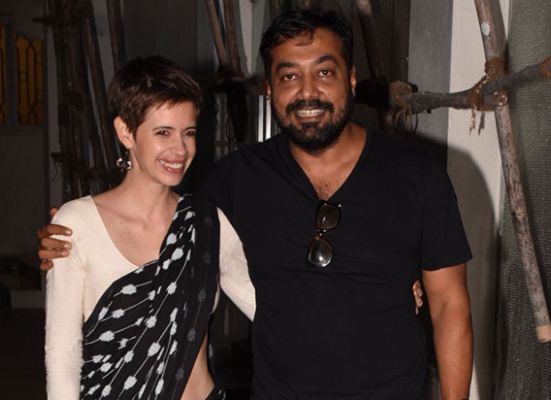 Women in Anurag Kashyap's personal and professional circles including both his former wives and actresses he has worked with are rallying behind the filmmaker, in the wake of allegations of sexual misconduct levelled against him by actor Payal Ghosh.
The prominent testimonials in support of the director have come from both his ex-wives – Aarti Bajaj and actor Kalki Koechlin.
Kashyap was married to Aarti from 2003 to 2009 and to Kalki from 2011 to 2015.
In a Twitter post Kalki on Monday (September 21), who has worked with Kashyap in her debut Dev D, That Girl in Yellow Boots and Netflix series Sacred Games 2, said he was someone who has always seen her as an equal and stood up for her integrity even after their divorce.
"…and you have supported me when I felt unsafe in a work environment even before we got together," she wrote.
"Trolls to troll karenge (trolls will troll)," read the caption of her tweet.
"This strange time where everyone gets to abuse one another and make false claims without any repercussions is a dangerous and repulsive one. It is destroying families, friends and countries. But there is a place of dignity that exists beyond this virtual blood bath, a place of you, a place of being kind even when no one is looking, and I know that you are very familiar with that place. Hang on to that dignity, stay strong and keep doing the work you do," Kalki wrote in her post.
ट्रोल्स tho ट्रॉल करेंगें pic.twitter.com/tMl7GlRU6o

— Kalki केकला (@kalkikanmani) September 21, 2020

A day before, the director's first wife Aarti too wrote words of support in an Instagram post.
"First wife here… You are a rockstar, Anurag Kashyap. Keep empowering women as you do and the safest place you create for all of them. I see it first hand with our daughter (their daughter Aaliyah Kashyap)," she said.
"There is no integrity left and the world is full of losers and no brains baying for blood of anyone who has a voice. If everybody spends the energy which they use in hating others constructively this world will be a better place. Cheapest stunt I have seen till now. First it made me angry then I laughed so hard as it cannot come more framed then this. I am sorry that you have to go through this .That's the level of them. You stay high and keep using your voice. We love you."
The director has also been backed by actresses he has worked with including Taapsee Pannu and Radhika Apte who credited him with creating powerful women characters as a professional and inspiring and giving equal treatment to the women in his personal life.
In an Instagram post Taapsee wrote, "For you, my friend, are the biggest feminist I know. See you on the sets soon of yet another piece of art that shows how powerful and significant women are in the world that you create."
Calling him one of his closest friends, who has inspired and supported her, Radhika wrote, "You have always treated me as an equal and I cherish the mutual love and respect we have for each other. I have always felt immensely secure in your presence since the day I've known you. You have been and always will be my trusted friend. Love ya."
Meanwhile, actor Richa Chaddha has released a statement saying she will take legal action against Payal Ghosh for "falsely" dragging her name into the controversy.
Payal in a recent interview to ABN Telugu, had alleged that Kashyap had "forced himself" on her.  She had said that Kashyap once told her that actresses like Richa Chaddha were "just a call away".
Kashyap in a statement had rubbished the allegation as "fictitious" and something that "undermine(s) the (MeToo) movement." He also criticised Payal for dragging names of other women actors and defaming them to prove her point.