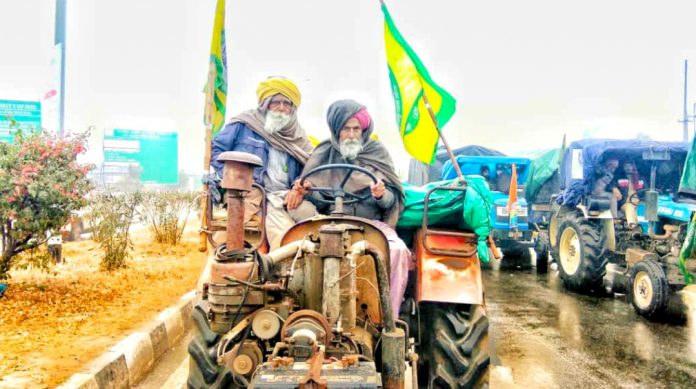 The deadlock over the new farm laws continues as the 11th round of talks between farmer leaders and the Centre remained inconclusive at Vigyan Bhavan on Friday (January 22).
Some farmers union leaders said after the meeting that the government has toughened its stand and has told them they have "nothing more to offer to them than the suspension proposal".
Also, unlike earlier meetings, no future dates have been shared this time for the next round of talks. The farmer leaders have maintained they won't agree for anything but a repeal of the laws, while the government has refused to budge from its stand that the unions should accept its proposal of suspending the laws for 18 months.
Advertisement
Gurnam Singh Chadauni, Bhartiya Kisan Union (BKU) Haryana, told The Federal, "Today's talks remained indecisive. We rejected the offer given by the government to suspend the laws for 18 months. We maintain that the laws must be scrapped and legislation on MSP assurance be made. But, the government had rejected this and made it clear that they have nothing more than a suspension proposal to offer."
Also read:No ghar vapsi, govt testing patience, say farmers ahead of 11th round talks
Chaduani also pointed out that no further dates for the meetings have been scheduled. "We will decide on a date after our Republic Day parade on January 26," he said. Thousands of farmers are scheduled to hold a peaceful tractor rally to protest against the new farm laws.
Jagjit Singh Dalewal from BKU, Sidhupur, added, "There has been no outcome in today's meeting. After talking to farmers sitting on the borders, we decided to reject the government proposal."
Meanwhile, Balbir Singh Rajewal from BKU Punjab said, "The government doesn't want to give anything away to the farmers. They made us sit for 3-4 hours and at last gave the same offer which we had rejected earlier."
Also read:Farmers-cops talks fail; 5,000 more tractors arrive for R-Day rally
Acknowledging the standoff with the government, S Darshan Pal Singh from Krantikari Kisan Morcha has appealed to people from across the country to join the farmers' protest. "We are talking to the Delhi police regarding the route for January 26 tractor march. The route will be finalised in a day or two. We also appeal to people who live close to Delhi to come and participate in the march," he said.
The farmers' union also raised the issues of the damage caused to the car of farm leader Ruldu Singh Mansa; the threatening phone call to Darshan Pal and mishandling by the police of Hannan Mollah.
The Samyukt Kisan Morcha, the umbrella body of the 41 farmer unions, has already rejected the government's proposal to suspend the laws for 18 months.
Union Agriculture Minister Narendra Singh Tomar, Railways, Commerce and Food Minister Piyush Goyal and Minister of State for Commerce Som Prakash represented the government in the talks with the farmer unions.