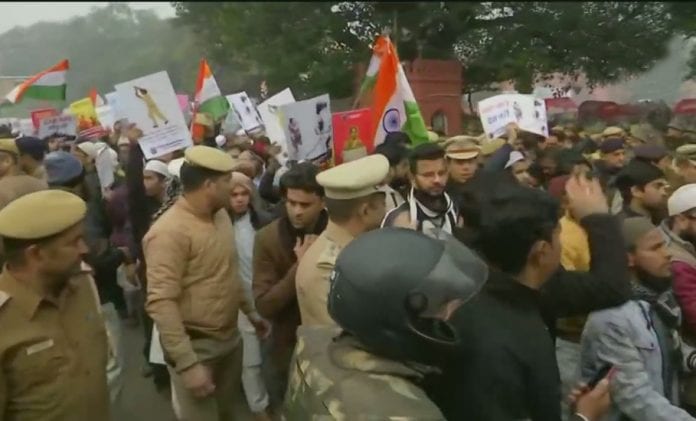 It appears that the suspension of voice, internet, and SMS services by major telcos including MTNL/BSNL, Vodafone-Idea, Jio, and Airtel were as per a preemptive directive issued by the Delhi police a day ahead of the nationwide strike against the Citizenship Amendment Act (CAA) called by the Left parties on December 19.
A confidential directive issued to the companies by the Deputy Commissioner of Police, Special Cell, said communication of all types should be suspended 'in view of the prevailing law and order situation' between 9 am and 1 pm on December 19.
Obeying the directive, the operators suspended services in parts of Delhi-NCR including Mandi House, Seelampur, Jaffarbad, Mustafabad, Jamia Nagar, Shaheen Bagh and Bawana as protests raged in Delhi and other parts of the country.
Sources said the police would have wanted to stop the dissemination of information on social media platforms and messaging apps. Those in the know said the cutting of communications links also prevented the regrouping of protestors once detained and removed from the spot.
In the confidential order which was dated December 18, the Delhi Police Special cell directed the telcos to suspend communication of all types for locations including walled city areas of north and central districts, Mandi House, Seelampur, Jaffarbad, Mustafabad, Jamia Nagar, Shaheen Bagh and Bawana on December 19.
Delhi Police Special Cell had directed on 18Dec that voice, SMS,internet services be halted from 9am to 1pm today,in walled city areas of north&central districts,Mandi House,Seelampur,Jafrabad,Mustafabad, Jamia Nagar, Shaeen Bagh&Bawana, in view of prevailing law&order situation pic.twitter.com/Qk2sk0TKI1

— ANI (@ANI) December 19, 2019
Despite prohibitory orders issued by Delhi Police, protestors gathered at Red Fort and Mandi House. Police have already detained scores of protesters at the Red Fort and taken away in buses. The Delhi Metro Rail Corporation has closed entry and exit gates of 16 stations.