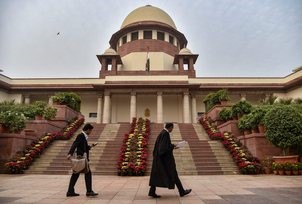 In a first, the Supreme Court started using Artificial Intelligence (AI) and Natural Language Processing technology for live transcription of its hearings on an experimental basis from Tuesday.
The live transcription has been launched in the court room of Chief Justice of India (CJI) DY Chandrachud.
The Constitution bench proceedings will be transcribed from Tuesday and given to lawyers for vetting prior to uploading on the Supreme Court website.
This will be on an experimental basis for a day or two to iron out creases in transcription before becoming a norm, the CJI said.
Do you see the screen? Were just trying to explore the possibilities of live transcript. Then we will have a permanent record of arguments. Law colleges can analyse, the bench headed by the CJI said as the Constitution bench hearing commenced.
The CJI headed Constitution bench is hearing the case related to the 2022 power struggle in Maharashtra.
---
(Except for the headline, this story has not been edited by The Federal staff and is auto-published from a syndicated feed.)