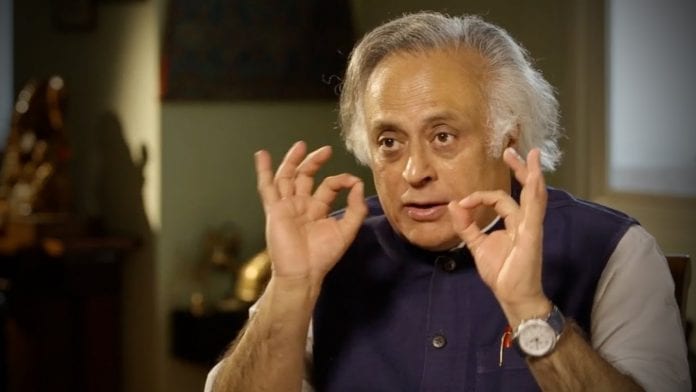 Hitting out at his own party for its dismal performance in the recently-concluded Delhi assembly polls, former Union Minister Jairam Ramesh, on Thursday (February 13), said that some of the party leaders were behaving like ministers despite being out of power.
Calling for a change of leadership when it came to style and substance, Ramesh said, "Congress leaders have to reinvent themselves. Otherwise, we are staring at irrelevance. Our arrogance has to go, even after six years out of power, sometimes, some of us behave as if we are still ministers." Commenting on the humiliating defeat of the party in Delhi he said, the Delhi results are an "unmitigated disaster like coronavirus for the Congress."
Another leader Jyotiraditya Scindia too echoed his colleague's views and called for a "new approach" to be adopted to revive the party. He termed the party's electoral loss "extremely disappointing."
He said, "The results are extremely disappointing. Congress needs a new approach, a new way of doing things…we strongly need a new approach. Times have changed, the country has changed. We'll have to reach out to people. After the Lok Sabha polls, we have formed governments in few states."
Related news | Modi to induct new faces in Cabinet rejig, may shunt out Anurag Thakur
Earlier, party's Delhi in-charge PC Chacko and Delhi Congress chief Subhash Chopra put in their papers taking moral responsibility for the defeat.
Since the defeat the grand old party has been rocked by internal divisions, rancour and finger pointing. PC Chacko, commenting on the rout, said that the decline of the Congress fortunes began under the late three-time chief minister Sheila Dikshit.
"The downfall of the Congress party started in 2013 when Sheila ji was the CM. The emergence of a new party, AAP took away the entire Congress vote bank. We could never get it back. It still remains with AAP," Mr Chacko told ANI.
Taking exception to that remark, another Congress leader Milind Deora said that it was "unfortunate to see her being blamed after her death."
Sharmistha Mukherjee too hit out at P Chidambaram for having hailed the victory of the Aam Admi Party (AAP) at the hustings.
Related news | Jaishankar, Guha bicker on Twitter over Nehru's 'sidelining' of Patel

Out of the 66 candidates that the Congress fielded in the polls, 63 of them lost their deposits.
Commenting on the turmoil, Congress spokesperson Randeep Surjewala said it would be "better if Congress leaders had looked at, introspected on their own role, their own responsibility, their own commitment to the party and defined their own duty towards the campaign in Delhi."