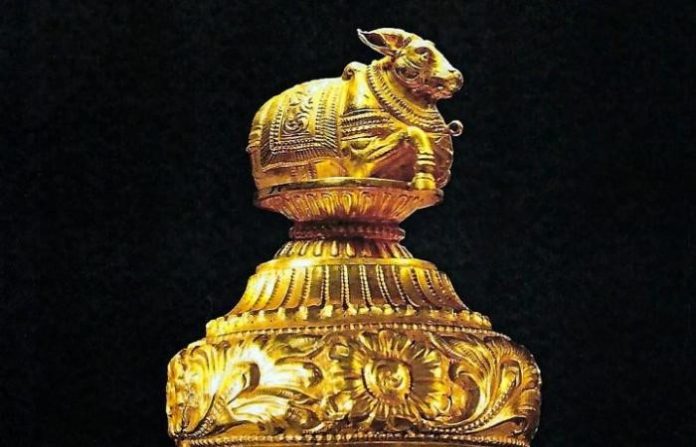 The historical and sacred Sengol (sceptre) received by first Prime Minister Jawaharlal Nehru, symbolising the transfer of power from the British to India in 1947, harks back to Tamil history from the Sangam age over 2,000 years ago. Sengol is a word derived from the Tamil word Semmai, meaning righteousness. It is to be installed in the new Parliament House on May 28 by Prime Minister Narendra Modi.
2.  It was a traditional Chola practice for Samayacharyas (spiritual leaders) to lead the coronation of kings and sanctify the transfer of power, which is considered a kind of recognition for the ruler, according to Prof S Rajavelu, formerly with the Department of Maritime History and Marine Archaeology of Tamil University.
3. The use of a Sengol has been popular since the Sangam age. For Tamil kings, Sengol (a Tamil word for sceptre) was a symbol of justice and good governance. The head of ancient Shaivite Thiruvavaduthurai Aadeenam math presented the Sengol to Nehru in 1947.
Also read: Explainer: What is 'Sengol', who crafted it and what's its significance?
4. In Tamil, the word Aadeenam refers to both a Shaivite monastery as well as the head of the Shaivite math.
5. Pannai T Chockalingam, who is closely associated with Shaivite monasteries, told PTI: "It was Rajaji (C Rajagopalachari, last Governor General of India) who convinced Nehru that such a ceremony was needed, saying Bharat has its own traditions and that the transfer of sovereign power should be presided over by a spiritual guru." Nehru agreed.
6, Vummidi Ethirajulu, 96, and Vummidi Sudhakar, 88, two people who were involved in the making of the original Sengol in 1947, are expected to attend the new Parliament building's inauguration.
7, On August 14, 1947, three people were flown in from Tamil Nadu – the Deputy high priest of the Adheenam, Nadaswaram player Rajarathinam Pillai and the Othuvar (singer) who came carrying the Sengol and conducted the proceedings.
8. Following tradition, when the Othuvamurthis completed the singing of the last line of 11th stanza from Kolaru Pathigam-Thevaram, Thiruvavaduthurai Aadeenam Thambiran Swamigal (pontiff) handed over the gold-plated silver sceptre to Nehru.
9. The Sengol was kept in the Nehru Gallery of the Allahabad Museum and has been moved to Delhi for its installation in the new building of Parliament. Made of silver with a coat of gold, the historical sceptre will be installed near the chair of the Lok Sabha Speaker.
10. The ornamental sceptre is crowned with the sacred Nandi, with its unyielding gaze. The Nandi on top of the Sengol is symbol of nyaya. "Sengol represents the same feeling that Jawaharlal Nehru felt on August 14, 1947," Union Home Minister Amit Shah said.