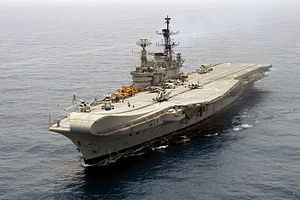 The Supreme Court on Wednesday (February 10) stayed further dismantling of the decommissioned aircraft carrier INS Viraat on a plea filed by a company that had proposed to convert the vessel into a museum and multi-functional adventure centre.
INS Viraat is the Guinness record holder for being the longest-serving warship of the world. It had arrived at the Alang ship-breaking yard in Gujarat in September last year, where it was supposed to have been broken and sold as scrap.
However, the Defence Ministry declined the proposal of Envitech Marine Consultants Pvt. Ltd, which prompted the company to approach the apex court.
Advertisement
In a three-page letter, the ministry wrote on November 27 that taking "factual as well as policy aspects inter alia related to safety and material state of the vessel into consideration, the request of the petitioner for grant of NOC to convert the status of ex-Viraat cannot be acceded to".
Also read: Ex-Navy officers debate on Modi's claim of Rajiv Gandhi misusing INS Viraat
INS Viraat had reached Alang on September 28 at a ceremony attended by Union Minister of State, Shipping, Mansukh Mandaviya and Navy officers. Commissioned in the British Navy in 1959 as HMS Hermes, INS Viraat was inducted into the Indian Navy in 1986-87.
Envitech Marine Consultants Pvt Ltd. offered to buy INS Viraat from the Shree Ram Group and convert it into a museum. The aircraft carrier was capable of cruising at 28 knots with over 2,000 crew and officers on board.
Also read: Navy's long-term plan is to have 3 aircraft carriers: Navy Chief
It was to be the second aircraft carrier to be broken in India in the past six years. In 2014, INS Vikrant, which played a role in the 1971 Indo-Pak war, was broken down in Mumbai. In July 2019, the Modi government announced the decision to scrap INS Viraat, in Parliament.