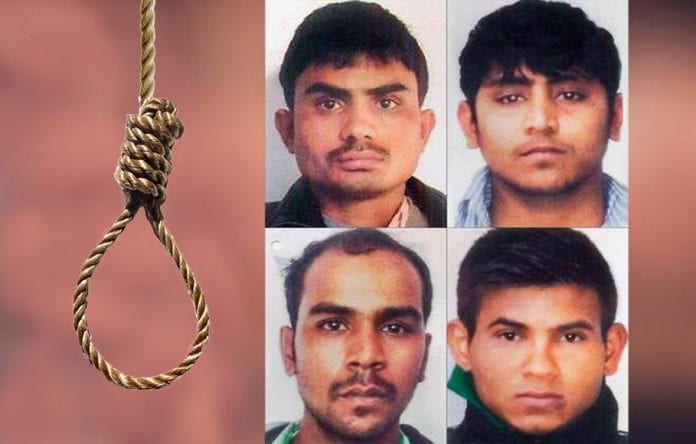 The Supreme Court on Thursday (March 19) dismissed two individual petitions filed by Pawan Gupta and Mukesh Singh, two of the four death-row convicts in the Nirbhaya gang-rape and murder case.
The Delhi Patiala Court House too had dismissed their plea seeking a stay on the execution earlier.
A ruckus ensued outside the Patiala Court House after the dismissal of the petition, with the wife of one of the convicts, Mukesh Singh, fainting outside the premises. She had earlier sought a divorce from her husband.
All four of them will be hanged to death on Friday (March 20) at 5:30 am in the Tihar jail at New Delhi.
After a Delhi court issued death warrants for the four convicts in January, their execution had to be put off three times due to delays caused by the convicts, who had not exhausted all legal remedies available to them.
After the four of them had run out of options, Pawan Gupta filed a curative petition again claiming he had been a juvenile when the incident took place in 2012. Meanwhile, Mukesh Singh had filed a plea claiming he was not in Delhi when the incident had occurred that night. The apex court dismissed both pleas.
Three of the four convicts also appealed to the International Court of Justice seeking an urgent hearing on the cancellation of their execution. Vinay Sharma, Pawan Gupta, and Akshay Kumar Singh moved the petition through their lawyer AP Singh, claiming that the execution of their death warrants was illegal.
"Due to COVID-19… Functioning of courts from Monday 16.03.2020 shall be restricted to urgent matters with such member of benches as may be found appropriate. Everyone is aware of what is happening in (the) world and also Delhi NCR in regard of water and air. Life is going to be short, then why death penalty?" the petition read.
The petition also said the Tihar jail authorities were preparing for the execution of the four convicts in a "hurried manner".
"Such a hasty and secretive execution will be plainly illegal as above mentioned three convicts are yet to avail their legal remedy," the petition added.