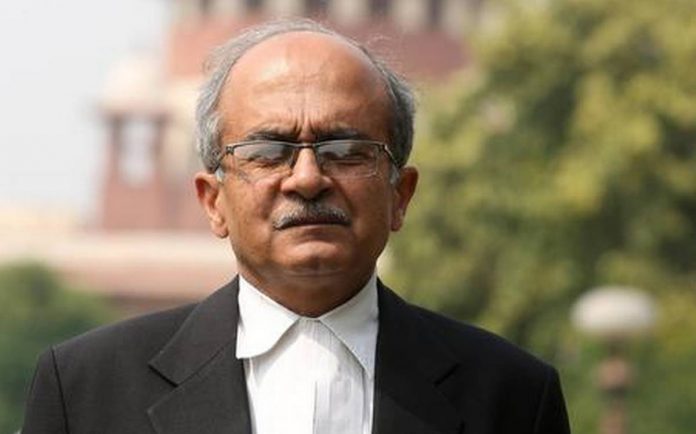 Lawyer-activist Prashant Bhushan may have been let off in a contempt case with a fine of just Re 1, but the Supreme Court is now looking into another case that dates back to 2009.
Just as he had criticised the current chief justice for being seen on a high-end motorbike, Bhushan had in 2009 an interview to a magazine had alleged that half of the 16 chief justices were corrupt.
The SC, which held a hearing on the case on Thursday (September 10), has impleaded attorney general KK Venugopal to help it decide the larger issues involved. It said that the case records be sent to the attorney general.
A three-judge bench of justices AM Khanwilkar, Dinesh Maheshwari and Sanjiv Khanna will next hear the case in October second week.
The Supreme Court decided to implead Venugopal after senior advocate Rajeev Dhavan, appearing for Bhushan, said the attorney general should be made an amicus curiae as he earlier expressed his willingness to help the court with the case. The court said he would be impleaded as per Rule 10 of the Supreme Court Rules. It, however, a decision on making him the amicus curiae would be made at a later hearing.
The case was initially heard by a bench headed by Justice Arun Mishra. However, before he was about to retire, he wanted the case to be placed before another bench as it required detailed hearing as it involved larger issues than just contempt.
Related news: Contempt of court law 'very dangerous', must be abolished: Prashant Bhushan
"I am short of time because I'm demitting office. This (case) requires detailed hearing of four to five hours. It's not a question of punishment only… it's a question of faith in the institution. I am not saying anything about this case specifically. When people come to the court for relief when that faith is shaken that's a problem," Justice Arun Mishra had said.
On August 17, the court said the larger issues need to be addressed. The issues it is considering are whether statements about corruption by judges can be made in public, the procedure for making a complaint in such cases, and whether allegations can be made against retired judges.
After Bhushan's interview in 2009, the Supreme Court had taken suo motu notice on a complaint filed by senior advocate Harish Salve.