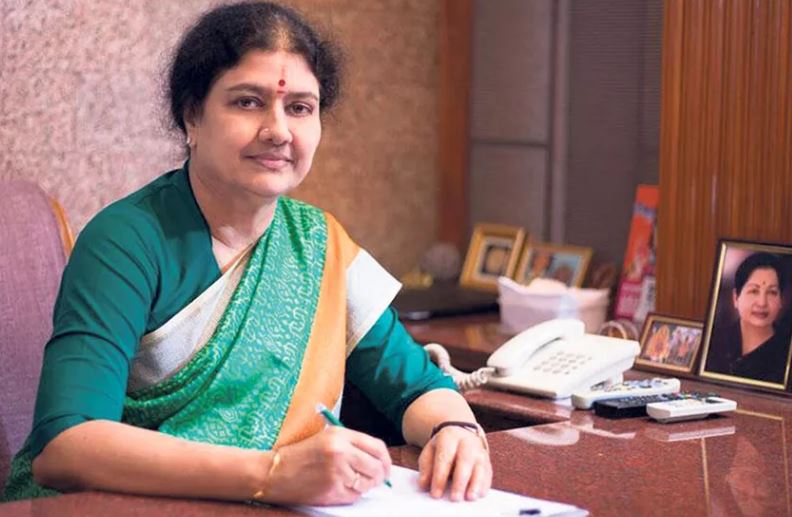 V K Sasikala, former Tamil Nadu chief minister J Jayalalithaa's aide, who is serving a jail term in a disproportionate assets case, has been admitted to a hospital in Bengaluru after suffering from fever and shortness of breath.
Sasikala, who has been serving the term at the Parappana Agrahara central prison and is expected to be released on January 27, has been taken to the Bowring Hospital.
She has been unwell with fever for a few days now, according to sources, and was being monitored by doctors in the prison. They, however, decided to shift her to the hospital after she developed difficulty in breathing and her oxygen saturation level dropped.
She has been tested for COVID, but the results are not yet out.
Sasikala, 63, has been admitted with cough and fever and has comorbidities of hypertension, diabetes and hypothyroidism, the hospital said in a health bulletin on her. On arrival at the hospital, her oxygen saturation at room air was 79% and febrile, it said. She is stable with supportive measures, antibiotics and oxygen, the bulletin said. She will be further evaluated and monitored and the investigation reports are awaited, the hospital said.
Sasikala was sentenced to four years in prison after the Supreme Court on February 14, 2017, refused to set aside the order of the trial court in the Rs 66 crore disproportionate assets case. Jayalalithaa was also named in the case, but she died in a hospital in Chennai a few months before the Supreme Court's verdict. Sasikala became the general secretary of AIADMK after Jayalalithaa's death.    
Two of Sasikala's relatives, VN Sudhakaran and J Ilavarasi, were also found guilty. All three were sentenced to simple imprisonment and asked to pay a penalty of Rs 10 crore each. Sasikala paid the fine in November last year.
Sasikala's release from prison ahead of this year's assembly election in Tamil Nadu is making leaders of the AIADMK – who are badly divided – nervous.
Before entering prison, a defiant Sasikala had said: "No force can separate me from the AIADMK. Wherever I may be I will always be thinking about the party."
And now, with chief minister Edappadi K Palaniswami and his deputy O Panneerselvam at odds over the announcement of the chief ministerial candidate, Sasikala's release will be watched with concern in the party.
Before she left for prison, Sasikala had given her blessings to Palaniswami to take over the reins of the state. In February 2017, when Panneerselvam was asked to step down as deputy CM, he balked. Now both Palaniswami and Panneerselvam have set aside their differences, but they face threats from other sidelined leaders with grievances. Sasikala's return to the political scene is bound to complicate matters.