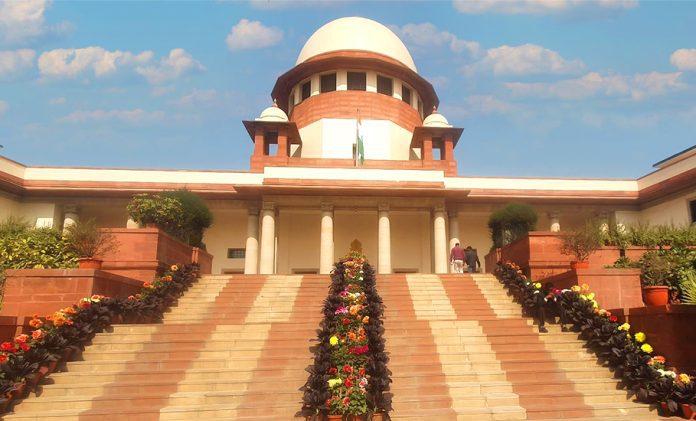 The Centre told the Supreme Court on Wednesday that any constitutional declaration made by it on pleas seeking legal validation for same-sex marriage may not be a correct course of action as the court will not be able to foresee, envisage, comprehend and deal with its fallout.
A five-judge constitution bench headed by Chief Justice D Y Chandrachud, which was hearing arguments on a batch of petitions seeking legal sanction for same-sex marriage for the ninth day, observed all are presuming that the declaration will be in the form of a writ.
"We are all presuming that the declaration will be in the form of a writ that grant this or grant that. This is what we are accustomed to. What I was hinting was, as a constitutional court, we recognise only a state of affairs and draw the limit there…," said Justice S R Bhat, who is part of the bench which also comprises Justices S K Kaul, Hima Kohli and P S Narasimha.
Also read: RSS body survey on same-sex marriage: 'Dangerous and misleading', say LGBTQ activists
Course of action
Solicitor General Tushar Mehta, appearing for the Centre, told the bench that during the hearing on Tuesday, "it was felt that there is a possibility of a declaration being made, something less than marriage but something more than the present status."
On why a constitutional declaration may not be a correct course of action, he said, "Your lordships' declaration would be a law within the meaning of Article 141, binding all, not just all courts, binding the whole nation."
Mehta said any declaration of law will bind every individual in the country who is not before the apex court. He said, in case of a law, every individual is represented by his chosen representative and that is the first issue.
"Now, examine a situation where your lordships declare the law. Your lordships would obviously not be declaring the contours of the declaration, the regulatory powers, what will be the regulations, who will be bound, who will not be bound," Mehta said.
"Suppose someone goes to a priest for performing a particular ritual and the priest says that as per my religion, it is only the husband and wife who can sit, a man and woman who can sit in performance of that ritual, I will not be party to it. I am posing a question to myself, would he not be guilty of contempt of your lordships' declaration," he said.
Also read: Explained: Centre's arguments in SC against same-sex marriages
The bench told the law officer that is where the form, content and contours of the declaration is important.
Ramifications
"My worry was this. Whenever a declaration is made, either by the legislature or by the court, legislature has the wherewithal to regulate the fallout. Your lordships would not be able to first of all foresee, envisage, comprehend and thereafter deal with the fallout of that declaration," he said, adding that consequences can be manifold and affect various facets of life.
In his closing submissions filed before the bench, Mehta said the court may not use its discretion merely for declaration of any right.
The top law officer said a mere declaration by the court, either of acceptance of any right or acceptance of relationship, has its own unknown and unintended consequences.
Mehta said the present matter represents a critical question in the history of mankind seeking to alter a fundamental understanding of social institutions. To confuse it as a mere legal question, premised on a constitutional staircase of Article 14, 19, 21 (or 25), would be to gravely underestimate its gravity, he warned.
Short history
He said the history of non-opposite sex unions or marriage of about two decades since the turn of the millennia is very short, as opposed to continuum of opposite sex unions. Mehta said the Centre is of the firm view that such a non-heterosexual union has no legal recognition under any nomenclature, though it is not prohibited.
"Mere permissibility to co-exist and stay together or absence of embargo, cannot be the ground for claiming right of any nature de hors (is foreign to) legislative recognition," he said, adding, "the assertion that the right to marriage is limited to the aspects, as defined by legislature, is well established."
Also read: Legal rights for same-sex marriage: Hurdles are many, friends few
'Not a fundamental right'
"It is, therefore, not a fundamental right to seek legal recognition of any relationship either union or couples or by any name called to be recognised by the legislature," Mehta said. He said the right to privacy, dignity, expression are limited to non-interference by the State in free and consensual cohabitation.
Over and above the same, the Government has opted to consider certain administrative solutions for the LGBTQIA+ community, he said.
The law officer said only because cohabitation is permitted, it would not by itself create a legal right to be recognised either as union or under any name. "The right to cohabit and freely exercise sexual choice within the private sphere may extend to a far wider gamut of persons and choice by such persons who seek to choose relationships of their liking," he said.
(With Agency inputs)