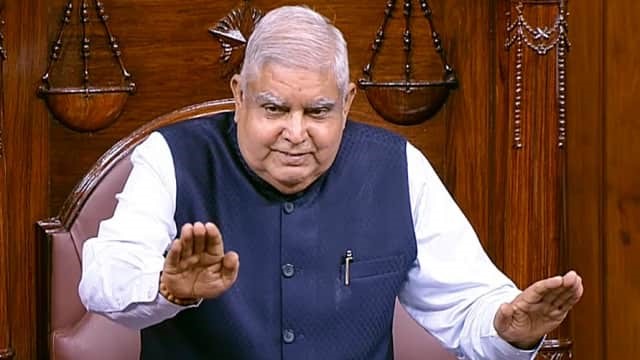 RS adjourns till noon as Opposition protest over Manipur violence
The Rajya Sabha (RS) was adjourned till noon on Tuesday (July 25), after Opposition MPs created an uproar over the Chair's refusal to allow discussion on Manipur.
Also, Opposition leaders objected to RS chairman Jagdeep Dhankar allowing the notices given by some MPs (all BJP) for short duration discussion on crimes against women, Dalits and tribals in Rajasthan and Chhattisgarh. Leader of the house Piyush Goyal Goyal also said atrocities on women in Opposition-ruled states will also be discussed in the House as the government has agreed for the discussion.
Earlier, 56 notices were submitted by the Opposition MPs in RS demanding suspension of business under Rule 267 and take up a debate on the situation in Manipur. RS chairman Jagdeep Dhankhar, however said that he has already admitted notice for short duration discussion on Manipur after the government's willingness to discuss Manipur and so he is not admitting notices for suspension of business on the same issue.
Further, he said that he had received notices for short duration discussion on crimes against women, Dalits, tribals in Rajasthan and Chhattisgarh from some MPs (all BJP) and he is accepting them.
Rule 267 notices to take precedence
Senior Congress MP P Chidambaram objected and asked when Rule 267 notices have first been given demanding discussion on Manipur and the Chair has also admitted short duration discussion notice on Manipur, how can the Chair admit any other notice for similar discussion (on situation in Rajasthan and Chhattisgarh) before the debates as per notices moved earlier are allowed to happen?
Congress leader P Chidambaram said the notices under rule 267 should be taken up in RS since it has now been accepted that they have precedence over 176, but the treasury benches protested over this.
Also read: Manipur issue: Lok Sabha, Rajya Sabha adjourned till July 24 amid uproar
Amid this uproar, in the RS, Dhankhar raised the issue of members needing to learn that there can be zero tolerance for lack of decorum and discipline. He particularly objected to Chidambaram questioning him over regarding precedence of Rule 267 over Rule 176 debates.
Meanwhile, leader of Opposition Mallikarjun Kharge taunted Dhankhar, saying he has a big heart but only for that side (the Treasury Benches). Kharge said, "We are talking about Manipur and the PM is talking about East India Company". The chairman allowed leader of the house Piyush Goyal to interject though Kharge insisted he had not yet yielded the floor.
Goyal vs Kharge
Goyal went on to blame Congress for starting the crisis in Manipur, and said tensions began when UPA was in power and the Congress is trying to stall discussion to hide its failures on Manipur and the continuing failures on women safety in states like Chhattisgarh, Rajasthan.
Goyal objected to Kharge's remarks and accused the Opposition of disturbing the House and not allowing discussions on such a sensitive issue. "This is pointless and we are ready for discussion…we want to have a healthy debate and discussion on this," he asserted.
Goyal further said, "We want to highlight the atrocities against women. We want to highlight what is happening in Manipur, Chhattisgarh and Rajasthan. We are concerned about what is happening in the country. We want the state governments to be accountable."
Also read: Jaishankar, 2 other BJP candidates elected to Rajya Sabha uncontested from Gujarat
The leader of the house said this is not a matter to be politicised but is a matter to our heart. "This is a sensitive issue and shows some sincerity on this. Be sensitive towards women. You are not sensitive towards women," he alleged. Terming the Opposition's remarks as "pointless", Goyal said if they have some points, then they would have started the discussion.
RJD MP Manoj Jha said Goyal is wrongly equating the genocidal impact of Manipur with instances from Rajasthan and Chhattisgarh.
Opposition benches started raising slogans seeking discussion on Manipur, while treasury benches countered them with a demand for a discussion on Rajasthan and Chhattisgarh. As the pandemonium continued, Dhankar adjourned the proceedings till 12 noon.
Some Opposition members have said a no confidence motion should be moved against the government. No final decision taken in this regard as of now.