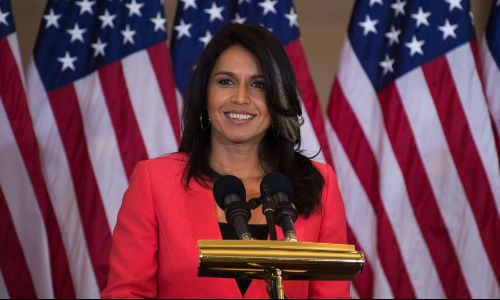 US presidential aspirant Tulsi Gabbard, adored by her fans as the first Hindu member of the Congress, confirmed on Wednesday (September 18) that she will not be attending 'Howdy Modi', the mega diaspora event scheduled for Sunday (September 22) in Houston-Texas for prime minister Narendra Modi.
Her sudden exit from the function is a significant setback for the organisers considering she is one of Modi's strongest supporters in American politics and a mascot of the growing Hindutva movement led by the Indian diaspora in US.
Also read: Trump hints at some announcement at Howdy Modi! event in Houston
A Democratic Party member from Hawaii, Gabbard was one of the key faces of the lobby group that helped revoke Modi's US entry ban imposed for his alleged complicity in the 2002 Gujarat riots.
Gabbard is not of Indian origin but identifies as a Hindu. She adopted Hinduism after her German mother came under the influence of a Hare Krishna splinter group called the Science of Identity Foundation. A staunch believer, she gifted her childhood copy of the Bhagavad Gita when she met Modi for the first time in New York in 2014.
At least 50,000 people, including US president Donald Trump, are expected to attend the 'Howdy Modi' event, organised by a cross-section of Hindutva organisations in the US, most prominently the Hindu Swayamsevak Sangh (HSS) which is the international arm of the Rashtriya Swayamsevak Sangh (RSS).
This is the second high profile Hindutva event she has backed out of at the last moment. Last September, she exited the HSS-backed World Hindu Conference saying, "Due to ethical concerns and problems that surround my participating in any partisan political event in America, I respectfully withdraw myself from serving as an honorary chair of the world Hindu Congress."
This time, however, she has said that the 'Howdy Modi' event was clashing with some prior campaign commitments but promised to meet the Indian premier before he returns home. Her campaign team, however, told The Hindu that she was not comfortable sharing stage with Donald Trump.
Gabbard hastened to explain her absence after author-journalist Rana Ayyub tweeted, "What a turnaround. Where does this leave her Indian fan boys."
Anti-Hindutva activists in the US are not convinced by Gabbard's explanation. A cross section of analysts closely following Gabbard's campaign told The Federal that she is under pressure from the liberal progressive sections of the Democratic Party whose endorsement she desperately needs to win the 2020 nomination.
Houston-based journalist Pieter Friedrich, who recently published a detailed investigative story on Gabbard, said, "My story has obviously had an impact because, until it went viral, she was very much part of 'Howdy Modi'."
The article, he said, has brought Gabbard's ties with RSS back in focus and seriously damaged her reputation in the Democratic Party, which has a strong progressive lobby.
The report, which focus on the millions of dollars she has received in donations from Hindutva groups and her personal connections with top Sangh leaders, says that Gabbard has been lagging behind more progressive faces of her party such as Kamala Harris, Joe Biden, Elizabeth Warren and Bernie Sanders.
Also read: PM asks Indians to pitch ideas for 'Howdy Modi' talk in US
"She is damned if she does and damned if she doesn't. What doesn't change is that she believes in the Hindutva, she has been raised from childhood in that ideological setting," he said.
New York-based Marxist scholar and founding member of the Coalition for Defense of Constitutional Democracy (CDCD), Biju Mathews, said, "The organisations in our coalition protested for nearly two months when it was announced that Tulsi would chair the World Hindu Conference last year. It earned her a lot of flak from prominent Democrats and forced her to back down."
Mathew, who in 2002 released the first detailed fact finding report showing how NRIs were duped into funding rightwing groups in India said, "Tulsi is trying hard to be seen as part of the Bernie Sanders camp and has identified with progressive lobby groups on issues such as healthcare reform, abortions and America's wars abroad. Her Hindutva leanings are not very popular in this progressive camp."
Another founding member of CDCD, Dr Suraj Yengde said it would be a mistake to think of Gabbard as someone like the rightwing Republican of Indian origin Nikki Haley.
"Tulsi Gabbard is shrewd enough to juggle conflicting constituencies. She is a long term investment for the international Hindutva movement," said Dr. Yengde who is a leading Ambedkarite scholar at Harvard University.
Also read: Howdy! Houston 'jugalbandi' to massage Narendra Modi image
Sana Qutubuddin from US based Alliance for Justice and Accountability said that Gabbard's support for rightwing Hindu nationalism has started eroding her support in Hawaii where her constituents are more inclined to lean Left. "Her presidential ambitions are very near ending and she is desperate to diversify her support base," Qutubuddin said.
Describing the lawmaker as "a composite of different branding materials," New York-based lawyer and researcher, Suchitra Vijayan said, she wouldn't write her off even if she doesn't win the Democratic nomination.
"Let's say there is a US Congressional hearing on the excesses being committed by the Modi regime in Kashmir and Assam, somebody like Tulsi Gabbard could seriously damage the efforts of human rights groups and secular activists… How she lobbied against Modi's US entry ban is a prime example," she said.