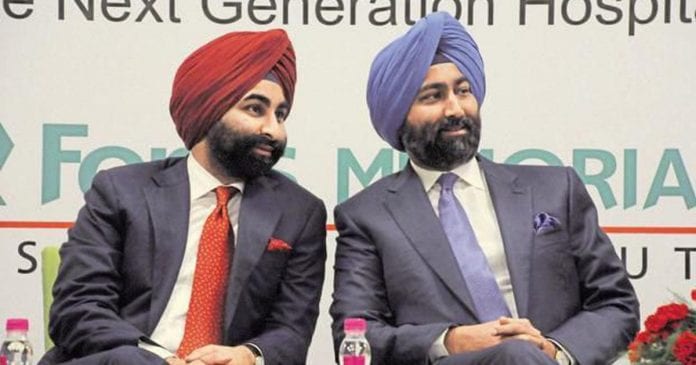 Former promoter of Ranbaxy Pharmaceuticals Shivinder Singh and three others were on Thursday (October 10) arrested by the Delhi Police in connection with an alleged ₹740 crore fraud case.
The three others who were arrested by the Economic Offence Wing of the Delhi Police include Kavi Arora, Sunil Godhwani and Anil Saxena. They are accused of diverting public money for investing in their companies, news agency PTI quoted officials as saying.
As per another report, Shivinder's brother and former Ranbaxy CEO Malvinder Mohan Singh is also named in the case and is absconding. It may be recalled that the Enforcement Directorate had raided the two brothers in August after booking them under the Prevention of Money Laundering Act (PMLA).
Also read | Will send you to jail if found guilty: SC to Ranbaxy promoters
Religare Finvest Ltd (RFL) has accused the two brothers of fraud and misappropriation of funds to the tune of ₹740 crore, reported NDTV. Last December, the company had lodged a criminal complaint against the two, on the basis of which, a case was filed this May.
"RFL saw a change in management. When the new management took over, they found that a loan had been taken but the money been invested in other companies linked to Singh and his brother. They filed a complaint with the EOW and subsequently, an FIR was registered," a senior police officer was quoted as saying by PTI.
The two brothers were also the former promoters of their family-owned hospital chain Fortis Healthcare and had tendered their resignations in February last year, reports said.
Also read | Allahabad Bank reports ₹1,775 crore fraud by Bhushan Power & Steel
They had sold Ranbaxy Laboratories Ltd, the multi-billion dollar pharmaceutical company founded by their father, to the Japanese company Daiichi Sankyo in 2008 to focus on Healthcare and financial services firm Religare Enterprises. However, both suffered from financial woes.
Earlier, reports had said that the Supreme Court directed the duo to pay dues of ₹3,500 crore to Daiichi, as awarded by a Singapore tribunal in connection with a case against them.
The case pertained to Daiichi alleging that while selling Ranbaxy's shares, the two brothers had concealed information that it was facing probe by the US Food and Drug Administration and the Department of Justice, said the NDTV report.
(With inputs from agencies)