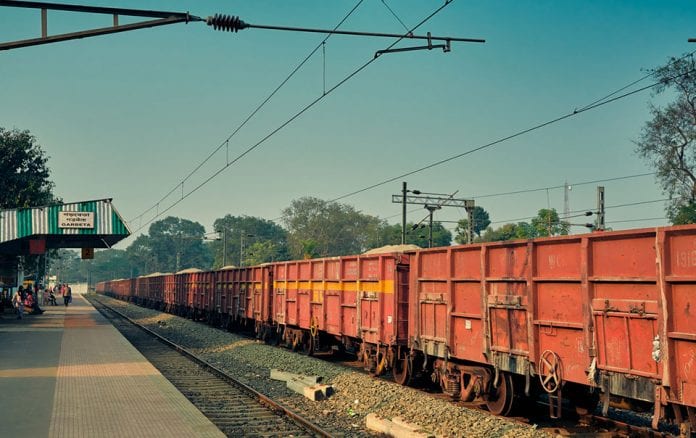 Indian railways' new record of carrying the highest ever freight loading in 2018-19 overshadows the slowing growth rate of rail freight. It handled 1,175 million tonnes (MT) of freight traffic between April 2018 to 15 March, 2019. While it surpassed 1,160 MT freight carried in 2017-18, the growth rate declined to around 4 per cent from 5.2 per cent in 2017-18.
Over the years, railways witnessed a consistent decline in the amount of goods it transported due to higher freight rates compared to other modes of transportation such as roads and waterways. Its share in the country's total freight traffic declined from 89 per cent in 1950-51 to 33 per cent in 2017-18.
The behemoth runs around 7,000 freight trains per day, carrying about 3 million tonnes. It also operates some 13,300 passenger trains connecting about 8,000 stations and carrying over 23 million passengers.
While the volume and value of freight carried by the Indian Railways consistently grew over the last decade, the growth rate declined by nearly 4 percentage points. It recorded a growth rate of 7.9 per cent in 2008-09. This came down to 0.26 per cent in 2016-17, the year when demonetisation was announced. The declining growth rates hint at plateauing of freight traffic.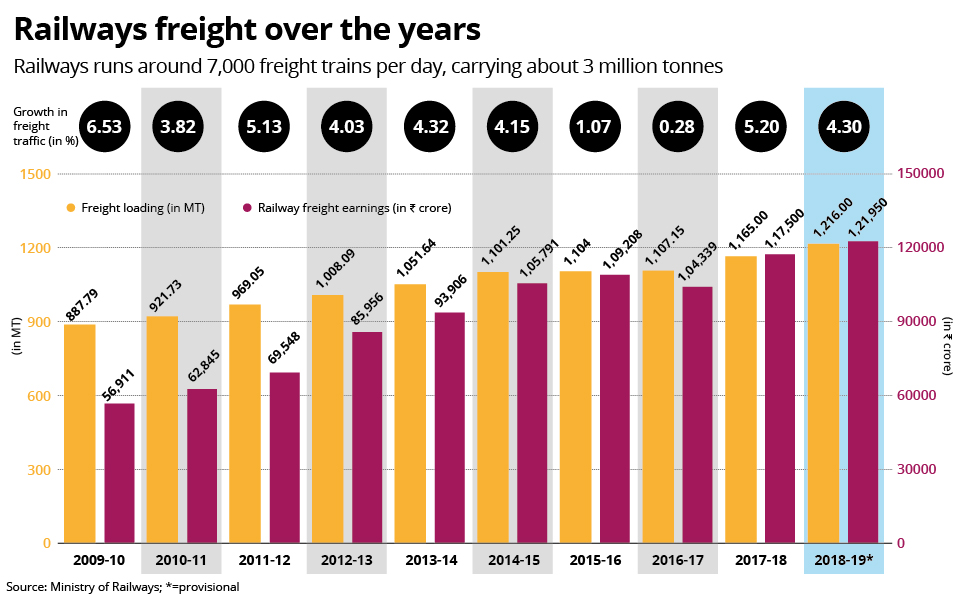 A slow growth of railway freights may severely hurt its finances in the coming years as freight accounts for over 60 per cent of its revenue. In 2016-17 (latest actuals), freight and passenger traffic contributed to 63 per cent and 28 per cent of the internal revenue, respectively. In 2018-19, railways expects to earn 61 per cent of its internal revenue from freight.
High operating ratio
Railways' freight revenue is important because the money is used to make up for the losses incurred due to running passenger trains at low and static prices. The decline in freight traffic growth has been affecting the financial health of the railways, determined by its operating ratio (OR).
Operating ratio indicates how much railway spends to earn a rupee. Its operating ratio has consistently been higher than 90 per cent in the past years. This means that railway is spending 90 paisa to earn 100 paisa. A lower figure of OR is thus regarded better and is indicative of better financial health of the system.
In April-July 2018, the railways set a record-high operating ratio of over 111 per cent. This showed that the railways was spending ₹111.51 to earn ₹100. It was because of lower than targeted traffic growth but higher expenditure owing to increased pension liability and operational expenses.
Rising expenses
Railways' working expenditure on staff and pension has been increasing over the years. Its staff cost has jumped from 34 per cent in 2012-13 to 41 per cent in 2018-19 (budgeted estimate), while the pension fund widened from 17 per cent to 25 per cent for the same period.
Consequently, capacity growth is increasingly being funded through borrowings. However, an increased dependence on borrowings may further worsen the financial situation of railways.
Boosting rail freight
The government seems to have realised the importance of boosting rail freights as it tweaked several policies to hold on to its dwindling share in freight movement. Meanwhile, competing modes of goods transport became cheaper due widening of highways and coastal movement of cargo. One such measure was rationalisation of the freight policy with the formulation of "merry-go-around" (MGR) scheme to increase coal loadings from pitheads to plants. The policy, which became effective from April 2017, was expected to generate additional revenue to the tune of ₹500 crore annually.
In 2016, railways removed 10 per cent port congestion surcharge levied on cargo to attract imported freight traffic including containers, coal, iron ore that were getting diverted to road. The move is said to have led to 15 million tonnes of incremental traffic. Apart from these policies, the government brought in Long Term Tariff Contract (LTTC) agreements to transport freight traffic at fixed rates. Under the scheme, the freight tariff rate remains fixed for one year. The stability and certainty in the freight tariff rates was introduced to attract corporate freight customers. The scheme also provided incentives to freight customers in the form of discounts if the customer exceeded the previous year's freight contribution.
Dedicated freight corridors
The ministry is also building two dedicated freight corridors (DFC) – the Western DFC connecting Delhi and Mumbai, and the Eastern DFC connecting Delhi and Howrah. As of now, first sections of Eastern DFC (Bhadan to Khurja, 200 kms) and Western DFC (Rewari to Madar, 200 kms) have been completed. The corridors are expected to boost rail freight share to 30 per cent by 2020-21.
The move will benefit bulk freight of cement the most since 60-65 per cent of the installed capacity is along the catchment areas. Steel producers will benefit from the eastern corridor, with production concentrated near iron ore mines in the east and Karnataka, and pig and sponge iron plants in the east. It would also halve the viable distance for transporting containers from the current 1,000-1,300 km to 400-500 km.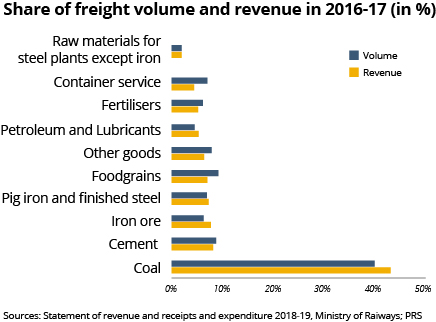 While the results of these reforms are yet to be seen, there is hope that it would help railways grab a bigger share of freight traffic that is set to increase significantly due to rising investments and private sector participation.
Indian Railways is targeting to triple its annual freight traffic to 3.3 billion tonnes by 2030. Experts believe that increasing the carrying capacity, improving cost effectiveness and the quality of service can help railways increase its share in the freight movement from 35 per cent to 50 per cent by 2020.