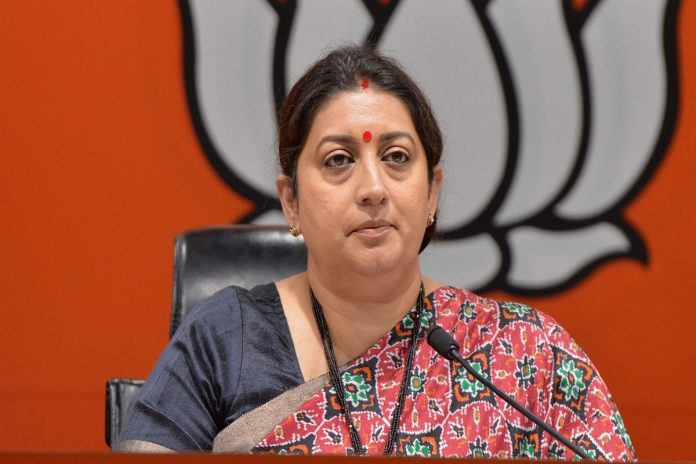 Union minister Smriti Irani on Tuesday hit out at the Congress leadership over the alleged remarks by the party's youth wing president Srinivas BV against her, saying the words he used were of Rahul Gandhi and the sanskar of Sonia Gandhi.
The BJP leader also alleged that Congress members who want "promotion" will continue to make "such kind of comments" against her so long as Sonia and Rahul are there in the party.
Also read: PM Modi has made women-led development one of main agendas: Smriti Irani
Srinivas had allegedly made certain remarks against Irani at the Sankalp Satyagrah organised by the Congress at the Rajghat to protest against the disqualification of Rahul Gandhi as Lok Sabha MP.
Reacting to his remarks, Irani said Srinivas is not the first Youth Congress president who has made "indecent comments" against her. The BJP had slammed Srinivas on Monday over his alleged disparaging remarks, saying the Congress has become a "cesspool of misogyny".
The BJP used a video clip to target the Congress and Srinivas on the issue, while also recalling similar instances where the grand-old party leader made alleged "sexist" remarks. "The Congress has become a cesspool of misogyny, hatred for women especially if she comes from a humble background and defeats an entitled dynast," BJP Spokesperson Shehzad Poonawalla tweeted.
Also read: Gender index: WEF ready to count women elected to local bodies, says Smriti Irani
In the clip of his speech delivered in Hindi, Srinivas can be heard saying, "The BJP means inflation. These same people in 2014 used to say that there is 'inflation witch' (mehengai dayan) which has been made to sit… Smriti Irani has become a little mute and deaf. That witch (dayan)… inflation witch (mehengai dayan) has been made a darling and made to sit in the bedroom."
Reacting to the charge, the Youth Congress on Monday alleged that the BJP leaders were sharing a doctored video of Srinivas' speech to tarnish his and the party's image. "It is nothing but a disinformation and fake news campaign initiated by BJP supporters," the Congress' youth wing said in a statement.
(With Agency inputs)