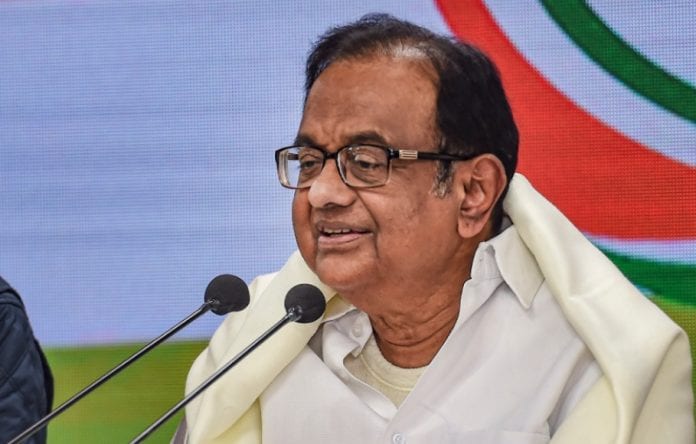 Former finance minister and senior Congress leader P Chidambaram on Sunday said Rahul Gandhi's disqualification from Lok Sabha would strengthen the Congress party, helping its prospects in next year's general election.
In an interview with news agency PTI, Chidambaram said the country is passing through an emergency-like situation. He said, "It is an undeclared emergency. One of the complaints during the emergency was that press freedom was snuffed out. Is it any different today? Journalists and the independence of the media are under numerous constraints today."
Opinion: Disqualification aftermath: Rahul Gandhi's second coming
Cong BJP's prime target
He said the BJP's prime target is the Congress party. "They think if they are able to eliminate the Congress party from the electoral battleground, the regional or state-specific parties will be easy targets. They are wrong on both counts. The Congress cannot be eliminated. The regional or state-specific parties will rise and fight," he added.
On whether Rahul Gandhi episode will help the Congress in 2024 Lok Sabha polls, Chidambaram said the developments of the last few days have put more steel in the party. "We know we are fighting a formidable Leviathan. Fighting the BJP, unity of purpose, struggle, sacrifice etc., will indeed strengthen the Congress party. A stronger Congress will certainly be a major force in the (2024) election," he said.
Speaking about Rahul, the former Union minister said he (Rahul) does not need his advice and he does not advise him. "He is brave and fearless. In the Bharat Jodo Yatra he demonstrated his grit and determination, qualities that many people were happy to discover in him," he added.
Also read: SC plea questions law that disqualified Rahul Gandhi as MP after conviction
'No sense of superiority'
Talking about Congress' role in bringing together Opposition parties, Chidambaram said the Opposition unity can be achieved and sustained only through a common understanding of the current political situation, shared goals, and mutual respect. "No one in the Congress has suggested that the Congress should be the big boss. The way that Sonia Gandhi and Manmohan Singh led the UPA (the alliance and the government) with exceptional grace and wisdom and successfully too is proof of the fact that no one in the Congress harbours any sense of superiority," he clarified.
On the role of regional forces in the next year's general elections, he said, "The regional parties are an integral part of our federal structure. In fact, the presence and the success of several regional parties have underlined that the Indian political structure is essentially federal. I believe that the regional parties will play a crucial role in the 2024 Lok Sabha elections."
(With Agency inputs)