More than 100 people have lost their lives in flood-related incidents in Kerala, Karnataka and Maharashtra as on Sunday (August 11), with more than 10 lakh people being moved to safer places.
Kerala floods: Toll rises to 76; Rahul Gandhi reviews situation
Advertisement
Congress leader Rahul Gandhi, who represents Wayanad in Lok Sabha, reached Kerala, which has been ravaged by floods and landslides and reviewed the situation. He was seen interacting with locals at a flood relief camp in Malappuram.
He was accompanied by Congress general secretary KC Venugopal. Gandhi is visiting some flood-ravaged places in Mallapuram district three assembly segments of which form part of Wayanad constituency, party sources said.
The death toll due to floods in Kerala rose to 73 on Sunday. Wayanad and Idukki are the two districts that have been the worst hit by the torrential rains that hit the state since last week. More than 10 bodies were recovered from Kavalappara in Malappuram district where landslides struck. Rescue operations are still underway.
Forecasters predict that thunderstorms accompanied with moderate to heavy rainfall with wind speed reaching 40 to 50 kmph is very likely to occur at one or two places in Kollam and Thrissur districts.

— CMO Kerala (@CMOKerala) August 11, 2019
Chief Minister Pinarayi Vijayan held a meeting with senior officials on Sunday morning to review the flood situation. They discussed the next course of action for the search operations that are underway at Kavalappara and Puthumala in Malappuram and Wayanad districts respectively, where several people are feared to have been buried alive four days ago in two major landslides.
Death, destruction and grit in the face of floods
However, there was a slight let up in rains in some regions of the state. Shutters of Kallar and Erattayar dams in Idukki, have also been closed due to decrease in rainfall. Official reports suggest that strong winds with a speed of 40 to 50 kmph and rains are predicted in the districts of Thrissur and Kollam in the next 24 hours. Fishermen have been requested not to venture into the sea, which is expected to rise to 3.5 metre.
Over 2 lakh people have taken shelter in 1,318 relief camps across the southern state where the rains have triggered numerous landslides or caused floods in most of its 14 districts.
The IMD on Sunday issued a red alert for three districts – Wayanad, Kannur and Kasaragod. and orange alert in Kozhikode, Malappuram, Palakkad, Thrissur, Eranakulam, Edukki districts. According to Kerala State Disaster Management Authority (KSDMA), 18 dams have been opened in Kerala.
Members of #TEAMNDRFINDIA combining risk, caution & smart innovation technique to save lives @HMOIndia @PMOIndia @NDRFHQ @PIBHomeAffairs @DDNewsLive @CMofKarnataka @SEOC_Karnataka pic.twitter.com/ddIF24LMyS

— ѕαtчα n prαdhαn, dírєctσr gєnєrαl,ndrf (@satyaprad1) August 10, 2019
Gandhi will visit the affected areas in Wayanad on Monday (August 12). The international airport at the state's commercial capital Kochi, which was closed for two days after the inundation of the runway, will resume operations this noon.
The Southern Railway on Sunday cancelled 10 trains including the Mangaluru-Thiruvananthapuram Express, Maveli Express, Malabar Express, Kannur-Ernakulam Intercity Express, Ernakulam-Bengaluru Intercity express and four passenger trains.
Seven trains have been partially cancelled and two trains diverted, it announced. Various agencies, including the Army, Navy, Coast Guard, NDRF, police force, volunteers and fishermen are involved in the rescue operations at various places.
This is the second consecutive year that the floods and landslides have ravaged Kerala which is yet to recover from the devastating deluge that claimed over 400 lives and rendered lakhs homeless last year.
Also read: As floods worsen in Karnataka, Yediyurappa's one-man show deepens crisis
Death toll in Karnataka rises to 31; Shah to undertake aerial survey
Four more people have died in rain-related incidents in Karnataka, taking the toll to 31 on Sunday.
Union Home Minister Amit Shah conducted an aerial survey of flood-affected areas of Belagavi district in Karnataka. Shah was accompanied by Chief Minister BS Yeddiurappa.
#TEAMNDRFINDIA @ WORK -𝙎𝙄𝙇𝙀𝙉𝙏 𝙎𝙐𝙎𝙏𝘼𝙄𝙉𝙀𝘿 𝙎𝙀𝙇𝙁𝙇𝙀𝙎𝙎 𝙎𝙀𝙍𝙑𝙄𝘾𝙀 – ALWAYS,EVERYWHERE@PMOIndia @HMOIndia @NDRFHQ @PIBHomeAffairs @DDNewsLive @ndmaindia pic.twitter.com/Yvv5crCfw4

— ѕαtчα n prαdhαn, dírєctσr gєnєrαl,ndrf (@satyaprad1) August 11, 2019
As many as 3.14 lakh people have been evacuated and of them 2.18 lakh people have been put up in 924 relief camps, it said. "I am going to Belgaum (Belagavi). Our (BJP) national president Amit Shah is arriving there. Together we will conduct aerial survey in Belgaum, Bagalkote and other areas. I will be back after he leaves for Delhi," Yediyurappa told reporters on Sunday.
The state government on Saturday declared 80 taluks in 17 districts as flood affected and said relief and rescue operations will be carried out in a more focused manner in these places. Most of the taluks are in Belagavi district which bore the brunt of nature's fury.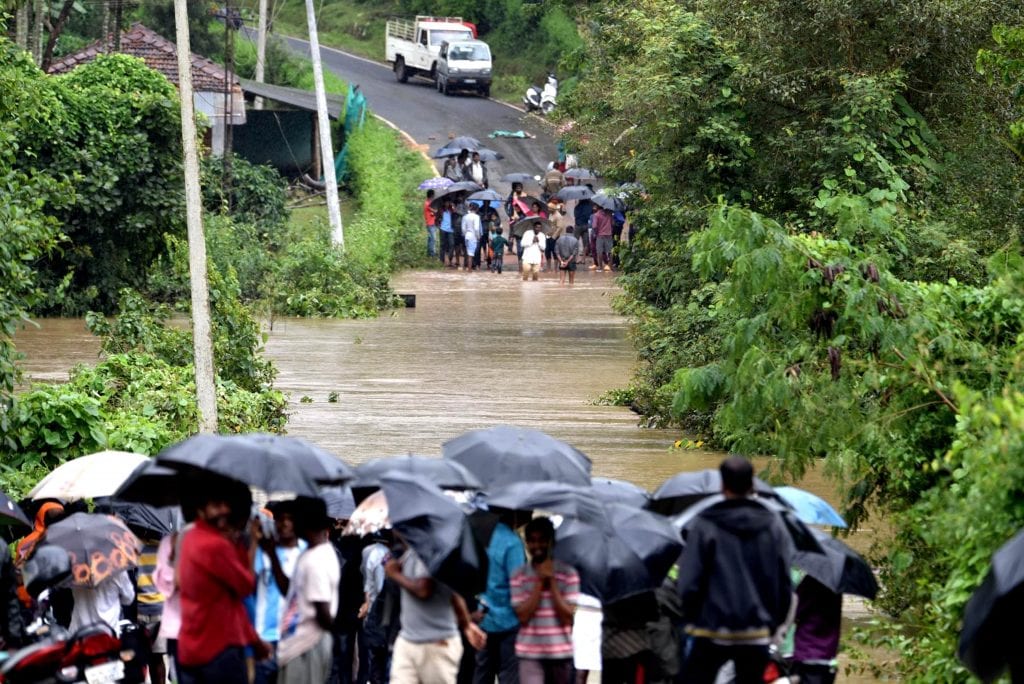 According to government assessment 21,431 houses and 4.16 lakh hectare crops have been damaged in the floods. Union Finance Minister Nirmala Sitharaman on Saturday conducted an aerial survey of the worst-affected Belagavi and Bagalkote districts.
In the wake of a series of landslides, the national highway connecting Bengaluru and Mangaluru will remain closed at least till Monday, official sources said. They also said there was slight reduction in the water level in the Netravati river in Dakshina Kannada district. The water level near Bantwal has reduced from 11 metres above the danger level to 9.1 metres above the danger level.
The overflowing river waters inundated several areas in Bantwal with the affected people, including the family of former Union minister Janardhana Pujari, being rescued. Reports said Tungabhadra river in Ballari completely submerged a bridge near Hampi Fort, affecting road traffic between Kampli and Gangawati towns.
Tamil Nadu: Water-level in Hogenakkal waterfall increases after water is released from Krishna Raja Sagara dam in Karnataka. pic.twitter.com/3V4amNynGF

— ANI (@ANI) August 11, 2019
Boat capsize toll rises to 17; 4 lakh evacuated Mumbai
With the recovery of five more bodies, the death toll in the boat capsize tragedy in Sangli district has gone up to 17, even as over four lakh people have so far been been evacuated from flood-affected parts of Maharashtra, officials said on Sunday.
More than five lakh cusec of water is being discharged from Almatti dam on the Krishna river in Karnataka to ease the flood situation in western Maharashtra.
Over 30 people have been killed in rain-related incidents in five districts of western Maharashtra in the last one week, including 17 who drowned when a boat capsized near Brahmanal village in Sangli on Thursday.
"So far, 17 bodies have been recovered following the boat tragedy. Water has started receding in some areas of Sangli," a district administration official said.
#Maharashtra: Flood-water receding in Shiroli village, in Kolhapur district, relief operations underway pic.twitter.com/lVrALXOwYp

— ANI (@ANI) August 11, 2019
Maharashtra: Incessant rains in the Kolhapur region has led to damage to property; villagers in Shiroli collect water as floodwaters begin to recede. pic.twitter.com/4NS3yYqe5W

— ANI (@ANI) August 11, 2019
On Thursday, nine people drowned and as many others went missing when the boat capsized during a rescue operation. Three more bodies were recovered by Saturday and five more were found till Sunday, taking the toll in the incident to 17, he said.
Heavy rains pounded Kolhapur, Sangli, Satara, Thane, Pune, Nashik, Palghar, Ratnagiri, Raigad and Sindhudurg districts in the state in the last one week. Around 3.78 lakh people were so far evacuated from the worst-hit Kolhapur and Sangli districts where water began to recede slowly on Saturday, another official said.
"Total 4,24,333 people have so far been evacuated across the state. Of these, 2.33 lakh have been shifted to safer places from Kolhapur alone. A total of 761 villages in 69 tehsils are affected by floods," he said.
#MaharashrtraFloods #Sangli
आपदा सेवा सदैव सर्वत्र सर्वथा
SAVING LIVES & BEYOND#carewithrespect#TEAMNDRFINDIA in action #COMMITTED2HELP @PMOIndia @HMOIndia @NDRFHQ @PIBHomeAffairs @CMOMaharashtra pic.twitter.com/p6gP0GKMvg

— ѕαtчα n prαdhαn, dírєctσr gєnєrαl,ndrf (@satyaprad1) August 9, 2019
In some areas of Kolhapur, food packets were being dropped by helicopters as the connecting roads there were still water-logged, he said. "The National Disaster Response Force (NDRF) has deployed 29 teams, the State Disaster Response Force (SDRF)-3, Coast Guard-16, Navy-41 and Army-21 in these 10 districts. They are rescuing people with the help of 211 boats," he said.
Nearly 369 temporary shelters have been set up for those displaced by floods in these districts, he said.
A team of 100 private doctors from Thane will soon be going to Sangli and Kolhapur to provide medical assistance. Apart from medicines, they will also be carrying clothes and blankets for the flood-hit people, he said.
An official from the Maharashtra State Electricity Distribution Company (MSEDCL) said the power meters damaged by floods in Kolhapur and Sangli will be replaced free of cost. "We have asked people not to switch on any device at their homes if water entered their power meters. The MSEDCL staff will inspect every affected house before restoring the power supply," he said.
#MaharashtraFloods #Kolhapur #IAF in action providing food & relief material #Stallions of #SWAC @PIB_India @DDNewsLive @CMOMaharashtra @SpokespersonMoD @IAF_MCC @airahmedabad @ANI pic.twitter.com/xHwtC8bqyp

— PRO Defence Gujarat (@DefencePRO_Guj) August 10, 2019
Meanwhile, around 5.3 lakh cusec of water was being released from the Almatti dam in Karnataka to ease the flood situation in Maharashtra, a water resources department official in Kolhapur said.
The discharge from Koyna dam (in Satara) stood at 53,882 cusec as its catchment area was still experiencing torrential rains, he said. The catchment areas of nearly all dams in Kolhapur received over 100 mm rainfall in last 24 hours, he added. Chief Minister Devendra Fadnavis reviewed the rescue and relief operations in Sangli on Saturday.
Addressing a press conference there, Fadnavis attributed the flooding to "unprecedented" rainfall this monsoon, which he said was "more than double" of that in 2005 when massive floods were witnessed.
#WATCH Indian Air Force (IAF) personnel rescuing a girl in flood affected Jamnagar. #GujaratFloods (10.8.19) pic.twitter.com/0hCh2gSU2z

— ANI (@ANI) August 11, 2019
As many as 19 lost their lives in rain-related incidents in Gujarat.
#WATCH Pruthviraj Jadeja, a Gujarat police constable carried two children on his shoulders for over 1.5 km in flood waters in Kalyanpar village of Morbi district, to safety. (10.08) #Gujarat pic.twitter.com/2VjDLMbung

— ANI (@ANI) August 11, 2019