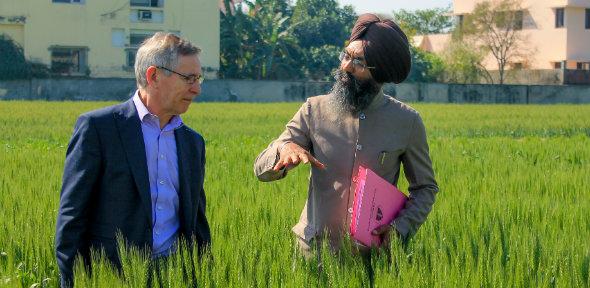 Amid a growing list of eminent people returning government awards following farmers' agitation, agricultural scientist Dr Varinderpal Singh refused to accept the prestigious Golden Jubilee Award as well as Gold Medal for the Best Work done in field of plant nutrition from the Chemical and Fertilizer Minister on December 8.
Singh is the Principal Soil Chemist at Punjab Agriculture University, Ludhiana. He said his conscience would not allow him to accept the award when protesting farmers are out on the streets against three farm laws.
At a function in Delhi, the scientist was supposed to receive the award from the Union Chemicals and Fertilisers Minister DV Sadananda Gowda. However, he refused to accept the award, saying that his conscience would not allow it at a time of crisis when "our farmers are on the roads".
In a letter to Gowda, the scientist said "receiving this award at this time only for the sake of professional benefit would be a betrayal to the farmers and my nation, India." He said: "I have no political or terrorist connection in my life history.
Also read: Padma, Arjuna winners to return awards in support of protesting farmers
Before Dr Varinderpal Singh, at least half a dozen former sportspersons who are recipients of Padma Shri and Arjuna awards have come out with their support to the protesting farmers, saying they would return their awards in protest against harsh measures taken against the farmers.
These sportspersons include Padma Shri and Arjuna awardee wrestler Kartar Singh, Arjuna awardee basketball player Sajjan Singh Cheema and Arjuna awardee hockey player Rajbir Kaur.
Dr Singh's refusal to accept the award came amid reports that the scheduled seventh round of talks between farmers and the Centre has reportedly been cancelled a day after Bharat Bandh called by the farmers and also a meeting between farmers' representatives and Union Home Minister Amit Shah which failed to break the deadlock.
The farmers will be meeting at Singhu border later in the day on Wednesday (December 9) and discuss a draft of amendments sent by the Centre.
The protesting farmers have expressed apprehensions that the new laws would eventually lead to the elimination of the MSP (Minimum Support Price) mechanism and leave them at the mercy of big corporates.