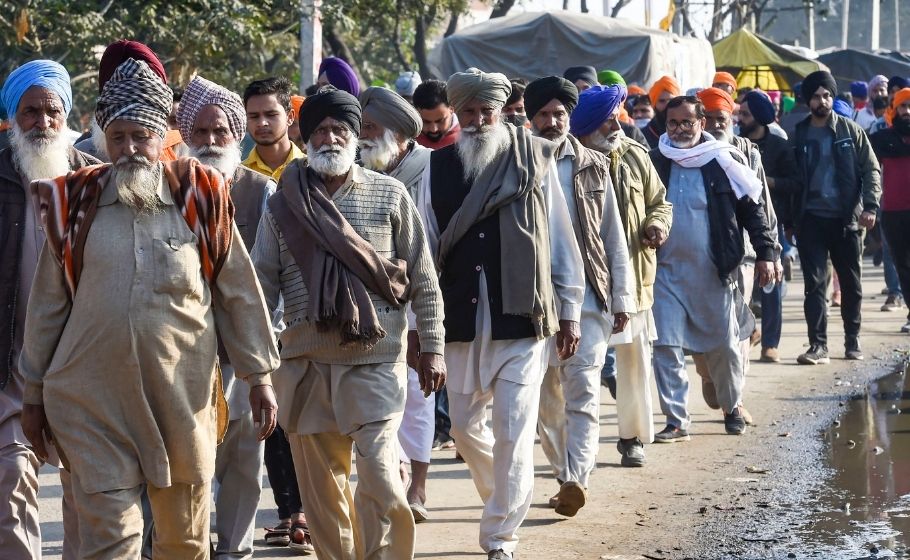 The farmers' protest against the three farm laws at Delhi borders will complete one month in a couple of days. Within this period, the farmers have been called by many names like "Khalistanis, anti-national, Maoists and tukde-tukde gang" by the Bharatiya Janta Party's (BJP) leaders, and also some sections of the media.
First, the BJP IT cell in-charge Amit Malviya tweeted a video in which it was written that there is a Khalistani agenda going on instead of farmers' protest. He also wrote, "What kind of farmer agitation is this? Is Capt Amarinder Singh playing with fire? When will Congress realise that politics of aligning with radical elements has reached its sell date?"
इंदिरा ठोक दी… मोदी की छाती पर…

What kind of farmer agitation is this? Is Capt Amarinder Singh playing with fire? When will Congress realise that politics of aligning with radical elements has reached its sell date? pic.twitter.com/dNg7871KZ2

— Amit Malviya (@amitmalviya) November 27, 2020
Retweeting his tweet, Tajinder Bagga, the spokesperson of the Delhi BJP, wrote, "Anyone who raises the slogan 'Khalistan Zindabad' can never be a farmer. A farmer is a patriot, a farmer cannot go against the country. Those who are chanting the slogan of 'Khalistan Zindabad' are Congress agents."
Related News: Farm laws unite Punjab, Haryana farmers divided over Satluj-Yamuna link
After the Khalistan agenda, former Bihar deputy chief minister Sushil Kumar Modi tweeted, "The kind of slogans that were raised at Delhi's latest farmers movement and the manner in which it is being run on the Shaheen Bagh model clearly shows that the tukde-tukde gang and anti-CAA forces have left no stone unturned to hijack the movement."
Former Delhi BJP chief Manoj Tiwari said in a statement, "The presence of individuals and groups who opposed the National Register of Citizens (NRC) and CAA at Shaheen Bagh, the involvement of Shaheen Bagh dadi clearly establishes that the tukde-tukde gang is trying to experiment with Shaheen Bagh 2.0 and create unrest under the guise of farmers' protest."
Union minister Raosaheb Danve also claimed in a rally that China and Pakistan were behind the ongoing protests by farmers. Whatever the leaders of the BJP said were picked up by the BJP IT cell and they ran hashtags of the same. The same was also carried by TV news channels.
Tractor2Twitter (T2T)
"I was sitting in my office on 27th November. When I opened the social media, I was very shocked to see that the farmers who were protesting in Delhi were called Khalistanis everywhere on Facebook, Twitter and Instagram as well," said Bhavjit Singh, an IT professional based out of Ludhiana in Punjab.
Related News: Govt invites farmers for next round of talks, asks them to choose date
Bhavjit was the first person to start countering misinformation and propaganda about the farmers by his launching a page on Facebook, Instagram, Twitter and WhatsApp on November 30. The name of the page is T2T. The name was first started as a hashtag which was used by more than a one lakh people on Twitter including Punjabi singers, activists, artists and politicians.
"These farmers were protesting in Punjab from the last three months but never called as Khalistanis by anyone. My family members had joined the protest and they were called terrorists. Given the track record of the BJP government, I was sure that they will try to break the protest by using words like an anti-national, tukde-tukde gang etc which they did with every other protest," Bhavjit added.
Bhavjit said that he commented on some posts on social media but he thought nothing will happen. He added, "This protest needs a direction or needs to be organised in terms of social media as well. When the rest of the godi media and right-wing IT cells are trying hard to suppress, ignore, vilify and ridicule the farmers, I thought that the time has come for Punjabis and farmers to hit back in the language this fascist government understands."
The Facebook page of T2T has nearly 3,000 followers, Twitter has close to 20,000 followers and the Instagram page has 1,000 followers.
Bhavjit said, "We are six people in the team and every person has a different responsibility. Two monitor the propaganda, others post the stuff on social media. The challenges were that the people from Punjab are not active much on Twitter on which the entire propaganda is going on. So T2T is also a campaign to encourage youth to join Twitter."
Majinder Singh Sirsa, the president of Delhi Sikh Gurdwara Management Committee and National Spokesman of Shiromani Akali Dal (SAD) said that the youth of Punjab needs to be on Twitter to counter the fake agenda against them. In a video message, he urged the youth of Punjab to make Twitter handles and stop the agenda going against them.
Farmers' IT cell
All the farmer unions taking part in the protest have jointly launched an IT cell to counter the fake, misleading and negative propaganda against them. At Singhu border, a designated IT cell named as Kisan Ekta Morcha (KEM) was launched. The IT cell comprised of over 25 online and 35 offline volunteers. The cell has also created its Twitter, Facebook, Instagram, Snapchat and YouTube handles.
Baljit Singh, who heads the farmers' IT cell, said that the farmer unions were very concerned about the shape that the protest is taking and fake news on national media has shown all of us in a very bad light. So all the farmer unions jointly decided that we will come up with something to counter the fake news and propaganda against us, so we came up with KEM on the internet, said Baljit.
"There is a constant effort to malign our peaceful protest and show us in a bad light. So to counter this, we have nearly 60 volunteers who are unpaid, who help us in making this protest successful digitally as well. We just operate in a tent as we do not have a dedicated room. Most of our members work from home, i.e. online. We have only three people who are working at the border on laptops," Baljit added.
He said, "We have 35 offline volunteers who are always on the front in the field. They take interviews on phone, click photos, attend events happening and keep us updated on what is going in the entire stretch. Some people are at Singhu border while others at Tikri border."
Baljit explained, "There are 25 online volunteers as well, three of which are here and 25 of them are working from home. These include writers, video editors and social media managers. Some people also monitor news and social media regularly to see if there is any fake propaganda against the farmers or the protest. If they see any fake propaganda going on, we quickly act against it."
"We have a morning meeting at 8 every day. In the meeting, we decide what we need to do the whole day. We set up an agenda and send our offline volunteers, give work to our online volunteers as well. Sometimes we get something urgent, like a few days back, we got to know that someone is calling us Khalistani and he had made fake and old videos to justify his claim. We urgently worked on the video and found out that this was a fake claim. We debunked that," Baljit added.
Happy Singh, a media coordinator of IT cell, said that they also teach farmers the power of social media.
He said, "We teach a bunch of farmers every day for an hour about how to use social media. We also ask the youth to come on social media and help us. We have people who are experts in technology. Already 25 tech-savvy volunteers have joined and others will be joining soon as the protest goes bigger. We also help the farmers' leaders to understand and talk in English."
Trolley Times newsletter
Not only IT cell, but the farmers' protest has also given birth to a four-page bi-weekly newsletter Trolley Times, which will be published both in Hindi and Punjabi. The newspaper is presented as a bridge between the farmers and leaders.
The newsletter is started by a team of six people. The team consists of Ajaypal Singh Natt, a physiotherapy teacher, Surmeet Maavi, a writer, Navkiran Naat, a dentist, Gurdeep Singh Dhaliwal, a documentary photographer, Jassi Sangha, a professional videographer, and Narinder Bhinder, a theatre artist.
Ajaypal said that they have started the bi-weekly in a trolley that is why they named it as Trolley Times. He said, "The media is now showing what is happening in reality so we decided to give farmers a sneak peek into what is going on in the protest. Our newspaper covers 20 km of the protest at Singhu border and 15km long protest at Tikri border. We want to show how citizen journalists can be useful when media is constantly giving fake news."
"In the first edition, we printed 2,000 copies and we have spent about ₹11,000 from our own pocket. In the next edition, we plan to print 10,000 copies. Our newspaper will publish the announcements, developments and editorials on the first page. The second page will consist of photographs and some artwork. The third page will have the farmers' related news from across the world and the fourth page will consist of the events happening at the borders," Ajaypal added.
While talking to ANI, Surmeet said, "I have been part of the protest and I wanted to write about the experience. This is an attempt to do the same. I wanted to build communication and avoid any confusion. For example, there was confusion regarding the meeting between farmers and the government."
Jassi said, "Sometimes there is a communication problem between the farmers and the leaders. We needed a medium which can send the message as it is. What has been said on the stage should reach the protesting farmers as it is."
Manjit Singh Dhaner, senior vice president of Bhartiya Kisan Union Dakonda, said that by setting up our own IT cell and newspaper, we have given a message to the government that they cannot take us lightly or divide us as they did in earlier protests. He said, "We are united. We will give the answer to each and every vicious strategy of the government like this only till our demands are not met."